RETAIL
American Apparel to Open First Store in Los Angeles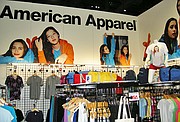 In the world of déjà vu, the new reiteration of American Apparel is opening its first U.S. store in Los Angeles in the same Melrose Avenue spot it occupied before the company filed for bankruptcy a little more than one year ago.
The store will take over part of the vacant space left when the previous American Apparel store closed last year on Melrose Avenue, along with the more than 100 American Apparel retail stores in the company's chain. The "new" store at 7726 Melrose Ave. should open sometime between October and December.
The American Apparel brand name was acquired in a bankruptcy auction last year for $88 million by Gildan Activewear, a giant Canadian T-shirt, underwear and sock company that has moved most of American Apparel's T-shirt production from Los Angeles to Honduras. However, a small portion of American Apparel's products are being produced in LA for those customers who prefer their clothes to be made in the United States.
"We are excited about the store," said Garry Bell, Gildan's vice president of corporate marketing and communications. "I think the timing is right. We launched an e-commerce store for American Apparel in August, and it was time to start thinking about the next phase of creating that total brand experience for the consumer. The brand grew up in Los Angeles and retains its DNA of Los Angeles style and fashion."
The store will let shoppers interact with digital platforms as well as be a place to roll out collections and hold events, Bell said.
Gildan, which is hoping to push American Apparel's sales to $100 million this year, expanded the American Apparel e-commerce site last month to 200 countries. "American Apparel is doing very well on the e-commerce front," said Glenn Chamandy, president and chief executive of Gildan Activewear, in a conference call last week with investors.
To roll out the expanded e-commerce site, Gildan launched a "Back to Basics" campaign on billboards and digital platforms featuring real people who represent various body types, ages and ethnicities. Eventually, the online site will have 400 styles. Currently, the best-selling category online is American Apparel's denim.
Recently, Gildan Activewear reported its first-quarter earnings results showing that net sales were down 2.7 percent to $647.3 million from the same period last year.
Activewear sales, which include T-shirts, were up 3.2 percent to $514.5 million and underwear and sock sales were down 20 percent to $132.8 million as more mass merchants establish their own private-label sock brands. Net income for the first quarter was down 18.7 percent to $67.9 million.
Gildan executives said sales declined after production at its plants in Honduras was affected by last year's civil unrest centered around the presidential elections and their results. "We have the pedal to the metal now," said Rhodri Harries, Gildan's executive vice president, chief financial and administrative officer. "We are trying to regain the lost production."
He said the company had to destock $60 million worth of merchandise that could not be produced on time.