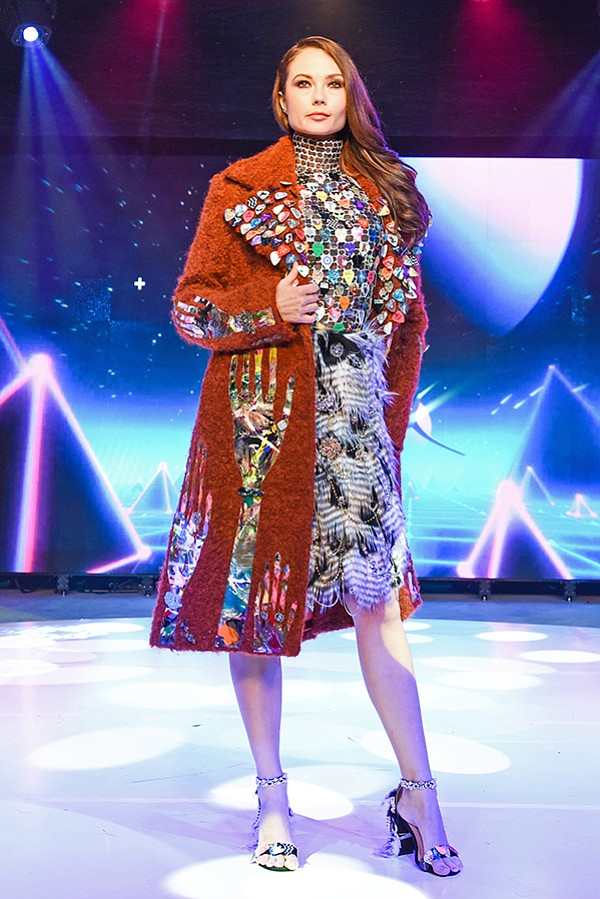 CELESTIAL STYLING
Otis College Celebrates Student Fashion Show and Fund-raiser With New York Designer Jason Wu on Hand
Photo Gallery
Otis College Celebrates Student Fashion Show and Fund-raiser With New York Designer Jason Wu on Hand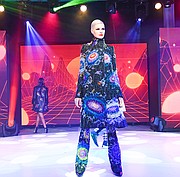 Photos by Owen Kolasinski/BFA.com courtesy of Otis College of Art and Design
The special guests lined up for photos as the students at the Otis College of Art and Design got ready for their 36th annual student fashion show.
Among the invitees was New York designer Jason Wu, who was keeping a low-key profile as he was given a tour of the newly expanded campus. Wu must have been impressed with the recently constructed academic building and residence hall at the Elaine and Bram Goldsmith Campus because he is planning to be one of the school's prestigious student mentors next year.
Other special guests included U.S. Rep. Maxine Waters, whose district encompasses the school's campus in the Los Angeles neighborhood of Westchester; Sid Williams, former ambassador to the Bahamas and Waters' husband; Elaine Goldsmith, benefactress of the Elaine and Bram Goldsmith campus; and actress Hana Mae Lee.
This was the first year that Otis held its student fashion show for juniors and seniors on its recently expanded campus instead of at the Beverly Hilton in Beverly Hills, which has been a traditional venue.
The May 5 fashion show was held atop the campus parking lot, creatively enclosed in black with large video screens on the stage to display colorful galactic photos, which were in tune with this year's theme of "Celestial Bodies."
Otis is known for its pairing of professional mentors who work with students throughout the semester. In the past, mentors have included costume designers Bob Mackie and Albert Wolsky, Cynthia Rowley, Isabel and Ruben Toledo, Claire Pettibone, and Todd Oldham.
This year the mentors were Claudia Cividino, the chief executive of Bally Americas; costume designer Louise Mingenbach; Jose Fernandez, head of Ironhead Studios; Johnson Hartig of Libertine; and Davora Lindner of Prairie Underground.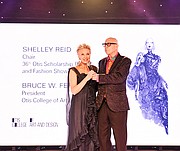 Other mentors included alumni Rod Beattie of Bleu swimwear, Marisol Bradford of NBC­Universal, Chris Chang of Poesia and Sapna von Sick of Alo Yoga.
The mentors gave each class a challenge. Bradford's challenge was for students to create a family sportswear collection inspired by the "Jurassic World" franchise. The result was filled with camouflage outfits, dinosaur shapes and lots of dramatic outdoorsy looks.
Beattie asked his students to design swimwear in white and metallic inspired by futuristic architecture. Students came up with silhouettes that used shiny fabric and incorporated geometric details.
Von Sick told her students to design an activewear collection that would take the modern woman from the workout studio to the street. Students used those instructions to cleverly design tops that transformed from jackets to capes in lightweight fabrics and other transformational pieces.
Hartig instructed students to design a sportswear collection inspired by UFOs and aliens, giving way to images of space aliens and colorful palettes, while Lindner's challenge was to create a collection inspired by the lunar eclipse.
Cividino directed her students to design a collection inspired by Bally designs, which resulted in sophisticated clothes playing on Bally's penchant to produce well-made outerwear, sweaters and pants.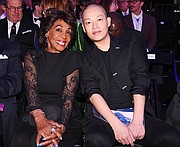 Poesia's Chang instructed students to push the boundaries with dresses inspired by the infinite possibility of space while costume designers Mingenbach and Fernandez asked students to create gowns inspired by the constellations of the zodiac. The results were ethereal gowns in white and light tones topped with amazing headpieces that resembled constellations and stars.
Mentors try to instill various skills in these young designers. Bradford of NBC­Universal said she likes to teach patience, reliability, openness and thick skin. "It is important for me to teach them how to be great communicators and logical thinkers," she said.
Fernandez of Ironhead Studios said his goal was for students to learn to complete an idea. "I also want them to understand that they must be willing to fail," he said. "You have to take chances and push yourself or you will never grow."
Each mentor announced the winner from his or her class. Nastaran Eskandani was the winner in Beattie's swimwear class. Oliver Zheng won the activewear award given out by von Sick. For the "Jurassic World" challenge, Jonathan Levite and Melissa Marsella were the student winners.
Minji Park and Britney Kim won for their Bally-inspired designs taught in Cividino's class.
Hartig selected Hanna Dorman as the winner in his UFO-inspired challenge. Lindner selected Brittany LaPointe as the winner for the lunar-eclipse challenge, and Chang chose Qi Miao as her category's winner.