TECHNOLOGY
Upgraded 3D Platforms Go High-tech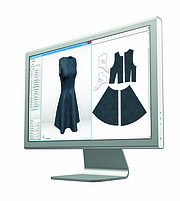 The age of fast fashion has led to a need for faster design technology, but breakthroughs to produce a better 3-D platform have been moving slowly. During the first half of 2018, leaders in the apparel-technology segment have elevated their digital solutions to generate realistic patterns, accurate samples and streamline product lifecycle management (PLM).
Last week, Connecticut-based Gerber Technology launched its latest version of AccuMark 3D. Through partnerships with technology companies such as San Francisco–based startup Avametric, a provider of fabric simulation tools, and Israel's Virtuality.Fashion, which provides applications to generate realistic digital imagery, Gerber Technology wants to digitize vital design resources. With this most recent installment, Gerber Technology has provided a solution that facilitates the process from simple sketches to interaction with consumers, explained Mary McFadden, executive director of CAD product management for Gerber Technology.
"We have really good integration of data flow between these systems, as well as the ability to integrate with external systems that our customers use because they have many tools they need to use in their process, so having 3-D product offerings makes our offerings more robust and complete," she said.
By utilizing this technology, every person who contributes to the apparel-making process can easily make detailed changes to digital patterns, illustrating in real time how they can achieve a specific style, without the challenges of shipping patterns or samples.
"By allowing the artwork to actually be in the CAD data, you can eliminate these hard pieces going along the factory floor," McFadden said. "It really helps with communicating instructions to factories, especially when they don't speak your language, because often you have these huge language barriers."
Through using integrated software solutions from one source at every stage of design, brands can eventually utilize the technology for merchandising and virtual try-on for customers.
"Rather than doing photo shoots with the samples and the colorways that you would need to populate an e-commerce website, you could use 3-D simulations instead," McFadden explained.
Offering a comprehensive system for apparel design was also the goal at Lectra, the French technology-solutions provider, which recently upgraded its 3-D technology to streamline the Fashion PLM 4.0 platform.
Through its Connected Development application, which was launched during the first quarter of 2018 along with the company's Connected Design, Lectra now features enhanced tools for patternmaking, 3-D sampling and marker making. Believing this is the natural evolution of the business, Carlos Jimenez, professional services manager for fashion and apparel, explained how the new application ties together loose ends.
"The Connected Development is that portion of the Lectra PLM 4.0 that includes the application, which involves pattern developers, technical designers, 3-D sampling and marker making," he said. "It's those applications that are packaged in Connected Development."
Reapproaching its 3-D platform to become integrated with a 2-D patternmaking feature was integral to upgrading this technology to create easy communication between a designer and the team that interprets his or her designs.
"The 3-D sample can be used early in the design process to make decisions in terms of style lines, the size of the garment or ensure the vision of the designer is clearly communicated and understood by the technical-design team or patternmakers," Jimenez revealed. "It can also be used later for fitting purposes, which is a very strong feature for Lectra's 3-D offering."
Despite the influence of fast fashion on apparel-industry software innovation, there is also a push for more sustainable solutions to make the design process more efficient for the planet.
"Companies are being more conscientious about our impact on the planet, and we have customers who come to us to have samples faster," Jimenez said. "The 3-D was very slow and now it's becoming a reality. People are looking at samples on screen and seeing what it looks like as a final product."
In addition to fully integrating these necessary fashion design steps into digital platforms, technology providers are excited to develop applications that allow detailed samples to be viewed and altered by professionals who might be located in different corners of the world.
Developing a product that provided a crisp, digital vision of designs was the goal of Amnon Shalev, the chief executive of Virtuality.Fashion, whose technology allows fashion brands to bypass 2-D patternmaking, creating a detailed sample in less than 48 hours. Based on software created for the video-game and movie industries, the applications provide a realistic vision of designs.
"There is pressure on designers to introduce new collections faster, more collections in a single season and faster to the market. If you have to do 3-D and go through 2-D, it takes time," Shalev said. "With our technology you don't have to go through 2-D. Presentations can be done very fast for buyers and management."
Through investing in innovative upgrades to their own software and joining cutting-edge digital partners, apparel-software providers are creating virtual creative spaces and options to help designers reduce waste, cut costs and bring collections to market faster.