MANUFACTURING
After Years Making Shoes, Hi-Tec Tries Apparel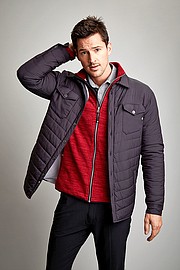 Cherokee Global Brands' Hi-Tec footwear division is stepping into apparel.
For Fall 2018, Hi-Tec is producing clothes for men and women that will be as performance oriented as its shoes and boots.
Hi-Tec, which has been in business since 1974 and gained popularity for its sports-oriented shoes and waterproof hiking boots, was acquired in 2016 by Los Angeles–based Cherokee in a $95.8 million deal.
For its new apparel categories, Hi-Tec was inspired by the features of its footwear, said Mark Conway, Hi-Tec's chief brand and revenue officer.
Each apparel item was designed with waterproof material as well as performance fabrics. The fabrics will have several capabilities, including moisture wicking, sun protection and heat retention, Conway said.
Men's looks include flannel shirts, quilted shirt jackets and fleece. Women's looks include V-neck tees, flannel shirts and puffer jackets. The clothes feature details such as adjustable sleeves and hidden-zipper pockets to store a phone. New York–based Tharanco Group, which specializes in technical and active apparel, was the clothing line's manufacturing partner. Retail price points range from $35 to $140.
Success in footwear does not necessarily translate into success in clothing, said Gene Han, who has been selling sneakers at his three-store chain, Alumni, in New York City. He also sells high-end camping apparel and gear at Hatchet Outdoor Supply Co., which has one store in New York and another in Los Angeles' Arts District.
"When footwear brands cross lanes, a lot of marketing chiefs think they can sell an extension of the brand," Han said. "Success comes from offering the customer more than just an extension of the brand."
Conway said that his brand is up to the challenge. "Hi-Tec's outdoor products are versatile enough to meet demands in many consumer categories,' he said.