TECHNOLOGY
Lectra Brings Cloud-Connected Cutting Room 4.0 to Texprocess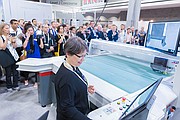 During the first day of this year's Texprocess Americas—the apparel-manufacturing event in Atlanta that showcases new technology and equipment—Lectra continued to reveal its fresh innovations, which allow industry professionals to streamline production.
With the unveiling of its Cutting Room 4.0 at the fourth installment of the show, which ran May 22–24, Lectra provided the first cloud-connected digital-cutting solution for the apparel industry.
Cutting Room 4.0 was introduced by Lectra North America President Jason Adams, who explained how the technology aligns with Lectra's efforts to create solutions for the shifting needs of apparel-design professionals, which is removing the need for manual operation and becoming increasingly digital based.
"Looking at millennials, this is about how we can help our customers improve their agility—enabling them to respond to changing demands around quality, speed and price," he said in a statement. "Our new Cutting Room 4.0 solution, complete with new and innovative hardware and a first-of-its-kind digital-data platform, is the first step toward a truly agile production model. We're very excited to unveil today Lectra Virga, the first-ever cloud-connected digital-cutting solution."
Pairing its technology with the Virga single-ply, fabric-cutting machine, Amanda Prudhon, who is Lectra's director of its international advanced-technology center, demonstrated the process, which yielded cut pieces in seconds.
The technology was first launched in April for furniture manufacturers. While it is now available for made-to-order furniture and fashion design, additional modules for Cutting Room 4.0 will allow apparel professionals to use the platform for mass customization and made-to-measure projects in late 2018 and mass production in 2019.