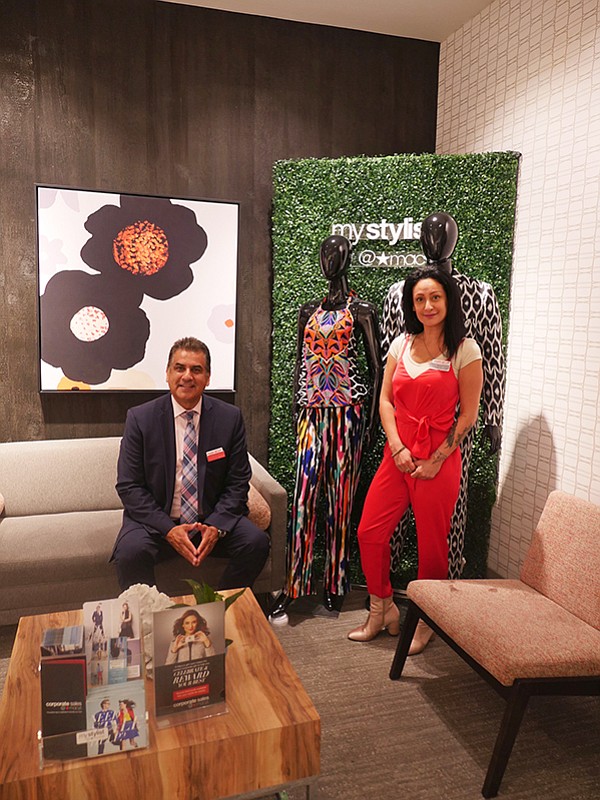 MAKING MACY'S PROFITABLE
Macy's Turnaround Efforts Gaining Momentum in California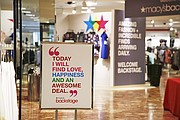 As the retail world turns to keep customers walking through the doors, Macy's is banking on a new store concept, new technology and updated looks to its traditional stores to entice customers to keep on shopping.
High on the list of changes is the relatively new off-price concept called Macy's Backstage stores, which are just starting to be rolled out in California.
In June, the Macy's stores in Westminster, Torrance, Brea and Moreno Valley will see Backstage stores with separate entrances pop up.
In August, the same thing will happen at the Macy's in downtown Los Angeles, where the bottom floor—now filled with linens, kitchen accessories and luggage—will move to the third floor and a 14,000-square-foot Backstage will move in. It will be conveniently located off the open-space plaza level at The Bloc shopping center, which underwent a $250 million renovation.
Other additions to the downtown LA Macy's store include a new leased concept called Finish Line Inc., which sells high-end sneakers retailing for around $180, and Locker Room by Lids, selling merchandise for Los Angeles' professional sports teams.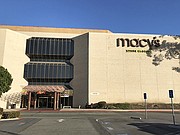 Aggressive challenges from Amazon.com and off-pricers have put Macy's and other department stores in a tight spot where they have had to make changes, said Jeff Van Sinderen, an analyst in Los Angeles with B.Riley FBR. "It is a forced reinvention. They have had no choice," he said.
Off-price merchandise is a growing trend that has not been lost on major stores such as Nordstrom, which has been aggressively rolling out its off-price concept called Nordstrom Rack.
TJX Inc., the parent company of off-price discounter TJ Maxx, has surpassed Macy's when it comes to sales and revenue.
That why in 2015, Macy's started rolling out its Backstage concept with six stand-alone stores with 25,000 to 35,000 square feet of space. A year later, it shifted to opening Backstage outlets within its existing stores.
Merchandise runs the gamut from men's, women's and children's goods to electronics, beauty, pet supplies and home décor, all maintained by a separate buying team that specializes in only Backstage items that come from retailers' overstock and deals with vendors.
The introduction of an off-price division and new looks for the stores follows a painful period for Macy's. In 2016, Macy's announced it would close 100 stores. Recently, it shuttered three California stores: one in Laguna Hills, one at Los Angeles' Westside Pavilion and one at San Francisco's Stonestown Galleria.
To work with Macy's biggest customers, the retailer is introducing a super salesperson, known as a Platinum Star Associate, who will be equipped with radio headphones to work with the store's new omni-channel hub, called "At Your Service." The hub is a place where customers can pick up goods purchased at www.macys.com, return merchandise or pay bills.
Platinum Star Associates, who are being folded into the downtown LA store, also will be working at a styling department called MyStylist@Macy's to build wardrobes for customers, said Henry Aguirre, vice president and store manager of the downtown LA Macy's.
"All the capital improvements, the staffing improvements and the elevated merchandise will get the customer back in the store," he said. "The whole idea is to build relationships and win customers over."
Over the past few years, shoppers have been trickling away from one of the most recognized retailers in the United States, lured by online shopping sites, discounters and fast-fashion outlets.
Macy's started to hit the skids in 2016 when its sales revenues and profits started to fade away. In fiscal 2016, its net sales totaled $27 billion and net income was $1 billion. A year later, net sales had dipped to $25.8 billion and net income was down nearly 40 percent to $619 million.
In February, Coresight Research, a division of the Fung Group, released a paper called, "Where Have Macy's Shoppers Gone?" It found that Macy's continues to be the leader in the U.S. department-store market, but it had lost a lot of market share to Amazon.com and off-pricers. Some 26 percent of consumers surveyed said they didn't spend as much money at Macy's as they have in the past or they stopped shopping there.
But things are looking up. For the company's most recent quarter, sales were $5.7 billion, up from $5.34 billion for the same period last year. Net income in this year's first quarter rose to $139 million compared with $71 million one year ago.
"Macy's Inc.'s results for the first quarter of 2018 reflect continuing momentum in the business. We exceeded our expectations," said Macy's Chief Executive and Chairman Jeff Gennette in a statement. "The winning formula for Macy's Inc. is a healthy bricks-and-mortar business, robust e-commerce and a great mobile experience."
Since the business of retail is changing so quickly, Macy's recent earnings news still hasn't convinced some retail analysts that America's biggest department-store company has done enough to change the 650 stores in its Macy's fleet.
But Gennette believes that Macy's will continue to prove itself with its continuing changes, which are encompassing new retail ventures such as its recent acquisition of Story, a unique store in Manhattan where the design of the outpost and merchandise change every four to eight weeks.