MANUFACTURING
Snapbac's Performance Wear to Ice Down and Warm Up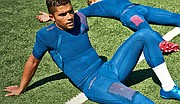 Icing down sore muscles is part of a typical pain-management regimen.
Most people reach for a bag of frozen peas to take care of sore muscles. A San Diego startup called Snapbac is betting that people would rather wear a small ice pack on their exercise clothes to ease muscle pain.
This month, the small company is scheduled to introduce a line of exercise clothes that mix fashion, fitness and wellness on its direct-to-consumer channel, snapbac.com, said Kevin Bello, co-founder and chief operating officer of Snapbac. The brand also is continuing to raise funds for the venture.
"You can't Saran-wrap ice packs on shins and calves," Bello said. "We wanted to give a wearable-therapy approach."
People wearing Snapbac tops and bottoms will attach what Bello calls "therapy pods" to any part of their bodies. The pods can be heated up to loosen up muscles or they can be cooled down to ice a muscle after a rigorous workout.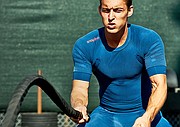 The pods can be attached to tops or bottoms of Snapbac garments with a Velcro-like micro grip liner. The pods, sold with the suits, contain a propylene gel and a glycol compound often used in products that transfer heat or provide cooling.
"It's not a new technology," Bello said of the pods. The brand's point of difference is that it offers ways to wear the packs. Bello also warned that the pods cannot be worn for extended periods of time. It is similar to putting an ice pack on skin for long periods of time, which can risk frostbite.
When not using the pods, they can be stored in the garments' pockets.
Although it is not a new idea, attaching ice and heat agents to clothing is not well represented in the market. Scott Sykes, owner of the Universal Body boutique in West Hollywood, Calif., said he was not aware of a product like Snapbac. However, athletic brands are in a pitched race to introduce new details to improve performance.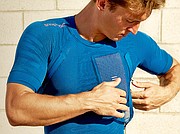 "They're always trying to invent the new Velcro," Sykes said. "If I throw in mechanical details, clients zone in on it. They'll pay extra if it works."
Snapbac's inaugural collection will include compression tops and bottoms, which are popular in any fitness line, said Jamie Maunder, Snapbac's head of design. The brand's dual-layer fabric can hold the thermal therapy pods against any part of the garment and also offer a comfortable feeling, she said. Estimated retail price points range from $75 to $190.
Bello started Snapbac with Ali Nilforushan, who has competed in professional equestrian events in California. The development team included Dr. Andy Walshe, who has consulted for the Australian Institute of Sport, the company said.