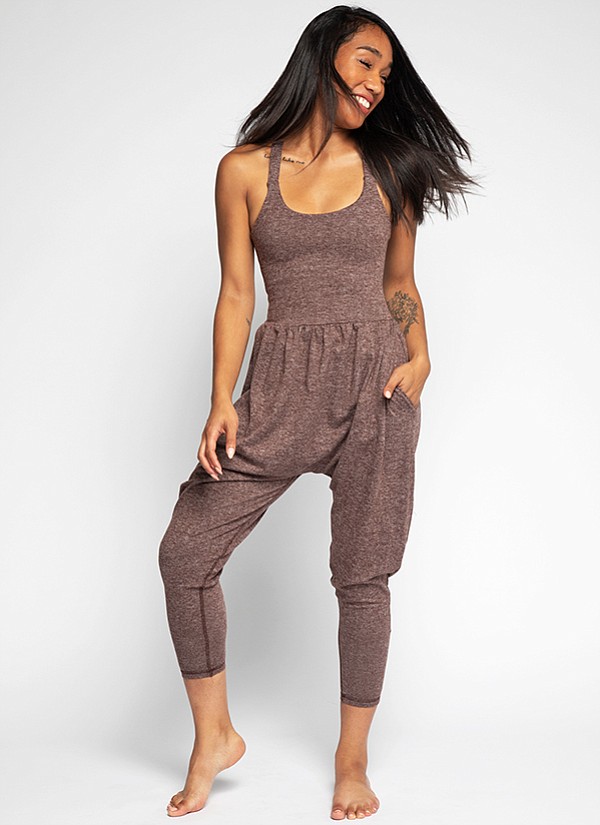 UPCYCLING IN ACTIVEWEAR
Imbōdhi Owners Embody Sustainable Activewear Mission
In 2017, Carolina Saboya and Ariel Dubov, who are dancers and acrobatic yoga teachers, launched Imbodhi in San Francisco.
"We are passionate about changing the conversation about fashion in terms of fitness and sustainability," Saboya said.
The brand of full-length bodysuits is made in small batches with limited runs from high-quality reclaimed fabric sourced from female-owned West Coast Garment Manufacturing, which works with large activewear companies.
"Producing thousands of yards of fabric is a very energy-consuming, wasteful process," Saboya said. "We worked with what would have otherwise been waste fabric, but it's some of the highest-quality fabric in the activewear industry."
With the release of Imbod­hi's Winter 2018 collection, which saw the launch of the brand's new Bodhi jumper silhouette, Saboya and Dubov wanted to create more pieces that would make women feel comfortable in their own skin.
"The most obvious change with this collection is the fit," Saboya explained. "The intention of this company was to create something that truly feels like a second skin on all different body types. We are very body positive."
Fans of the brand are fond of the collection's fit and feel. The name of the Winter 2018 line is Feel & Form, which reflects Imbodhi's evolution toward a better fit and hand with every collection.
With their first collection in 2017, Saboya and Dubov included sublimation-printed artwork by Nicolette Stellavato. The designs were applied to Los Angeles–made LuxeTech fabric, a blend of 58 percent polyester, 29 percent cationic polyester and 13 percent Lycra.
While the reclaimed-fabric initiative used to make Imbodhi means that designs are limited edition, a few of the Winter 2018 pieces include the last of Saboya and Dubov's Luxe­Tech fabric. More-recent designs in the collection use reclaimed, odor-resistant, temperature-regulating, four-way-stretch compression fabrics that comprise approximately 82 percent polyester and 18 percent spandex.
"They're different colors and different weights," Saboya said. "They are the same quality and same feel to the hand."
The most recent release includes Imbodhi's signature Astra bodysuit design, which is a full-length single piece that features a racer-back tank top and tapered leg in hues of heather charcoal, vert green, heather gray, herringbone gray or herringbone pink.
The new Bodhi jumper has an upper portion similar to a tank top and bottom half that fits wide at the hips with a tapered leg and includes pockets. Some of the Bodhi pieces were manufactured using the brand's remaining LuxeTech stock.
Nasiem Sanjideh, who is the founder of The Green Yogi in North Berkeley, Calif., carries the line for many reasons but mainly for how a person feels when wearing the pieces.
"To me, they really resemble their brand and are in alignment with the product," she said. "It makes you comfortable to be in your own body. They have this amazing stretchy, comfortable product that is suitable for all bodies."
With their recent successes, such as having 20 percent of sales from repeat customers, Saboya and Dubov are moving forward. For their Winter 2018 II collection, Imbodhi will introduce a new bodysuit design in addition to a wrap and sweatshirt.
Eventually the couple will design bodysuits for men. They are also committed to finding natural, fully sustainable fabrics.
"We are going to London for the Future Fabrics Expo in January to find a supplier that makes textiles from 100-percent natural fabrics for activewear," Dubov said.
Wholesale pricing for the line ranges from $59.50 to $70.95. With sizes ranging from XS to XL, depending on the design, Imbodhi is available at select yoga studios and online at imbodhi.co/.