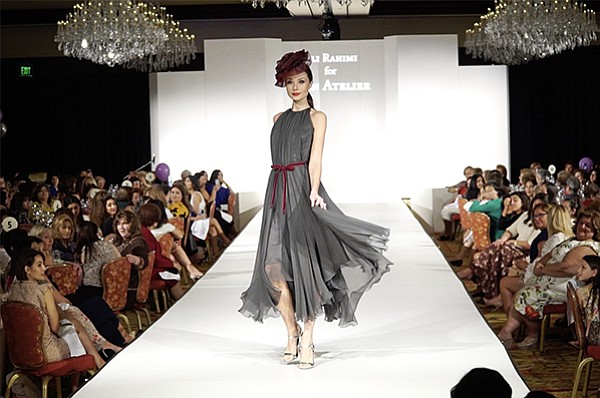 FASHIONABLE FUNDRAISING
L.A. Designer Fashion Show Helps Raise Money to Fight Cancer
Designer Ali Rahimi has been a longtime custom designer for celebrities, musicians and fashion enthusiasts ever since he opened his Los Angeles design studio Mon Atelier in 1986.
Rahimi's creations have been worn by Anjelica Huston, Angela Bassett and Eva Longoria and gravitate toward flowing evening gowns, red-carpet looks and cocktail dresses worn for those special occasions. He has been designing since he was a child in England, later attending the Virginia Marti College of Art and Design, renamed the North Coast College, in Ohio.
A special fashion show of Rahimi's luxe looks was held Nov. 4 at the Long Beach Hyatt Regency in Long Beach, Calif., as a benefit for the San Pedro Peninsula Cancer Guild in support of the USC Norris Comprehensive Cancer Center.
Highlights from the show included:
• the Cecil Beaton–inspired "My Fair Lady" gown of white taffeta with an engineered black-ribbon plaid pattern;
• the Red Wall segment of red dresses made with fabrics and silhouettes appealing to all body types and ages; and
• a wedding gown with a hand-stitched winter-white silk/wool bodice attached to a skirt embellished with ostrich feathers, velvet and vintage Japanese gingko leaves.