RETAIL
Will Dover Street Market Jolt the Arts District Scene?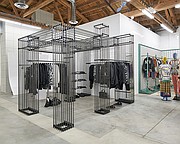 Once a blighted, sparsely populated warehouse area, downtown Los Angeles' Arts District has blossomed with chic restaurants, creative office spaces and lofts.
Many expected that the burgeoning neighborhood would have been a natural for boutique retail with an experimental edge. But fashion retail has experienced successes and failures in the area, bordered by East Los Angeles, downtown's Little Tokyo, Skid Row and the Industrial District.
But fashion retail may have received a big vote of confidence recently when Dover Street Market opened in a remodeled warehouse at 606–608 Imperial St. The unique 15,000-square-foot emporium has enjoyed acclaim and a cult following since fashion star Rei Kawakubo of Comme des Garçons and her husband, Adrian Joffe, opened the shop's first location in London in 2004.
Dover Street Market not only sells Comme des Garçons but also other labels ranging from Gucci and Maison Margiela to streetwear brand Stüssy and emerging label Noon Goons. The brands have a shared high-end yet experimental aesthetic.
It also has a Rose Bakery, founded in Paris in 2002, as well as a Nikelab for high-end sneakers and shops-in-shop for Marine Serre, Melitta Baumeister, Better Gift Shop and Braindead.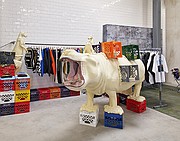 Since its London debut, Dover Street Market has opened locations in Tokyo, Beijing, Singapore and, on Nov. 3, in Los Angeles' Arts District.
Marissa Jartcky, Dover Street Market's head of buying and merchandising, said that Kawakubo and Joffe had been thinking about opening in Los Angeles for a long time. The Arts District presented an opportunity they embraced. "It feels like a good moment," Jartcky said. "The city, and in particular the Arts District, seems super receptive to what's new."
The emporium had an open house on Nov. 2, which attracted Hollywood celebrities such as Diane Keaton, as well as retailers, designers and businesspeople. One of the main topics of conversation was how Dover Street Market would affect the Arts District.
"Pinch myself," wrote Brigham Yen, a commercial real-estate broker, in his blog "DTLA Rising." "As someone who has spent his entire career promoting downtown L.A., it is incredible to witness what would have once seemed 'impossible.' Dover Street Market represents a caliber of maturity that proves just how far downtown L.A. has come."
Yen warned against expecting a giant change to sweep the Arts District. "It will take more stores, restaurants and mixed-use projects. We're still in the very nascent stages of the evolution of the Arts District."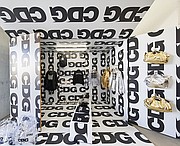 One issue is that the sprawling Arts District area is dissected by streets busy with traffic, Yen said. It was easier to redevelop New York City's Meatpacking District because it is relatively compact and is maybe a quarter the size of Los Angeles' Arts District, which stretches from 1st Street in the north to the Santa Monica Freeway in the south. The area won't meet its potential until its disparate areas are better connected, Yen said.
The district is made up of a few unconnected hubs, Yen said. The northern end is anchored by the Hauser & Wirth Gallery, a giant private gallery. In 2017, a flagship store for the 3.1 Phillip Lim label moved to this section of the Arts District, where a square foot of commercial space costs between $5 and $7, Yen said. More than five years ago, he estimated it was at around $2.
The middle section of the Arts District is bordered by the 4th Street Bridge, anchored by the Urth Caffé. The southern-most section of the Arts District starts below 6th Street and ends at the Santa Monica Freeway.
Dover Street Market and the Row DTLA retail, dining and creative-office complex are located in this hub, which is anchored by the chic restaurant Bestia.
The Arts District's changing ambience is another major issue as redevelopment happens block by block. It is next to Skid Row. Away from its main hubs, the district is dominated by warehouses and buildings, which don't lend themselves to pedestrian traffic.
But affluent consumers will travel to the district, despite its rough edges, said Chris Josol, owner and founder of the Flagship Agency showroom and Surf Is Dead brand. Both are headquartered across the street from Dover Street Market. "People from around the world come to Bestia, and it's in the middle of a ghetto," Josol said. "People will go to Dover Street because it is a destination for special collaborations of brands such as Supreme, Palace and Comme des Garçons."
Carl Louisville ran the successful high-end boutique Guerilla Atelier in the Arts District for several years. It closed in 2017 after a developer opened a big construction site adjacent to the boutique. Louisville advised that Dover Street Market pay attention to Arts District shoppers.
The arrival of Dover Street Market proves the Arts District has potential for high-end retail, Louisville said.
"But I think they need to make a few more considerations on the unique community they have chosen to be in. I don't think it is just about opening in the Arts District," he said. "I have advised countless retailers that you can't be in downtown the way you might be in New York, Beverly Hills, London or West L.A. There's a different sensibility. If you don't take that into account, you won't get the support of the local community. It's a thriving and affluent community that understands luxury."
Dover Street Market is organized by a theme of beautiful chaos, Jartcky said. "[It's] the colliding of designers, artists and brands within the space. It's the accidental and synergistic energy that results from all of these creatives being housed under one roof that we are interested in."