Post-Fires, Fashion Companies Raise Funds for Relief
Fires are still blazing in devastated areas around Malibu, Calif., and Chico, Calif., as fashion companies answer the call to support recovery.
The James Perse brand designed two California Relief tees to raise funds for the California Fire Foundation and Direct Relief, a Santa Barbara, Calif., non-profit that provides medical resources for people in emergency situations.
Perse's Woolsey Fire Relief Tee and the Thousand Oaks Relief Tee are available at the brand's e-boutique jamesperse.com. The tees can be purchased for $125, $250,$500 and $1,000, according to a brand statement.
At the Nov. 15 Rodeo Drive Holiday Lighting Celebration, a check for $126,750 was donated to the American Red Cross. Funds were raised by the City of Beverly Hills, Beverly Hills Chamber of Commerce, the Rodeo Drive Committee and Beverly Hills Conference & Visitors Bureau.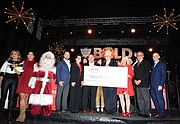 The Ross Stores Foundation, a charitable project of retailer Ross Stores Inc., announced Nov. 19 that it made a $300,000 cash donation to the American Red Cross.
Almost a year ago, Ross Stores made a similar donation. In December 2017, it donated $75,000 to the American Red Cross to help those hurt by the wildfires during that time. More than six wildfires raged across Southern California during December 2017.