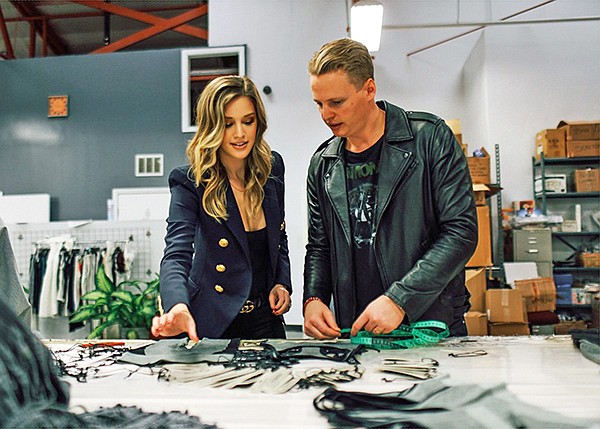 COLLECTIVE L.A. STYLE
Touché LA Rebrands as LA Collective to Support Local Fashion Culture
After a 2016 launch that grew into a vertically integrated manufacturing operation for activewear and athleisure clothing, Touché LA has changed its name to LA Collective.
LA Collective, headed by husband-and-wife team Jaynee Silvers Singer and Karl Singer, still has 80 sewers and 53 seamless machines inside its 60,000-square-foot complex at Selectra Industries in Vernon, Calif.
The new company will remain manufacturers of activewear and athleisure—a business that yields a monthly output of 120,000 units—but it is going to expand into new categories, including swimwear, streetwear, shapewear and outerwear.
"We are thrilled to announce the next step in our journey as we scale the company," Silvers Singer said. "LA Collective will be a game-changer for the American fashion scene."
A family legacy in the New York City garment-manufacturing industry drove Singer to enter the business with his wife by developing partnerships with active-minded celebrities and fitness professionals, including a collaboration named Touché LA x Morgan Stewart with television personality Morgan Stewart.
The husband-and-wife team also launched a house brand named Vita LA. Additional partnerships include TLA by Morgan Stewart; Ren Active by Alexis Ren, which was designed with the model; and Vita LA by Anna Victoria, aline created with the noted certified personal trainer and fitness expert.
"Our current house line is Vita LA, which we launched about three months ago, and our next collection drops Dec. 1," Singer said. "We are actively understanding that house brand while launching talent-based brands with celebrities, influencers and personalities from different entertainment sectors using Vita LA as a collaboration pipeline."
At LA Collective, the re-brand was the next business step to continue growing its platform, online presence and e-commerce, but it remains a trusted incubator for collaborations with different entertainment personalities. Contributing to the local apparel business is integral to the company's growth and remains at the forefront of its mission of supporting the Los Angeles apparel-manufacturing community.
"We make everything in L.A.," Singer said. "Our facility in Vernon houses our cut-and-sew factory, warehouse and fulfillment as well as front office. We are looking to bring back domestic manufacturing in a big way by leaning into manufacturing and designing in L.A. and taking inspiration from the L.A. culture."
Driving Los Angeles manufacturing with the introduction of new brands is an enormous undertaking that Singer views as an opportunity to grow the city's fashion industry, but he also looks forward to elevating established partner brands to the next level.
"For TLA by Morgan Stewart, it was our first collaboration. It grew so organically but quickly at the same time. It developed this cult-like following," Singer said. "We're excited to continue growing it, broaden our collection offerings and potentially go into new categories of fashion with her and building out a lifestyle brand."
The established partnerships with entertainment personalities known for having a presence in Los Angeles provides greater opportunities to create products that provide an experience for fans. To avoid diluting the reputation of its partners and the brands, LA Collective merchandise is rarely sold at discount, creating a demand that brought the company to this level of growth.
"This expansion has always been on our roadmap," Singer said. "We've always had the operational ability to do all categories in fashion, but it was all about timing with us and teaming up with the talent that fit really well into our story and a specific category."
With its ability to produce goods quickly at a domestic space, LA Collective averages a new release of apparel every five weeks. Retail partners include Revolve, Bloomingdale's, Saks Fifth Avenue and New York City's Bandier, where LA Collective will launch the new Holiday Morgan Stewart line on Dec. 1 at the retailer's Flatiron location.
At LA Collective, Singer also understands consumer behavior is changing. With millennials enjoying greater spending power as they age and Generation Z setting trends, the company is able to feed the demands of its audience by remaining selective about its retail bricks-and-mortar partners while recognizing "social media as the new storefront."
"The millennial consumer gets extremely impatient when it comes to shopping. Speed to market, being able to offer something new and fresh on a monthly basis, is important to keep them entertained," Singer said. "It's hard to get brand loyalty out of a millennial customer."
Wholesale pricing across all LA Collective brands ranges from $32 to $98. Collections are available through retail partners and online at LACollective.com.