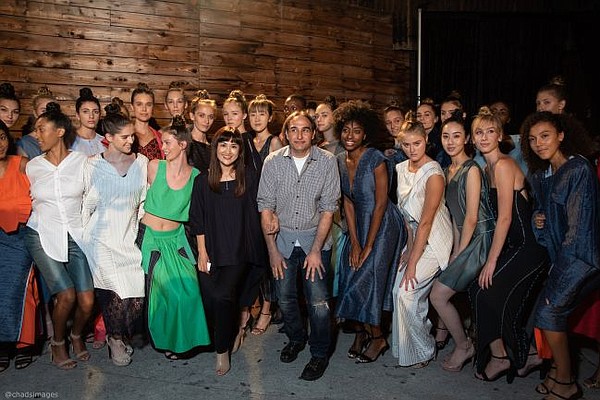 Pre-Fashion Week, Vicken Derderian Takes The Runway
A week or so before L.A. Fashion Week and Art Hearts Fashion produce their slates of runway shows, the Vicken Derderian label put together an independent fashion show near downtown Los Angeles.
On Sept. 29 Derderian, and his design partner Kyung Hwa Kim, showed 41 looks for the label's Spring/Summer '19 season. The show ran at the Holding Co. events space. The collection was inspired by the designers' recent travels in Armenia and Korea, where they manufacture different sections of their women's line.
"I feel like we've been nomadic designers. We almost feel like citizens of the world," he said. Their primary residences are in Los Angeles. Some parts of the Vicken Derderian label also are manufactured in Los Angeles, Derderian said.
Consider the line contemporary looks that would fit in at work, parties and doing errands, Derderian said. Looks include jackets with curved shoulders, Capri-style pants, and some dresses with plunging necklines and open backs.
"It is interesting to play with proportions of the body," said Derderian who was trained as an architect.
"As an architect, I'm used to dealing and building open spaces, like a window. Fashion allows the designer to move windows, in such a way," he said.