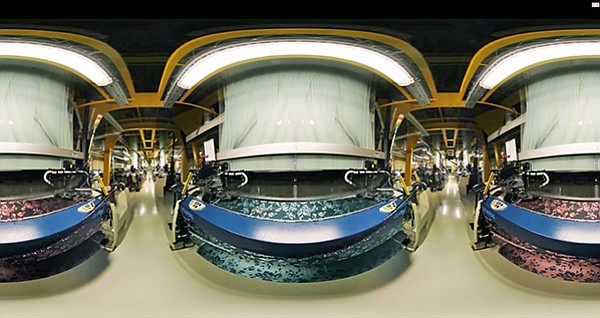 TARIFFS TO SHIFT RELATIONSHIPS
U.S. Tariffs on Textile Imports From China Leads to Trade Opportunities Elsewhere
With new tariffs being placed on textiles coming from China, many U.S. fabric importers are scrambling to find new textile trading partners whose goods are not subject to the recently imposed 10 percent tariff that could rise to 25 percent at the beginning of the year.
"I would expect to see sourcing shifts away from China to other countries or an increase in prices for goods that either can't be sourced elsewhere or for which the cost of shifting is greater than the increase in duties," said Elise Shibles with the San Francisco–based international law firm Sandler, Travis & Rosenberg.
For Alen Lahiji, who owns Solid Fabric Textile and Islands Fabric in Los Angeles, the financial threat is immediate, and he is currently trying to change the companies with whom he does business. His textile partners currently include suppliers in the United States, India, Taiwan, Hong Kong, Korea, Japan, Pakistan and China.
"It's going to hurt the manufacturers. Everyone is going to get hurt by this," he said. "Everyone is going to be paying more in the end—way more."
His cotton, poly/cotton blends and rayon are sourced from China, but, with the looming 25 percent tariff increase on Jan. 1, he is wasting no time finding new textile partners. He also has seen a rush to import fabric from China before the January tariff increase.
"All the containers have been booked right before January. Everyone is ordering as much as they can," he said.
While textiles are included in the current tariff increase, apparel has not yet been added to the list of affected products. Taking advantage of this loophole, Lahiji is planning to expand his business to include finished products.
"Because there is no tariff on clothing, I am one of the people who is starting to add apparel to my offerings," he said.
Due to the apparel exemption, textile manufacturers in countries other than China are hearing from American business partners who want their fabrics shipped there for clothing production.
"We sell to a lot of American customers who still manufacture in China, and they are asking us to deliver fabrics there, so I look at this as a global market," said John Gomes, who works in sales for the Portuguese textile company Sidónios Malhas. "As a corporation, you have to take advantage of the potential for the future of the industry and make it work."
In addition to circumventing the textile import tariffs through importing finished apparel products from China, U.S. businesses could save money by buying fabrics from Chinese-owned factories in Africa. Depending on how products are labeled with the country of origin, this could be another loophole for businesses in the United States.
"The Chinese have been moving operations to different countries in Africa as they look for their own China for their own needs," said Deanna Clark-Esposito, founder of the Clark-Esposito Law Firm in New York City.
China is also transferring its own Chinese way of manufacturing to these countries. "With this aspect, I would see the Chinese moving deeper into Africa with respect to textile manufacturing," she said.
If China loses its position as a major supplier of textiles to the United States, countries such as India could fill in the gap. India's prime minister, Narendra Modi, launched a "Made in India" campaign, which could help nurture its textile-import relationship with the United States. India is moving to produce more synthetic fabrics rather than its well-known natural cotton–based materials.
"Because of India's Ministry of Textiles former Secretary Anant Kumar Singh, and the way that they decided to allocate funds for their textile industry, they are moving farther and farther away from natural fibers and embracing man-made fibers," said Smita Paul, owner of Oakland, Calif.'s Indigo Handloom. "They are following the rest of the crowd."
Turkey, which has historically had a strong textile-manufacturing industry, is another country that could swoop in and replace some of China's business. In 2017, $378 million in textile imports were sourced from Turkey, according to Pinar Tasdelen Engin, the president of Turkey's Uludag Textile Exporters' Association.
"We've always been quite strong in the American market. This is going to improve, not just because of the tariffs but because of how we look at the business," she said.
While Turkey ranks ninth within the United States' top-ten textile-export partners, Engin would like to see her country move up to the top three.
"We've invested a lot in our technology, and it's quite a big industry that we are eager to carry. Turkey has a big potential in the United States," she explained. "We are very strong in prints, jacquard fabrics, knits and lace."
Not everyone in the industry is convinced that U.S.-based businesses will shift their textile sourcing from China. Arturo J. Rodriguez of fashion-technology firm Audaces feels there will be increased business with international textile partners other than China, but he doesn't think the changes will be significant.
"Once those tariffs come into place, will India grow a bit? Yes, it will. Will Mexico grow a bit? Yes," he said. "Will it have an impact on the amount imported to the U.S. from China? The number of units in SME [square meter equivalent] of textiles from China will drop a bit but not a lot."
While tariffs on Chinese products have been a hot topic for weeks, other trade-related issues are now surfacing.
The White House on Oct. 17 said it would withdraw from the Universal Postal Union treaty, which provides discounted shipping rates on small packages sent to the United States from other countries—including China. As the trade war intensifies, customs officials will become more stringent regarding their surveillance of shipments arriving in the United States.
"U.S. fabric importers should anticipate increased scrutiny from U.S. Customs and Border Protection for non-China imports, especially if part of a visible shift in trade patterns," Shibles said. "CBP may suspect that some of the shift is the result of illegal transshipment."
To more efficiently conduct trade with textile partners, Shibles advises importers to practice detailed recordkeeping for all transactions with their suppliers, as shifting trade from established Chinese partners to new sources could raise red flags with customs agents.
"I recommend that textile importers review their recordkeeping practices as well as those of their suppliers to be able to substantiate the origin of the goods to CBP's rigorous standards," she said. "This exercise should be part of setting up any new vendors as well as reviewing existing non-China vendors."