MANUFACTURING
Industry Veterans Reformulate Misses/Contemporary Through Launch of Alchemy Thread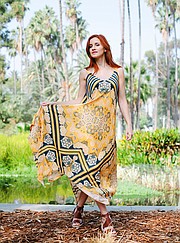 For Spring 2019, Mandy Wang, owner of the fashion brand Daniel Rainn; Sonia Ding, an apparel-factory owner based in China; and Eileen Bushman, an apparel executive with more than 30 years in the business, have introduced the misses/contemporary line Alchemy Thread and its discounted counterpart, Alkamy.
As owner of Daniel Rainn, Wang launched the brand in 2008 with Creative Design Director Daniel Norzagaray. During planning for Daniel Rainn, Wang found guidance from her friend Bushman, who served as a consultant. With a career that includes 11 years at One World Apparel,where Bushmanserved as president, she was the perfect choice to lead Wang's new venture as president.
"Eileen has worked in this industry for many years. She has both fashion and business-management talent and experience," Wang said of her friend, whom she has known for 18 years. "Working together with the right person will increase the success of the business. Eileen is the right one."
With strong histories working in fashion, Wang and Bushman understand the specific needs of the consumers they are targeting. These consumers are women who want to wear colorful pieces that will complement their body types while also being comfortable.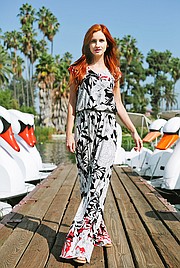 "Everything is done with the woman's body in mind. We are dressing real women with real figures, not models," Bushman explained. "We are very sensitive to what she likes to show and what she likes to camouflage."
For the launch of the banner brand, Alchemy Thread, Bushman designed clothing that is influenced by a laidback California lifestyle. Heavily focused on knits, with nearly 65 percent of the line dedicated to this fabrication, and some wovens, Alchemy Thread relies on bold colors and prints that are meant to flatter women's bodies. There are vertical stripes in yellows and blues, batik-inspired prints in reds and robin-egg hues, and tie-dyed deep purple, pink and teal.
"Fabrication is number one. I am knits driven, though I do have wovens in the line," she said. "When designing the tops I thought about pairing them with jeans on the weekend, with many California-influenced prints and colors."
Most of the pieces in the collection are tops and dresses with a few bottoms, which wholesale between $10.50 and $17.50. The line is manufactured in China, using Chinese fabrics—an easy decision considering Wang and Ding's relationships within the country's manufacturing community.
When designing Alchemy Thread's mid-tier counterpart, Alkamy, Bushman wanted the clothing to reflect the same California-cool style sought by her Alchemy Thread customer but at a more affordable price.
"Alkamy is a lot of the same looks but designed for the mid-tier price range," she explained. "Some fabrics are a bit different but very California influenced in print and color vibe."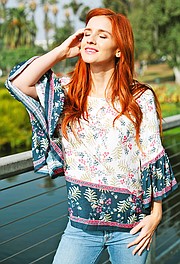 Buyers are taking notice of Bushman's approach to misses/contemporary dressing, as they responded positively to the new lines during New York Market Week held in September.
"The response was great, and we got paper immediately. The dresses were very strong," Bushman said. "One thing I was most excited about was our printed cotton/Modal T-shirts and casual tops in cotton/Modal jersey and slub jersey—those really took off."
While the team at Alchemy Thread and Alkamy is hopeful, following a successful introduction to its new retail partners, there remain challenges for new brands launching in the current apparel-manufacturing climate.
"The fashion business is not easy now," Wang said. "The marketing is changing and consumers' thinking is changing. If we keep an open mind, use creative thinking and shift together with the market, we will find a successful niche."
This creative thinking and open-mindedness are part of the process that contributed to Bushman's conceptualization for Alchemy Thread and Alkamy. By adhering to the meaning of the word "alchemy," she believes these new clothing lines could strongly affect a woman's life.
"Alchemy is an ancient practice, when someone takes the ordinary and turns it into the extraordinary, such as someone who can take lead and turn it into gold," she explained. "I am looking at fashion alchemy. What are we transforming? We're transforming a woman's self-image as well as transforming what others see in her."
Photos by Aurelie Davis