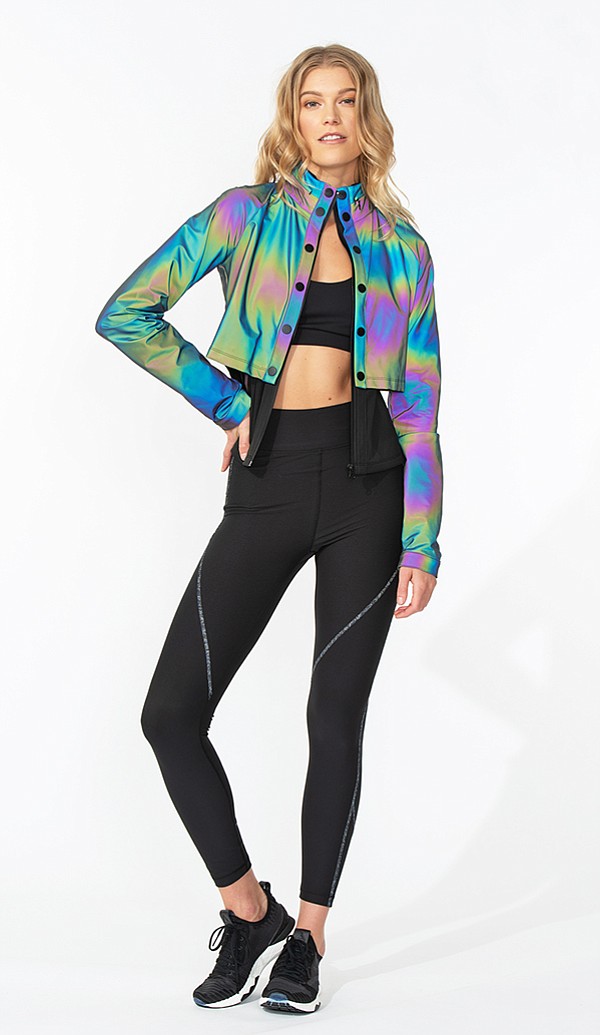 RUNWAY-INSPIRED ATHLETICWEAR
Thrive Société Forges Its Own Path in the Race to Compete With Athletic Apparel
The activewear category in apparel has expanded far beyond fitness enthusiasts and accomplished athletes as fashion continues to embrace the trend with chic athleisure pieces and luxurious streetwear lines. As athletic wear was beginning to cross over into mainstream fashion, Walnut, Calif.–based Thrive Société launched its Spring 2018 women's collection to offer a unique blend of femininity and function.
"There was a hole in the market as far as active athleisure [was concerned], where the air of femininity wasn't there," the brand's senior designer and triathlete Bre Neidt said. "A lot of activewear that is out there right now is not performance based."
While she and the company's founder—30-year apparel-industry veteran Perry Wang—wanted to create pieces that were based on runway designs, the collection had to meet the performance demands of athletes, which is a struggle Neidt knows all too well.
"For me, fabrication is always something that I think is really important," she explained. "I was tired of wearing itchy, scratchy things when I worked out. It's about being comfortable and wanting to wear something not only during your workout but after."
With 14 years of swim and athletic-apparel design experience, working with brands including Warnaco Swimwear Inc., Adidas and Australian sports brand Jaggad, Neidt is familiar with the evolution of the industry. As Thrive Société has grown over the last year, since its August 2017 launch at the MAGIC trade show in Las Vegas, the brand is holding on to some of its original design features—such as knitted twill tape that yields a softer hand—and manufacturing methods that have contributed to its success.
"People were really attracted to the details of the garments and the finishing. I am super detail oriented," Neidt explained. "Bound seams on the interior of hoodies and twill tape at the back of the neck—those finishing details are really important. I want your garment to be as beautiful hanging on the back of your chair as it is on you."
Through four collections a year, the brand is relying not on simple athletic-wear and athleisure trends but also on those that are found on the runway during each season on the fashion calendar.
"We used this beaded metal trim along seams. It's small and delicate, but it gives a tiny bit of glimmer to the garments," Neidt revealed. "That was a high-end runway trend that Brunello Cucinelli used, and Alexander Wang was using it in a way bigger way."
By examining the looks found on the most notable luxury designers, Neidt translates these high-end styles into clothing that women can feel good about wearing while working through the most demanding training session or simply enjoying the latest Netflix binge-worthy series.
"The aesthetic of taking a runway trend to a level that is affordable and using it in a completely different way, such as on the shoulders of a runner's tank, is not normal, but it brings an elevated feel," Neidt said.
Despite its runway influences from some of the world's most lauded contemporary designers, Thrive Société also relies on features that are influenced by common issues that athletes face. Whether a woman wants to attend a yoga class or participate in a triathlon, the Thrive Société collection of sports bras is designed in different styles to provide the necessary support for a variety of activities.
"It's extremely difficult to find technical companies that produce such beautiful activewear for runners, the gym and yogis," Dana Brusilovsky, a buyer for New York City–based Paragon Sports, said. "This is the second season I have Thrive Société on my floor, and customers are completely thrilled. They are touching the fabric, trying it on, and the fit looks great."
While Neidt considers how she can improve upon designs in the future, if a piece proves to be extremely popular with customers, she will rework it slightly and release the altered version during the next season.
"We kept some of our best-selling pieces, recolored them and carried them forward," she said. "For Fall, we tried to bring a bit more functionality to our athleisure pieces. We added reflective bungee, which was fun because it looks cool, but it also reflects light if you're wearing it during a workout during dusk or dawn. We keep customers safe."
Using this method of building a brand through new designs yet reimagining customer favorites, Neidt is helping to establish a legacy for Thrive Société that could further elevate the company to become a heritage brand of athletic/athleisure apparel in the future. For the Spring 2019 collection, which wholesales between $16 and $102, the brand is expanding the line by improving on its solutions to problems customers face while working out.
"This Color Block Jacket, which was the shining star at all the trade shows, uses this reflective oil slick–looking fabric," Neidt revealed. "It's designed for high performance, and it's the highest-end jacket that we do."
The polyurethane jacket features a fabric similar to material used by Maison Margiela for its Spring '18 line, noted Neidt. When worn by athletes who prefer to train outdoors during the darkest periods of the day and night, the material reflects the light from vehicles, thereby allowing drivers to see these fitness enthusiasts.
With its Spring 2019 collection, Thrive Société also included a plus-size capsule of pieces for women who enjoy working out but face the challenges of finding activewear that fits their bodies. For the initial rollout of its expanded-size offerings, the company will feature pieces measuring 16–24 and 1X–3X. "It's four styles for Spring, and we'll keep adding through Summer into Fall, said Neidt. "We're really excited about that."
Working with the same beloved China-based manufacturer since its inception, Thrive Société continues to evolve. While the company isn't a completely sustainable brand, it is using more-responsible manufacturing and dyeing processes. The brand has included fabrics such as brushed bamboo and recycled polyester for certain styles.
"Trying to find sustainable fabrics that don't completely obliterate the price point is important," Neidt said as she explained that the industry is shifting toward more–environmentally responsible practices. "When I am sourcing, if I have two fabric swatches in front of me, one says recycled or eco, I am going toward that selection."