MANUFACTURING
Using Reclaimed Fabric to Promote a Sustainable Manufacturing Model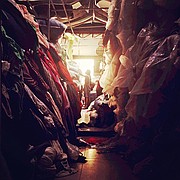 For Tonlé apparel-brand owner Rachel Faller, entering into fashion wasn't part of her career plan when she studied textile design at the Maryland Institute College of Art, where she focused on fine art and sculpture.
"I loved making things, but I knew that the fashion industry had problems, and I wasn't sure how to participate in a way that I felt good about," she said.
It wasn't until 2007—during a trip to Cambodia—that Faller met artisans who were using fair-trade practices. She realized apparel could be manufactured without contributing to the waste issues that occur during clothing production.
After receiving a Fulbright grant to research methods for sustainable textile production in Cambodia, Faller recognized the need for socially responsible, sustainably produced clothing and launched her own ethical fashion brand, named KeoK'jay, in 2008.
"There was a gap in the market for ethically made, sustainable clothing that was wearable and usable on a daily basis," she said.
There isn't a large raw-materials market in Cambodia, and Faller was unable to find the organic fabrics that she wanted to use in her womenswear designs. Instead, she searched secondhand markets for used clothing and linens and soon found piles of fabric waste from local apparel factories.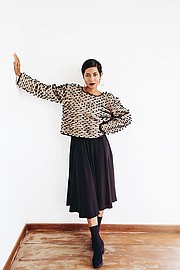 "That is how I discovered there was a huge amount of waste coming out of the garment industry," Faller explained, as she described her shift toward sourcing pre-consumer recycled materials. "We don't need to create new materials when there is so much waste."
With this shift, Faller wanted to emphasize her improved approach to ethical, sustainable fashion and rebranded her business as Tonlé, the Khmer word for river. Searching for alternative sources of fabrics, Faller started to use a combination of dead stock, cutaways and smaller scraps.
"In 2014, I rebranded as Tonlé," Faller said. "It was at this time we adopted a totally zero-waste model."
By simply sourcing her materials through reclaiming fabrics from factories, Faller provides Tonlé's workers with enough resources to create her line through the company's San Francisco flagship and select boutique partners. The brand recycles approximately 20,000 pounds of fabric annually.
In addition to her sustainable mission, Faller follows ethical production standards for the clothing as well. The Tonlé workshop in Cambodia uses a station-based approach, where workers move between tasks to learn different skills, which will make them more employable.
"In our workshop, we try to promote from within the team and have people learn transferable skills," she said.
There are 30 cut-and-sew professionals in Faller's workshop, but in 2016 she started working with Weaves of Cambodia, a nonprofit organization started by American veterans of the Vietnam War. Many of the workers employed by the organization were left permanently disabled from landmines placed in the region during the conflict.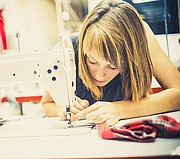 The comprehensive approach to ethical manufacturing is resonating with Tonlé's clientele. At Berkeley, Calif.–based boutique Palm & Perkins, Genna Gershkow and Julia Gordon focus on telling the stories behind the ethically made goods they sell.
"Her [Faller's] style is on point for us. It's simple, but it has fun and interesting touches that make it different from any other piece of clothing that I've seen," Gershkow explained as she discussed her store's business, which launched last November.
As part of the shift toward conscientious shopping, Gershkow feels that consumers are starting to think about the origins of their clothing. "Hearing about Tonlé and Rachel's story opened up our customers' eyes to value that product," she said.
With the launch of the brand's Autumn/Winter 2018 collection, Tonlé has saved 14,000 pounds of textile waste from entering landfills in this single line, positioning the company to exceed its annual average. Wholesale pricing ranges from $20 to $96, depending on the fabric and construction, with pieces that include hand-woven details selling at the highest cost.
"One of the other ethical sides of the business is making it approachable," Faller said. "There is a ton of high-minded eco fashion not accessible to people who want to be a part of this but don't have a lot of money."