EVENTS
Activewear Moves to the Head of the Class Through Herbalife and FIDM Partnership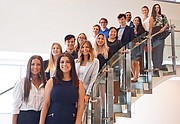 This week, the apparel industry found an unlikely partner as Herbalife Nutrition—distributor of nutrition, weight-management and fitness products—unveiled an activewear competition it is sponsoring with the Fashion Institute of Design & Merchandising in downtown Los Angeles.
The opportunity will challenge students of the school's advanced-study program in International Manufacturing & Product Development to showcase their skills in activewear design. Students will design an activewear line for independent distributors of Herbalife Nutrition's products.
"FIDM is one of the top design and fashion schools in the world and shares a like-minded commitment to innovation and excellence, making them an exciting partner for this design challenge," Herbalife Nutrition Chief Executive Officer Rich Goudis said in a statement. "Our collaboration on this project provides an opportunity for the next generation of creatives to develop apparel inspired by our entrepreneurs and employees, who are purpose-driven to help people lead a healthier and happier life."
After being organized into teams, students will work together to create an activewear collection that aligns with the Herba­life Nutrition mission of leading healthy and active lifestyles. A panel of the Herbalife Nutrition team and FIDM faculty members will judge the students' use of theme, color and fabric as well as production methods, sourcing and merchandising. Individual students will also be allowed to create their own designs, separate from the team project.
"This is the 26th year that FIDM has partnered with a global brand to create a design competition for our students," FIDM Vice President Barbara Bundy said. "Herbalife Nutrition joins companies such as Nike, who have educated and challenged our students in new and inspiring ways, and we are excited to work with the Herbalife Nutrition team to develop activewear that underscores the optimism and empowerment consumers garner from living their best, healthy and active life."
In addition to participating in working sessions with Herbalife Nutrition as part of their research to grasp the needs and demands of the millennial consumer, students will be invited to attend the company's annual meeting in Houston and have the opportunity to travel to fashion cities, such as Milan and Paris.
FIDM faculty and staff chose 15 students to participate in the International Manufacturing & Product Development program to gain the experience of working with this global brand. The program will wrap up sometime during the spring 2019 semester.