MANUFACTURING
Finding Body Confidence in the Foundation of Sheer's Little Black Dress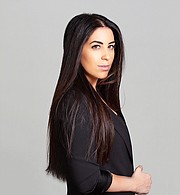 Many consumers often battle personal insecurities about their bodies and make apparel purchasing decisions based on how a piece of clothing makes their bodies appear—not simply how a garment looks on a hanger.
This was the issue that Sheer Sebag was trying to overcome as she developed her line of little black dresses. After launching Sheer dress designs in early August, Sebag explained that through personal struggles with body image, dressing and shapewear, she developed the concept for her new business.
"I found that the current shapewear products available on the market were not good enough," she explained. "I decided to create an all-in-one piece that would basically provide women with a more innovative solution to that everyday struggle that we go through with our bodies and image."
The all-in-one solution that Sebag refers to as her "magic dress" is a little black dress that has been redesigned to include shapewear within the garment. Available in two styles—the Sheer Classic and Sheer Mini—the dress was created as a versatile piece that fits different ages, careers and body types. From twentysomethings who are planning a night out to professionals who are attending work-related events, Sebag designed the three-layer dress to appear elegant.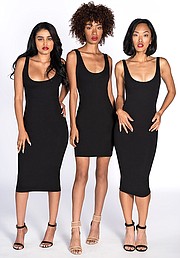 "You have the outer layer, which is the simple shell seen from the outside," she said. "You also have two layers on the inside that provide the compression, similar to traditional shapewear—but better. It's very thin and entirely invisible from the outside. You have that extra double layer of support on the inner garment."
To help create Sheer, Sebag enlisted the guidance of textile veteran Tosha Hays, formerly of Spanx,as her product adviser.Currently serving as the chief product officer for Advanced Functional Fabrics of America (AFFOA), Hays's insight allowed Sebag to understand the need for different fabrics to address each body issue.
"She comes with a great background and experience. We just serendipitously connected and she loved the idea," Sebag said of meeting Hays. "I was really fortunate to have found her. I was relentless. If I was going to create this product, it had to be someone of that caliber."
The women set out to create a dress that included foundation pieces and a seamless appearance without the discomfort of fabrics that pinch and squeeze skin, often resulting in bulges.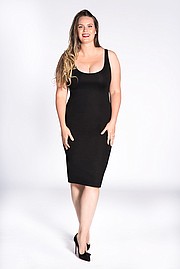 "This is a solution to a serious problem that we deal with every day as women," Sebag explained. "It's more than just a product—it's a tool that will help them look and feel their best."
Citing Italian-style design inspiration, the women decided to use a ponte fabric on the outside for a luxurious feel. A middle layer includes a jersey-fabric bra built into the design. Extending down from the bust there is a light tricot fabric that affords stretch and recovery, which gives a stronger and more comfortable alternative to traditional materials. The final component is a satin panel that alleviates the notorious paunch in the abdominal area.
"We launched with a traditional classic and mini, which is the everyday little black dress in two lengths," Sebag said of the designs, which retail for $375 and $325, respectively.
The Calabasas, Calif.–headquartered company manufactures its pieces in Vietnam and is going to expand its offerings by building on the initial design to accommodate a growing clientele.
"We are going to come out with many different colors in these two styles," Sebag said. "The No. 1 request I've been getting is 'Are you going to have sleeves? I want to hide my arm fat.'"
To meet this demand, Sheer will release dresses with different cuts to alleviate other body issues women face. In addition to dresses, Sheer will expand this fall into offering other shaping solutions to solve wardrobe problems, as Sebag has big plans for her growing line.
"It's going to be more than just dresses," she said. "I plan on getting into activewear and a lot of other things. Right now, I want to focus on one thing at a time, not overwhelm my consumer, and just prove my concept and quality first."