MANUFACTURING
American Giant Enters the Made-in-America Denim Segment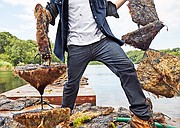 Since its 2011 inception, American Giant has made a big impression on fans of premium basics. The San Francisco–based, primarily e-commerce apparel company founded by Bayard Winthrop has become known for its high-quality hoodies made in Los Angeles.
Expanding on its made-in-America message, it also offers T-shirts, work shirts, button-up styles, crew sweaters, vests and jackets. Now American Giant has launched a men's denim line that was introduced in its Fall 2018 campaign.
While American Giant has previously released sweatpants, leggings and moved closer to dungarees with the March 2018 launch of its Roughneck Pant line, this is the company's first venture into blue jeans.
Entering a denim market that has countless players in place might seem odd for a company that has found its niche in making quality basics. But for American Giant, it was the perfect opportunity to create a new formula for blue jeans. Using its approach to basics, the company developed the jeans over a course of three years and was able to reinvent its denim by focusing on a simple formula rather than adding unnecessary features.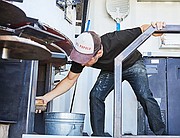 "We saw an oversaturated denim market," a company spokesperson said. "With the men's blue jeans, our aim is to streamline this classic product category with a single cut and wash."
To test its initial venture into the denim space, the company experimented with the Roughneck Pant—a five-pocket, straight-leg cut in canvas—which allowed American Giant to measure customer response.
Currently retailing for $128, the design of the Roughneck Pant is similar to a pair of jeans but functions as a pair of work pants that performs to the company's standards for making resilient, quality products.
Not only did the brand want to manufacture a product made in the United States, but it sought a textile partner who could provide a quality fabric. American Giant found its match when it partnered with Mount Vernon Mills, located in Trion, Ga.
The textile company has been in the fabric business since 1845. As it sought to expand its offerings, the company has dabbled in the premium-denim segment since the height of the high-end blue-jeans resurgence of the early 2000s. Within the last five years, the textile mill has increased its premium-denim offerings, now averaging 600,000 to 700,000 yards a week.
"It's extremely pleasing to know that we can revive the denim-jean business in the United States," said Dale McCollum, vice president of merchandising for denim.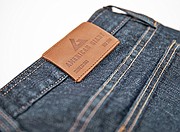 Mount Vernon Mills has been developing the American Giant denim since the beginning of the apparel company's venture into blue jeans three years ago. The natural partnership came from a mutual respect between the 173-year-old textile company and the 7-year-old clothing brand.
"They are a great organization as proven by the success of their hoodie," McCollum said. "It was a natural fit to move into the denim jean."
For its expansion into denim, American Giant released its 218 Straight, a five-pocket, straight-leg, relaxed design similar to its Roughneck Pant. Through its partnership with Mount Vernon Mills, American Giant was able to develop a custom denim specifically for this collection in a deep indigo hue that the clothing brand refers to as "Maritime," with a right-hand twill.
The zip-fly, hand-sanded-finish jean is made from a fabric blend that is primarily a cotton-poly and, with 2 percent spandex, it has a bit of stretch.
For its manufacturing partner, American Giant is working with New Fashion Products in Los Angeles—which opened in 1974—building its blue-jeans line through the legacy of the city's denim heritage.
While American Giant also sells women's apparel, the denim venture is limited to men's for the Fall 2018 collection. The company hasn't revealed a release date but has said that a women's denim line will be made available by winter 2018. It will also have a different fabric construction than the men's line.
"The fabric has already been made and shipped," McCollum said. "The fabric will be very well received in the women's market. It's a very comfortable, soft denim jean."
With no retail partners, American Giant sells its men's blue jeans for $138 through its website and its only bricks-and-mortar location—a flagship based out of its downtown San Francisco headquarters.