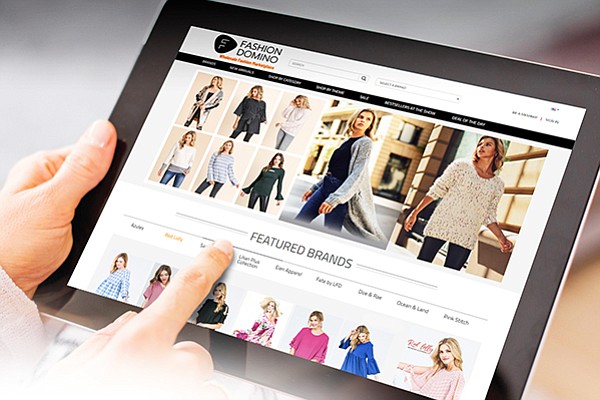 E-COMMERCE FOR MANUFACTURERS
Fashion Domino Knocks Down E-Commerce Roadblocks for Apparel Manufacturers
The importance of e-commerce continues to grow as manufacturers seek tools to fortify their relationships with buyers.
LA Showroom and FashionGo have been offering online business-to-business wholesale platforms for nearly 20 years. But Fashion Domino is a relatively new upstart launched last spring to provide a more affordable service tailored to manufacturers' needs through a platform created by their peers who have been in the business and know the challenges that apparel brands face.
"A lot of these sites are filled with resellers—people who buy from other manufacturers and sell at wholesale," said Yul Kwon, a 16-year apparel-industry veteran who is a board member of the Korean-American Apparel Manufacturers Association (KAMA) and the L.A. Fashion District Business Improvement District, as well as a consultant to Fashion Domino. "The manufacturer sells it at $10 and the reseller is going to sell it at $20. Guess who sells more? The reseller."
In 2016, members of the Los Angeles–based KAMA recognized a need for an online wholesale platform that would address their need rather than a site that is managed by technology-focused developers. At five months old, Fashion Domino now includes more than 20 investors and 100,000 products from 130 member brands.
Compared with exorbitant online rates at competitor sites, Fashion Domino doesn't charge advertising fees for the first 12 months of membership nor any hosting fees. Members of KAMA are automatically given access to the platform through their $450 membership fee. Nonmembers of KAMA may join Fashion Domino for the same rate.
"The main thing that makes us different from other sites is that we're not asking for a hosting fee," Kwon explained. "We're going to charge for ads after one year of membership and you have to be a manufacturer to be on the site."
Through Fashion Domino, Kwon hopes to provide manufacturers with a better return on investment than other apparel B2B platforms. He noted that over the last five years he has seen advertising rates for banner ads and placement increase on some sites by as much as 900 percent, with bidding wars leading to a 1,400 percent increase for one advertisement.
"People are suspicious and leery of online platforms, and they're spending a lot of money to keep up with sales," he said. "It's not a great ROI with those kinds of ad fees, but it also says something about the importance manufacturers are placing on the online distribution channel."
Members of Fashion Domino recognize that competitor sites have an established following and that their new site requires time to grow. As members develop marketing strategies to maximize their reach on Fashion Domino, they are beginning to field orders from interested buyers, without the challenges of selling on other sites.
"The cost of doing business on other sites was becoming a bit of an issue—commissions, advertising. It's getting so competitive and the cost has gone up drastically over the last four or five years," said Joe Song, owner of the Los Angeles women's apparel brand Glam. "Fashion Domino is a great alternative that came out just in time."
By positioning Fashion Domino as a platform created by manufacturers for manufacturers—rather than a site created by developers for manufacturers—the site has carved out a unique space in the B2B online wholesale environment. Song also feels a sense of camaraderie with the Fashion Domino staff, which gives him more comfort.
"They have personnel who understand our side of the business, so it's easier to talk to them because they already know what we're thinking," he said. "They also have everything the other sites have. It's all there."
While the site began due to the needs of Los Angeles apparel manufacturers, investors are interested in reaching more buyers who might not be able to travel to the city often. As online sales continue to occupy a larger portion of buyer investment, manufacturers need to invest in the most efficient, time-saving tools that will reach existing and potential partners.
"[Fashion Domino] is a one-stop-shopping website with all the vendors that are in there already and a lot of people who are out of state who can't come to Los Angeles every week to buy," said Los Angeles' Cello Jeans Vice President Adam Lee, a Fashion Domino member and an investor. "About 35 percent of our sales for the year are online. We've seen many boutiques ordering online as opposed to walking in."
With the increase in online sales, some members see a complementary relationship between building a strong online presence and growth through traditional sales methods such as trade shows. At Doe & Rae, a Los Angeles womenswear brand, sales manager Eric Do explained that his company's online sales growth has helped his trade-show figures.
"The online marketplace can't rely only on a preorder system, whereas the trade shows provide that," he said. "If you have the online presence and you attract new customers, they will try a test order of one or two things for Immediates and, if they like it, they will come see you at the shows."
Kwon sees great potential for Fashion Domino, as a new resource for online B2B wholesale apparel, to collaborate with businesses in the neighborhood where it was created and beyond. Noting that all the investors for the platform are part of the L.A. Fashion District, he emphasizes that the platform is a tool that will not threaten the neighborhood's apparel-business community but support it.
"We don't feel like we're going to replace the Fashion District," he said. "We believe that with Domino we can all work together. We want the vendors and manufacturers to have control of this channel so they can support their physical showroom, they can support their reps and they can support their booth at MAGIC."