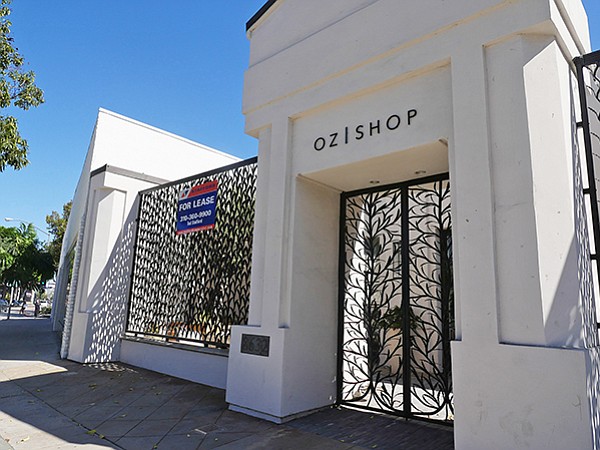 RETAIL VACANCIES LOW
L.A. Retail Real-Estate Scene Outpaces Some Parts of the U.S.
E-commerce business has been skyrocketing, but judging from retail vacancies in Los Angeles County, bricks-and-mortar retail is still a contender.
Retail vacancies in Los Angeles County were a low 4.0 percent in the second quarter of 2018, according to JLL, a Chicago-area commercial-real-estate investment-management company.
This vacancy rate represents a slight uptick from 2017, when vacancies were at 3.9 percent. But it is lower than the 5.9 percent vacancy rate seen in 2009 at the height of the Great Recession, according to JLL.
Core prices for Los Angeles County retail real estate range from $6 to $10 per square foot for popular retail streets, according to Houman Mahboubi, JLL's executive vice president. But prices can skyrocket to $90 per square foot for the most exclusive properties on streets such as Rodeo Drive in Beverly Hills, Calif.
But vacant storefronts have upended this thriving picture, especially in well-to-do Los Angeles neighborhoods, including Robertson Boulevard, parts of West Hollywood, and malls such as Hollywood & Highland, where several high-profile retailers—including Guess, Bebe, Qwest and Oakley—have shuttered their stores in recent months.
L.A. County stands on the opposite end of Manhattan in New York City, which is considered the top retail market in the United States. For the past couple of years, news stories have detailed an alarming increase in vacancies.
A survey by real-estate company Douglas Elliman noted that about 20 percent of all retail space in Manhattan was vacant, according to a Sept. 2 article in the New York Times. Skyrocketing rents and a shifting retail market were given as reasons for the empty storefronts.
Los Angeles County retail real estate is not as expensive as New York's. Car-obsessed Los Angeles offers fewer pedestrian shopping districts than Manhattan does. Los Angeles also benefits from being an entertainment capital, said Jay Luchs, vice chairman of Newmart Knight Frank.
"Los Angeles is getting hotter and hotter for brands that are starting out as well as established brands," he said. "The entire world's eyes are focused on L.A."
More and more celebrities are being tapped to promote apparel brands. People pay attention to every detail in the pictures and videos that end up in social media, magazine stories and news segments shot here. It pays to have retail space in the best parts of Los Angeles, Luchs said, because it's akin to having a billboard.
However, outside of the most fashionable enclaves of Beverly Hills, West Hollywood and some beach areas of Los Angeles County, retailers have to fight for every dollar they get, he said.
The business of retail streets is similar to the fortunes of malls, Luchs said. The best malls are thriving while B, C, and D malls are hurting. However, unique brands still have the potential to pioneer new streets.
"If a retail brand is that good, people will travel to wherever they are," Luchs said. He credited the popular Supreme brand for bringing a better retail scene to Los Angeles' Fairfax Avenue, which featured no high-end boutiques more than a decade ago.
With around 4 million people living in the city of Los Angeles, traffic always seems to be congested, which, surprisingly, can be a great thing for retail, said Greg Briest, a JLL associate. "As a market, Los Angeles is very unique because there is such a widespread area that ranges from Malibu to downtown Los Angeles. There's no solid transportation to get all over the city. Most people live, work and play all in the same area. It is causing, in effect, new retail corridors to emerge."
One recent major retail success story is Abbot Kinney Boulevard in the hip seaside Los Angeles suburb of Venice, which previously did not have luxe boutiques and restaurants. In the past decade, it has become an important retail and restaurant district and is considered one of the best in the area.
Los Angeles County vacancy rates are kept low because landlords have been able to roll with the punches, said Rafael DeAnda, a market analyst for CoStar Group, an international commercial-real-estate company.
"Our landlords are lowering their expectations to prevent too much vacancy," DeAnda said. "They're being very proactive about allowing nontraditional retailers in their properties."
Where big-box retailers have moved out, gyms, medical offices and restaurants have moved in.
Nevertheless, bricks-and-mortar retail will continue to be challenged, said Michael Koss, owner/operator of the Malibu Country Mart, a luxury retail center in Malibu, Calif.
"The Internet has had a tremendous impact on retail across America. I think that we have too much retail. It is true across the country," he noted.
Winners in the bricks-and-mortar business will be restaurants and service retail stores such as hair salons, he said. Enclaves mixing high-end retail and attractions such as entertainment will also continue to thrive.
"If you sell things and not services, you have to offer things that attract people—free parking or being located near the beach," he said.
The Malibu Country Mart offers a sense of place along with picnic areas and high-end boutiques located across the street from the beach.
Another retail center that offers entertainment is the Irvine Spectrum in Irvine, Calif. Along with high-end stores, it offers a carousel, a Ferris wheel, play areas for children and seating areas to relax. Koss also said perks like that are key to doing business in areas where consumers have the means to support high-end retail.
Koss also warned that landlords shouldn't rely on pop-up shops, which have been an increasingly familiar sight in the past decade on retail streets and malls.
"They give substantially less rent," Koss said. "It's hard to support debt if you have too many pop-ups."