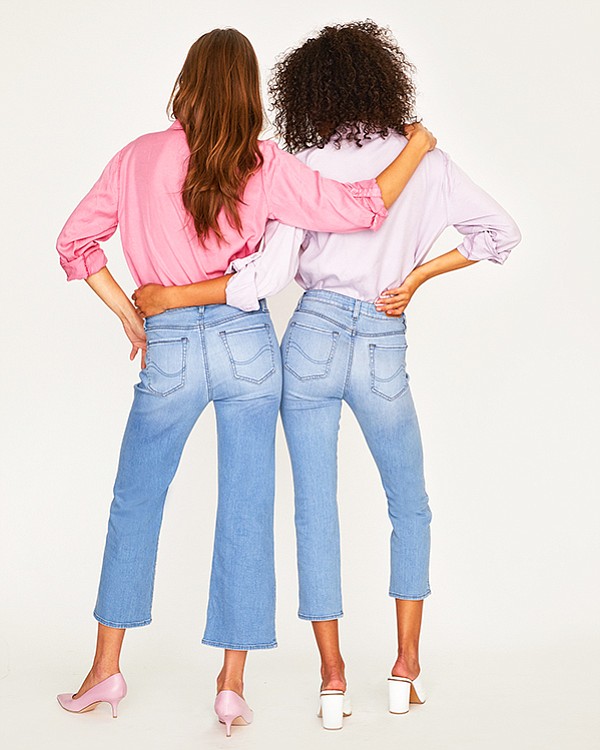 SANCTUARY'S SUSTAINABLE SPRING
Sanctuary Creates Smarter Sustainable Manufacturing for Spring '19 Collection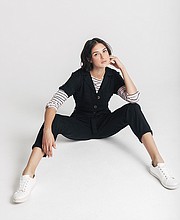 Ahead of its Spring 2019 launch, Los Angeles women's lifestyle brand Sanctuary announced its "Smart Creation" production process, which will build the brand's reputation for environmental and social responsibility.
"It's something that we want to make part of our product line and culture moving forward," Debra Polanco, chief creative director, said. "We definitely think the time is now. Three years ago, when the United Nations members inked the Sustainable Development Goals for 2030, it was the beginning for our industry—the call to action."
While the team at Sanctuary has established its role as a conscientious force that doesn't back down from important issues, the Smart Creation initiative shows how the brand is practicing the message it preaches.
Based upon three core practices—a smarter wash process, using low-impact fibers and incorporating polyester content from recycled water bottles—the process reduces the high water consumption, chemical usage and energy expenditure that are typical environmental threats caused by the fashion industry.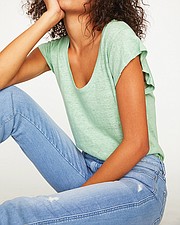 "We are using a process called e-Flow, which requires 95 percent less water, approximately 90 percent fewer chemicals and 40 percent less energy, and the washes are beautiful," Polanco said as she discussed her adoption of the nanobubble wash technology for the new Sanctuary denim collection. "That was one maker and one wash house, but now we're seeing that everyone is starting to look into getting this equipment."
Cleaning up the wash process during denim production is a big task for apparel manufacturers, but Sanctuary was interested in implementing green manufacturing practices across all product categories. The company sought to incorporate environmentally sound practices at the first steps in production by sourcing more-responsibly made textiles such as organic cotton, Tencel and Repreve.
"The other initiative for us in our Smart Creation initiative is the recycled-water-bottle polyester," Polanco said. "The low-impact fibers in the Spring collection are the Tencel and linen products. For Summer 2019, we're introducing some organic cotton and for next Fall there will be more, as well as the Repreve."
Once the company identified the areas in which it could reduce its environmental impact, Sanctuary wanted to implement the new initiative immediately. The brand worked with its partners to address changes in production and, fortunately, the transition didn't require Sanctuary to reexamine its partnerships.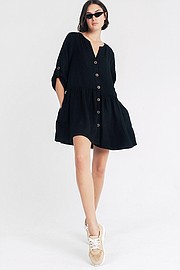 "We didn't have to change any partners," Polanco said. "Everyone is bringing things to the table, which is great, and every product division came up with its own ideas."
Through working with a global network of manufacturing partners that includes companies in the United States, Morocco, Vietnam and Portugal for knits, wovens and outerwear and Mexico and China for its denim, Sanctuary has accepted a large undertaking to adhere to a sustainable mission. Moving forward, Sanctuary wants its brand to be associated with cleaner apparel production, meaning the company is ready to hold its partners accountable.
"There is protocol for all of our factories—they all have to be certified," Polanco said. "Now, in some of the fibers, we are asking for certificates as well. Everyone is willing to be transparent."
After attending the latest edition of Première Vision Paris, held Sept. 19–21, Polanco was optimistic about the eco-conscientious direction the industry is taking as she continues to steer Sanctuary toward greener practices.
"Being at the show, there were mills that would say, 'Do you want regular cotton or organic?' or 'Do you want recycled poly or regular?,'" she recalled. "For the same price, do you have to ask?"
In the past, brands might have complained about the difficulty and high costs associated with implementing sustainable measures into their production. While other companies might view investing in greener practices as a financial burden, Polanco reveals that the costs to produce the Spring 2019 line—which wholesales from $18 for a T-shirt to $72 for a jacket, with denim starting at $45—weren't much higher than her former manufacturing methods.
"It didn't affect our costs at all for Spring," she said. "It wasn't a big difference."
With the rollout of its more ecological approach to making apparel, pieces from the Sanctuary collection will include Smart Creation–branded tags explaining how the company is improving its production practices.
As a gift for certain customers, the brand also created reusable shopping bags made from its upcycled denim. While the company is still finalizing marketing details for its Spring 2019 campaign, Polanco is ready to talk about how this new initiative will fit into future collections, such as utilizing recycled-plastic-bottle polyester to create its faux fur for the first time.
"You'll see a lot more for Fall," she said. "As the mills continue to document processes and weave it into their cultures, it makes our jobs as designers and manufacturers easier."