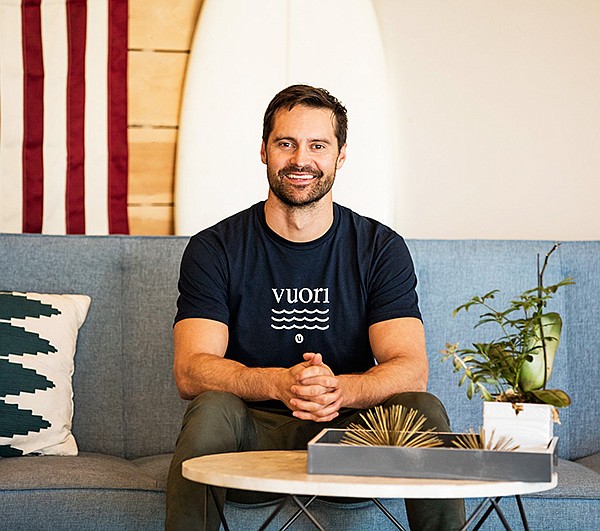 MANUFACTURING
Vuori Gets Big Investment from Norwest Venture Partners
Encinitas, Calif.–headquartered athleticwear brand Vuori recently announced a $45-million investment from Norwest Venture Partners, said Joe Kudla, Vuori's founder and chief executive officer.
Jon Kossow, Norwest's managing partner, will join Vuori's board of directors and gain a minority stake in the 4-year-old athletic brand. Kudla said that his brand will use the capital to invest in growth—"hiring, expanding marketing efforts, inventory and investing more heavily in vertical retail," he listed as some of Vuori's upcoming initiatives.
When Kudla participated in a wide range of sports and activities, such as surfing and yoga, he wanted to wear something that felt as good in the yoga studio as in the water. His search for performance clothes that would work with many sports was the inspiration for the brand.
Vuori currently runs three bricks-and-mortars, which include an Encinitas flagship as well as stores in Manhattan Beach, Calif., and Malibu, Calif. Vuori also is sold in Nordstrom, REI and Backcountry stores.
Styles include boardshorts, pants and tops for men and women, including the bestselling Kore Short, which retails for $68. The Kore short features four-way stretch fabric and design elements such as a supportive-boxer brief-style liner.
Kossow said that he is a customer of the brand. "As devoted customers, it was apparent to us that Vuori had built versatile products with tremendous energy and soul," Kossow said in a statement. "This is exactly the type of positive brand experience we search for in our consumer investments, and we look forward to supporting Joe and the team as they continue to bring new products to market and delight their customers."
Norwest's portfolio also includes the brands Birdies, Casper Sleep, Grove Collaborative, Jolyn, Kendra Scott, Madison Reed and Topo Athletic.