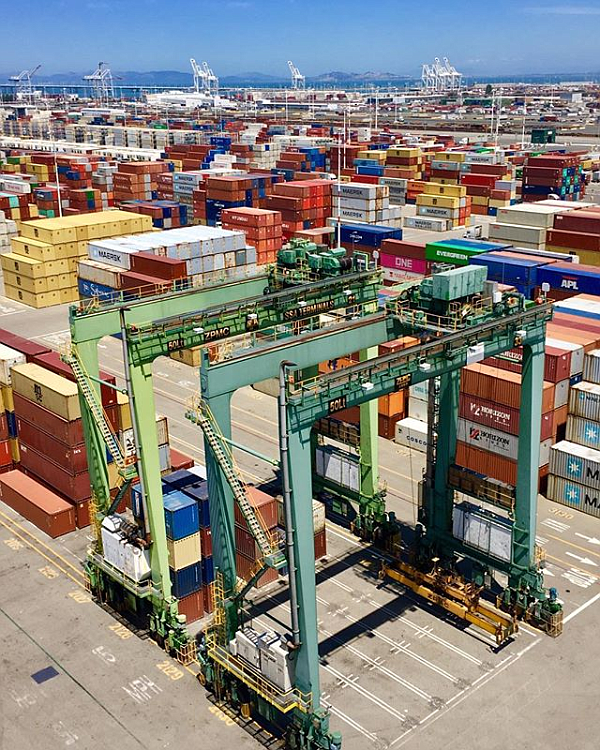 IMPORT/EXPORT
March Volumes Decrease at Major California Ports, but Optimism Abounds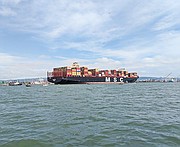 Ports along the California coast have seen a decrease in volumes for monthly and year-over-year statistics. At ports that service Long Beach, Calif.; Los Angeles; and Oakland, Calif., March volumes have declined, yet those who manage the ports remain optimistic and prepared for the uncertainty of the next few months.
Loaded-container volume declined from 2019 totals during March at the Port of Oakland. It reported a 7.4 percent decrease from the numbers recorded for the same month last year. Also down from 2019 numbers were the number of ships calling in Oakland, which fell 10.6 percent from March 2019.
"With fewer vessels, we would expect some further reduction in cargo volume," said Michael Zampa, communications director at the Port of Oakland. "Certainly we're not happy to see the reduction, but it was not out of the realm of expectation."
In addition to the decrease in loaded-container volume, there were reports of March containerized import volume dropping 10.3 percent from March 2019, while export loads were off by 5 percent. Returns on empty containers to countries of origin in Asia also decreased by 23 percent. The port revealed an 11 percent decline in total volume, which is calculated by combining data for these three measures.
"The supply chain is fluid so we can handle whatever comes. There had been concerns regarding a spike in volume once Chinese factories and ports reopen—they are back operating again—and we in Oakland have plenty of capacity," Zampa said. "We are still operating our night gates. The cargo is not dwelling; the ships are coming in and out within 24 hours. We don't expect any cargo-handling issues."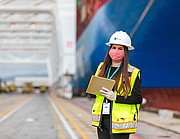 In fact, despite its lower figures, the Port of Oakland had exciting news to report. On April 16, the Geneva-based MSC Anna arrived in Oakland—the largest ship to ever call at the port. The 1,312-foot ship yields capacity for 19,200 20-foot containers.
"We are thrilled," Zampa explained. "We are a major international gateway. To stay that way, we have to handle the endless upsizing of container ships. It's the biggest ship we ever had and one of the biggest calls in North America. It will be in and out within 24 hours, and we don't foresee any issues."
Farther south, in Long Beach, Calif., at the Port of Long Beach, declines in cargo containers were reported for March as sailings were canceled. The port experienced a 6.4 percent decline compared to March 2019 with movement of 20-foot equivalent units for March 2020 totaling 517,663. The port's deputy executive director for administration and operations, Dr. Noel Hacegaba, explained that he and his colleagues are optimizing the port's capabilities with open terminals that are fully functional.
"We have what we call a Business Recovery Task Force composed of internal team members," he said. "Our objective is to keep the port open and operating, anticipate any challenges and troubleshoot, keep our customers and shareholders engaged. A very critical piece of this is to keep everyone informed."
Despite a high number of blank sailings during the first quarter of 2020, which was due in part to 19 canceled sailings from January through March, resulting in a 6.9 percent decline in cargo shipments compared with the same period in 2019, Hacegaba said the port is prepared. Following a shutdown of business in China during the first quarter of 2020, workers in that country are now slowly returning to their jobs.
"With Chinese factories coming back online and some of the orders that were placed months ago now in motion, we do anticipate a slight cargo surge in April and one of the issues is the risk of a lot of these inbound containers deemed nonessential, either being delayed or abandoned," he said. "We are not seeing that at the Port of Long Beach. In fact, what we have been doing for the last two weeks on that issue is engaging every supply-chain partner to make sure everyone has a contingency plan and anticipating this and gearing up for that eventuality."
At the Port of Los Angeles, cargo volumes decreased by 30.9 percent compared to March of last year. Numbers for March 2020 reflected the port's movement of 449,568 20-foot equivalent units. The first quarter of 2020 showed a decrease in volumes of 18.5 percent over 2019's figures, which the port said reflected the lowest amount of monthly cargo moved since February 2009.
"We've had two serious shocks to our supply-chain system. First, the trade war between the U.S. and China and now the COVID-19 pandemic," Gene Seroka, executive director of the Port of Los Angeles, said in an April 8 statement. "With U.S. retailers and cargo owners scaling back orders, volumes are soft even though factories in China are beginning to produce more. Amidst this public-health crisis, there will be uncertain months ahead in the global supply chain."
For March, the number of empty containers declined by 44.5 percent to 108,168 TEUs. While March imports totaled 220,255 TEUs, which reflected a decrease of 25.9 percent from the year prior, and exports decreased to 121,146 TEUs, for a 23.8 percent drop, there was a shining beacon of hope at the Port of Los Angeles. After arriving at the Port of Los Angeles on March 27, the USNS Mercy has served as a hospital that is serving patients who are not infected with COVID-19, affording relief to medical facilities that were initially overwhelmed by those who were being treated for the virus.