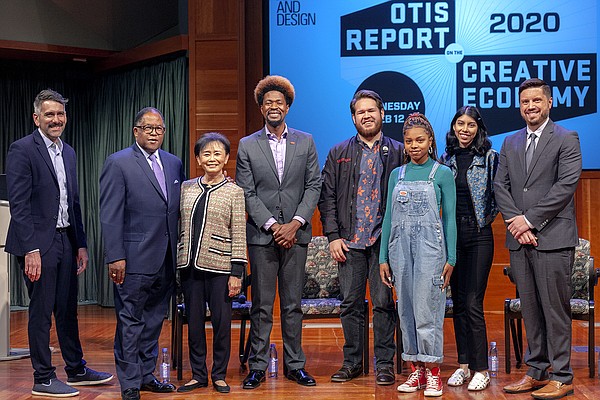 FINANCE
Otis College of Art and Design Unveils Creative-Economy Report for California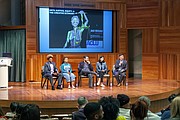 Findings in the "2020 Otis Report on the Creative Economy" revealed that of California's 2.68 million creative-industry jobs, 797,075 are located in Los Angeles County. Now in its 13th edition, the report provides insight regarding the growth of California's creative economy through the work of Beacon Economics, commissioned by the Otis College of Art and Design.
Officially unveiled Feb. 12 at the Los Angeles Central Library in downtown, the report showed that creative industries in California experienced 12.7 percent growth between 2008 and 2017 based on five core segments: architecture and related services, creative goods and products, entertainment and digital media, the fine arts and performing arts, and fashion. Growth in the fine arts and performing arts increased 25 percent during the period, with 12,000 workers added, while the fashion segment declined 18 percent, losing 28,000 workers between 2008 and 2017.
While the fashion category ranks as the second largest in California's creative economy, standing at 11 percent, its share of creative-economy employment declined 3.5 percentage points from 2013 to 2018. Despite fashion registering as the lowest-paying creative industry, wages in this segment rose nearly 30 percent from 2013 to 2018 to an average annual pay of $56,000.
Also from the period of 2013 to 2018, the California fashion industry declined 12 percent, the equivalent of 15,000 jobs. Additionally, apparel manufacturing in California declined 35 percent—or 20,000 jobs—during the period. Contrary to these figures, growth during the same period was found in apparel wholesaling with an increase of 18 percent, or 6,000 jobs.
In 2018, Los Angeles County held 38 percent of California's creative-industry employment, with the creative economy employing 13 percent of the workforce in the area. Occupying 19 percent of jobs in Los Angeles County's creative industries, fashion was second to the entertainment-and-digital-media segment, which held 64 percent of the region's workforce. While the statewide fashion industry declined 4 percent between 2008 and 2017, it has become one of the fastest-growing segments for the Central Coast, with an increase of 39 percent.
For the next edition of the Otis report, Beacon Economics will reexamine how it studies fashion-and-apparel jobs, such as dedicating more focus on different jobs in retail, according to Director of Research at Beacon Economics, Adam Fowler.
"When you shift the perspective from industry to occupational perspective and tease out the creative occupations that people think about in terms of fashion opportunities you see some growth on both coasts, which is exciting," he said. "Often, they are in industries that aren't always labeled in the apparel industry and fashion codes."
These job opportunities that are not always considered fashion roles, include work performed by professionals who hail from scientific backgrounds. As more focus is placed on technology and sustainability, Fowler sees a place for science, technology, engineering and math within fields traditionally considered artistic—such as fashion.
"You're seeing a real uptick in computer and mathematical occupations in fashion. That is an interesting change," he said. "We saw this five or six years ago, as streaming video content started to take off. Now you're starting to see an uptick in those skills and competencies in fashion occupations."