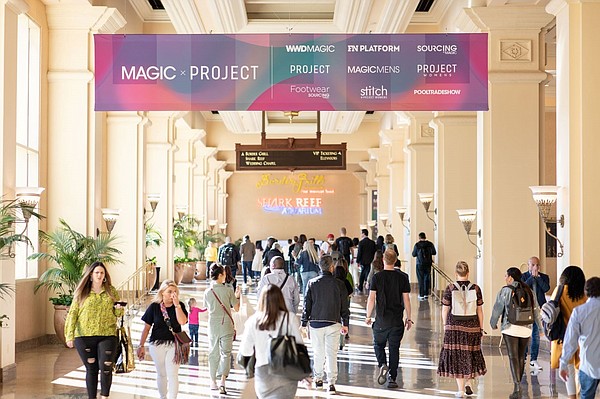 TRADE SHOWS
Informa Markets Fashion Announces Cancellation of September Las Vegas Events
Following its recent announcement of the cancellation of its September shows in New York City, due to COVID-19 concerns, Informa Markets Fashion announced July 10 that it would cancel the Sept. 30-Oct. 2 run of its Las Vegas MAGIC event and related brands due to concerns regarding threats from the COVID-19 pandemic. Originally scheduled for Aug. 17-19 onsite in Las Vegas, Informa Markets Fashion decided in May to move the shows to late September due to the coronavirus pandemic. Now focused on the Sept. 1-Nov1 digital trade event, Nancy Walsh, president of Informa Markets Fashion, revealed that the difficult decision to cancel the on-site September shows at the Las Vegas Convention Center was made following discussions with partners and stakeholders.
"Based on our discussions with partners and stakeholders surrounding health, safety, and travel concerns across the country, cancelling our late September Las Vegas event, while disappointing, is the best path forward for our fashion community," she said. "Current climate aside, re-evaluating, re-adjusting, and continually maturing our business model has always been part of our company ethos. Our digital trade event is a natural and necessary first step in revolutionizing and innovating our business in a time that is primed for digital opportunity and outlets."
Slated for the on-site MAGIC event were WWDMAGIC, Project, MICAM Americas, POOLTRADESHOW, Stitch and Sourcing at MAGIC. Digital offerings included in the September through November run that will be powered by NuOrder are MAGIC, Coterie, Project, MICAM Americas and Children's Club. The event will boast features including virtual trade-show booths and showrooms, digital catalogs, 360-degree product imagery, immersive brand experiences, and access to educational sessions and seminars. Sourcing at MAGIC and Footwear Sourcing will be hosted on a digital platform Sept. 15-Dec. 15.
"From the very beginning of planning a digital component to our events, back in early 2020, we have been diligently taking strides forward to ensure a meaningful product was developed for our community," Kelly Helfman, president of MAGIC, explained. "We have had our finger on the pulse of our industry and we have learned so much from our customers, partners, and community in the past few days, weeks, and months—their needs, wants, and hopes—which allows us to more confidently step forward this year and then further enhance our business into a dynamic and hybrid future in 2021."
With this new offering, Helfman looks forward to introducing buyers and attendees to the new digital offerings that will allow business to take place in an efficient manner that resembles a direct-to-consumer model, but for the business-to-business Coterie, Project, MICAM Americas, Children's Club, and MAGIC shows.
"A buyer could shop any of those different journeys and it's convenient for the retailers. If they want to shop Coterie and want to switch over to Project, it's going to be really easy for them to navigate," she said. "They will be able to work with the normal retention brands they love and discover new brands. We'll have a lot of search capabilities and functions where it's easy to find. You can search by product, price point, level of distribution, delivery dates and so forth."
When discussing the potential to expand Informa Market Fashion's shows to an international audience, Helfman mentioned that MICAM Milan will also be present during the event, allowing international buyers to explore all the events. Once international buyers gain access to a show such as MAGIC, Helfman sees an opportunity for retention in the future, once on-site events return to the calendar.
"Obviously budgets can be tough for international retailers to come to the U.S. for Coterie or MAGIC," Helfman said. "We are super excited because this will give them an introduction into what we offer as Coterie or MAGIC or Project. When we are back in the game with face to face events, they'll really understand the value."

Through its virtual offering, Informa Markets Fashion is also ensuring its exhibitors are provided tools that will facilitate selling to existing buyers and attracting new connections.
"All exhibitors can invite their existing customers to the platform," Helfman explained. "That will continue to see the platforms with more and more buyers. We are using our buyer base from Informa fashion, as well as the NuOrder buyer base to market and promote this platform."
As a new generation of buyers, who have been raised on these types of technologies, becomes older and embarks upon careers in fashion buying, virtual tools that provide line sheets, imagery, drop-ship options, and attentive service will become integral for exhibitors to remain relevant.
"There is a virtual-showroom technology so exhibitors can take a picture of their showroom and the buyer can click on certain pieces and pull those up with rotating images," Helfman said. "More and more the younger generation wants to know the story behind the brand. They''ll have the ability to do that. With our product analytics, the brands will see how many views they're getting and different measures of productivity."
Additionally, the digital format will offer sessions and seminars that have become a beloved component of Informa Markets Fashion. Trend reports will be released, engaging a global audience for the eight weeks of the show's run. As an offering on which Helfman and her team were working prior to the outbreak of the COVID-19 pandemic, the virtual option will eventually become a complementary offering that aligns with the on-site events.
"This is not a one-time thing just due to COVID-19. We hope people—when we are back to our face-to-face events—that they use the digital marketplace to plan prior to the show, and do some search and discovery," she said. "We're entering our future business model which is a hybrid of the two. It is exciting."