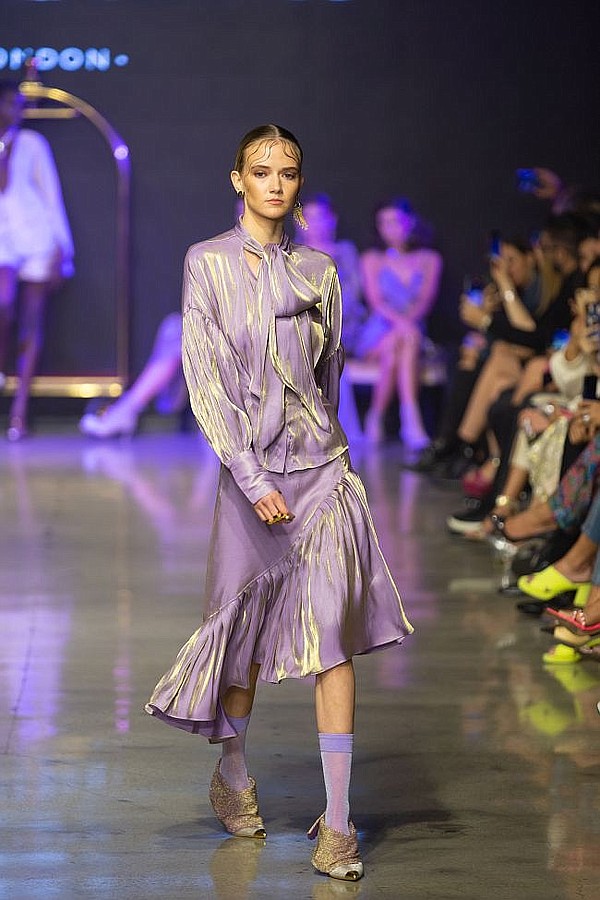 FASHION
Fashion Week Events in Los Angeles Postponed as Coronavirus Fears Grow
From fears of a halted supply chain in apparel manufacturing to retailers assuring consumers they are taking precautions to protect shoppers in their stores, the COVID-19 pandemic has created an uncertain future for the garment industry. Recent announcements from within the industry have revealed that major Fashion Week events in Los Angeles will be postponed.
In a March 13 email, Art Hearts Fashion producers explained that the Fall/Winter 2020 shows scheduled for March 26–29 at the Majestic Downtown would be postponed.
"We are working diligently to reschedule for a future date once we are allowed to gather safely," a representative said.
Additionally, in an email sent later on March 13, LA Fashion Week Executive Producer Arthur Chipman explained that the health of all involved in the production of the show and guests was the priority of organizers. He revealed the March 27–29 shows at the Petersen Automotive Museum would not go on.
"Unfortunately, due to the recent developments regarding the coronavirus, we've decided to officially postpone the shows until further notice," Chipman explained. "[The] health and safety of the designers, our staff and guests take precedence over everything else, and, while we would have loved to have our shows continue, things will be put on hold for the time being."
Threats from COVID-19 also took a toll on more-intimate events such as the Autumn/Winter 2020 Heidi Merrick fashion show, which was scheduled to take place on the designer's own property in Ojai, Calif., on March 14. While Merrick found this format to be successful last season, she alerted invited guests to the postponement of this edition through an email sent March 13.
"Out of caution, and following the advice of public health officials, we have decided to postpone Heidi's Autumn/Winter 2020 fashion show scheduled for tomorrow, March 14," she wrote. "We had been looking forward to celebrating with all of you and intend to reschedule when it's safe to do so."
After the announcements that Art Hearts Fashion's Los Angeles event and LA Fashion Week's March edition would be postponed due to the COVID-19 pandemic, Vegan Fashion Week founder Emmanuelle Rienda remained steadfast that the April show would go on. Following the March 16 announcement that the May 4 celebration on one of fashion's biggest nights, the Met Gala, would also be postponed, plans to hold VFW remained, but Rienda said she would shift the format of the event.
"I am trying to still share a message while putting the security of everybody as a first priority. As of now, the event will be streamed online with no audience and behind closed doors," she said. "It is so important to create a positive message of hope. As an activist, I cannot stay silent."
Originally scheduled for April 3–4 at The Void in the Los Angeles Arts District, this edition of VFW was planned to explore the theme of "Expansion," which would examine environmental challenges through fashion, ethics, sustainability and animal rights. The event would have included a designer showroom, panel series and fashion show.
While some facets of the show will be bypassed, with the larger event postponed until October, Rienda is determined to relay the message of her organization, which she feels is timely due to the spread of the coronavirus in addition to similar illnesses that have threatened the global human population in the past.
"This situation is directly linked to animal exploitation, like all the virus outbreaks the world is experiencing—Ebola, mad cow, swine flu [as examples]," she explained. "The social injustice happening in our country is also a very big topic to discuss in an artistic way."