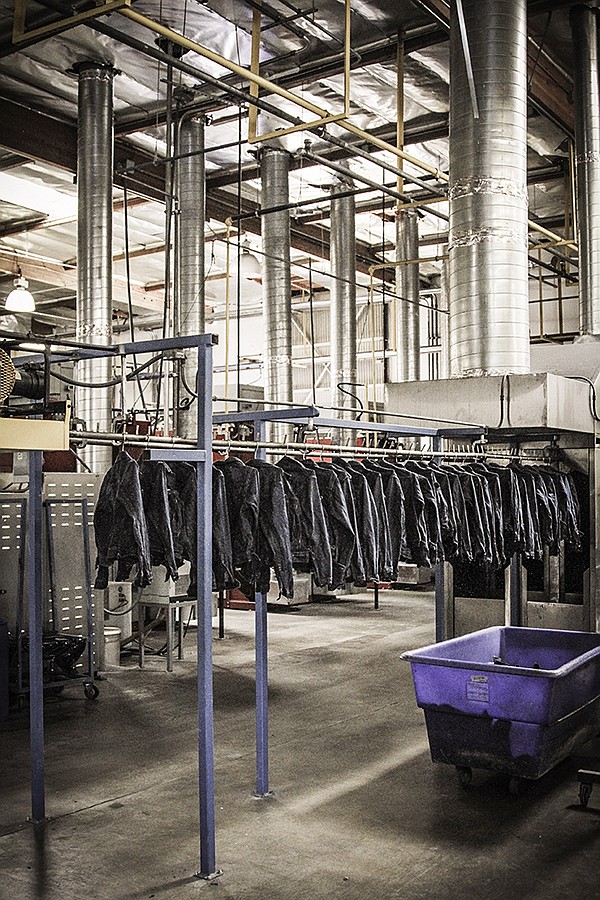 ARTISTIC L.A.
Artistic Milliners Expands With Denim-Laundry Acquisition
As a global denim firm that has focused on developing sustainable practices, Artistic Milliners is constantly evolving through investing in innovative manufacturing processes, ecologically sound sourcing and practices that promote a more-ethical industry. The Karachi, Pakistan–headquartered company recently announced its acquisition of a Los Angeles wash-and-finish factory relaunched under the name Star Fades International.
"The legacy of the SFI team brings with it decades of experience in wet- and dry-process innovation," Artistic Milliners Executive Director and SFI co-founder Murtaza Ahmed said. "SFI, under its previous owner, has been functioning for years as an independent laundry with a very strong reputation both for innovation and bulk execution."
An expansion for Artistic Milliners had been in the works for a long time, yet the timing was not right until last year. According to Artistic Milliners Chief Executive Officer and SFI co-founder Omer Ahmed, challenges to the denim industry stemming from the spread of COVID-19 illustrated a dire need for a presence in the U.S. to invest in a more-secure supply chain and nearshoring production.
"Travel restrictions have made it harder for us to service our customers the way we were used to," Omer Ahmed explained. "The virtual experience in our business is a great tool but won't completely replace integral steps from concept to retail. Moreover, we also believe micro factories at close proximity to end consumers are inevitable in the future."
Choosing Los Angeles for its U.S. operations was a natural choice due to the city's roots in denim production. Now, during its 72nd year in business, Artistic Milliners is blending its longstanding denim legacy with Los Angeles' denim-making history through SFI to offer 4.0 principles and 360 design-development solutions.
"We chose L.A. as it has deep expertise when it comes to the art of jeans making and even today is the nexus for some of the most iconic premium-jeans brands in the world," Omer Ahmed said. "California is the birthplace of the modern jean, and so we have always drawn inspiration from there and will continue to do so."
One of the most alluring Los Angeles resources to the Artistic Milliners family was that "some of the most talented designers and developers reside and work in the Los Angeles area, many of them already working with SFI," Omer Ahmed said. "One of the most exciting parts of this venture for us is to collaborate, co-create and disrupt with some of the most creative minds in the industry."
New hires have taken place, yet many employees from SFI's predecessor remain, including SFI Chief Operating Officer Tony Rodriguez, who looks forward to continuing his work of producing ecologically sound denim. As part of the Artistic Milliners family, he sees in SFI's future more support and accessibility to resources that are necessary to create a sustainable product. "In our previous iteration we used to be just a laundry, and even though we worked hard to bring sustainable washes and we have done some production we were just too small to the chemical companies to obtain their support," Rodriguez said. "Under the new direction, we have the attention of chemical companies, and they are supporting our sustainable-wash efforts."
The new company immediately began working to build from an existing denim-laundry foundation to grow the business. With current monthly SFI capacity at 100,000 units, the company expects to be producing 300,000 units by May.
"As far as production is concerned, we have already expanded our laser capacity and are in the process of modernizing and upgrading SFI's wet-process technology in order to reduce water and chemical consumption," Murtaza Ahmed said. "All expansion at SFI is being done with sustainability being the top strategic priority for us."
Joining SFI's capabilities for wet and dry processing in addition to technologies that afford a more sustainable product such as lasers, e-flow and ozone systems, with Artistic Milliners' technical prowess, structure and customer-service practices, Rodriguez feels positioned to lead the business into a next-level denim company. While many benefits exist from working within a company that includes a history as storied as Artistic Milliners, Rodriguez looks forward to bringing the Los Angeles characteristics to this denim family through SFI.
"My team and I want to show the AM team the L.A. touch and feel of the garment. For us, denim is a canvas—a living thing that can follow a trend or start an entirely new trend. After all, we like to say that sewing is science and washing is art," Rodriguez mentioned. "SFI is going to be a place that works with modern technologies to make and wash the best denim without losing the soul of L.A."