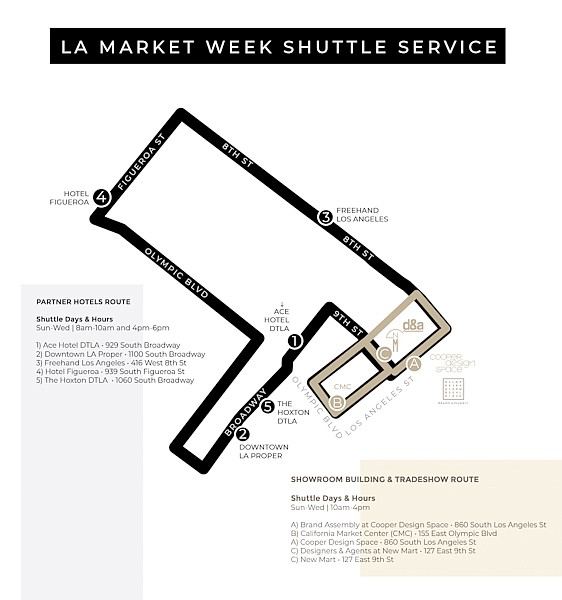 TRADE SHOWS
New Collective to Promote Los Angeles Market Offerings, Attract Buyers
A yet-to-be-named collective of wholesale-apparel organizations located within the Los Angeles Fashion District has been formed ahead of the city's October Los Angeles Market Week. Within the group, representatives from the California Market Center, The New Mart, the Cooper Design Space, the California Fashion Association, the Lady Liberty Building, Designers and Agents and Brand Assembly joined together to cultivate an efficient, fun and business-focused environment for buyers who visit the fashion district's downtown region by providing greater ease of travel planning in addition to market-week amenities.
"Today's constantly changing fashion ideas move with such speed that retailers need to be able to see the entire spectrum of available merchandise rather than just relying on the traveling lines visiting their location with capsule collections," explained California Fashion Association President Ilse Metchek. "These capsules may augment their selections, but buyers need to view and visit the entire marketplace to be able to answer, 'What's new?' The strength of Los Angeles' downtown fashion center is that it is open 52 weeks a year; market weeks are just the highlights."
The buildings served by this group of organizations occupy a one-square-mile radius within downtown Los Angeles, which will be served by a shuttle beginning with the October market. The shuttle will offer pickup and drop-off services between the five partner hotels—the Ace Hotel, Downtown LA Proper, Freehand Los Angeles, Hotel Figueroa and The Hoxton DTLA—and the buildings in which the markets are hosted. In addition to the shuttle service, buyers will enjoy discounted rates at the five participating hotels.
"D&A has been a part of the L.A. fashion community for over 25 years," said D&A President Ed Mandelbaum. "This group is working in the interest of everyone's benefit—retailers, designers, and sales agents to work in a cohesive and cooperative environment. The entire team at D&A looks forward to coming together and moving ahead."
As the group finalizes the details of its branding and partnerships with area businesses, its focus is centered on a motto of delivering "Fashion Business, West Coast Style," according to representatives of the group's member buildings. Over the next few weeks, the collective will announce additional benefits that will be offered to buyers, such as lounges, local restaurant offerings and tote bags.
For More Information Visit
California Fashion Association
Lady Liberty Building