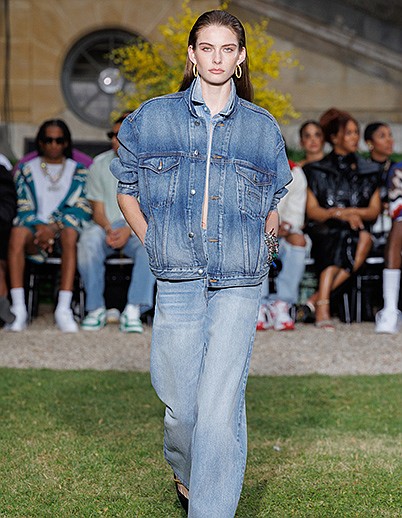 DREAM DESIGNS
Rhude Sails Into a Dreamworld for Spring/Summer 2024
Rhuigi Villaseñor's Spring/Summer 2024 collection for the 8-year-old Los Angeles brand Rhude debuted under the name "A Dream Within a Dream," based on a personal goal of the designer, which is to learn how to sail. According to Villaseñor's vision for the collection, the setting is located "somewhere between Los Angeles and the south of France."
The Rhude blend of luxury elements with streetwear style is evident in the collection, but Villaseñor used "A Dream Within a Dream" to shape his approach to design. Unveiled in Paris in June, the collection was developed through Villaseñor's efforts to focus on the direction in which he wants to take his label moving forward.
The designer developed the collection by drawing inspiration from different sources, including planes, camels in the Middle East, boats in Southeast Asia, large billboards in America, movies of European secret agents and superheroes. One major theme stands out in the collection—the blend of components that form Villaseñor's idea of Americana.
"I looked back to when I was a kid growing up, packing our bags from different cities and countries with my parents in hopes of providing a bright future and a beautiful way of life," said Villaseñor. "It's taught me so much on the way I value the world."
Reimagined versions of previously shown Rhude pieces were showcased on the runway with updated approaches to men's suiting that retain retro characteristics presented in modern styles. The brand's nostalgia was also apparent in nautical-themed silks and nylon track jackets.
Women's dressing featured pieces that set a sultry tone but also included designs that played on notes from the 1980s, including a bikini with a twist-front bandeau top that featured a gold metalwork detail. Rhude also featured a denim look that included baggy jeans and a loosely fitted trucker-style jacket. A sheer, floor-length, long-sleeve, boat-neck gown relayed an air of elegance blended with a bold edge. There was a floor-sweeping, V-neck, kimono-sleeve cream-and-white handkerchief dress with a drawstring waist that spoke to the dreamy style Villaseñor sought to achieve.