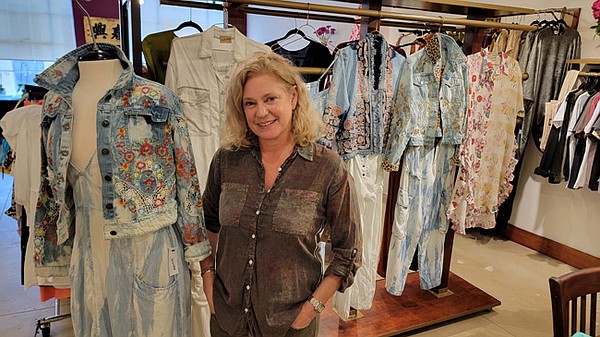 FASHIONABLE DELIGHTS
L.A. Market Week Sizzles With Delights for Resort/Spring '24
Sultry summer days during Los Angeles Market Week, held July 30–Aug. 3, had buyers ready for Resort/Spring '24 and proved once again why the L.A. Fashion District is the place to be for global fashion trends, from colorful and upcycled collections to garments with mixed-fabric usage.
Buyers were treated to complimentary amenities including the newly opened buyers lounge with lunch and Wi-Fi at The New Mart; coffee, catered lunch and an ice-cream bar at the California Market Center; and an all-day "sip and shop" at the Cooper Design Space.
"This is a great market," said Camille DePedrini of Camille DePedrini in South Pasadena, Calif. "I'm always finding new and fun things."
European vibe at The New Mart
"The August market is important because it's the first place on the planet you can see Spring '24 European lines," said Tom Keefer, general manager. Brands such as the made-in-Italy European Culture at the FashionLink showroom specialized in mixing natural fabrics,—woven and knit—using cottons, linens and silks, some with elastane, into a single piece to create striking fashion-forward garments that wholesale between $65 and $185. German brand Beate Heyman produced its intricately designed collection utilizing fabrics primarily from Italy and Japan, including viscose, linen and cotton offering a super-thin, luxurious feel, priced at $75–$300.
The Nu Vintage in the Rande Cohen Showroom is a one-of-a-kind, rock 'n' roll meets soft and flowery garments made in Los Angeles. Highlights included long flannel hoodies with patchwork and hand-embroidered denim jackets. "We're for that chic bohemian woman who likes a little bit of vintage in her life with high-quality fabrics," said Karen Drotar, head of sales for the brand. Top-of-line jackets were priced at $120.
"I'm looking for new and beautiful lines for my very fashionable clientele," said Nora Robles of La Boutique in Sinaloa, Mexico.
"Every woman wants to be pretty and attractive; when you add a few pieces of jewelry it makes a big difference," said Teong Kay, designer and founder of Charlene K Jewelry, who created the brand for his daughter. Gemstones are the stars of this classic yet trendy line of earrings, necklaces, cuffs and rings priced at $30–$300.
Making connections at the CMC
"The CMC showrooms had a steady July/August market connecting with key boutique buyers across the U.S. including Nectar Clothing, Ban.Do, Revolve Vintage Apparel, MAC Collection and JB Elliot among others," said Moriah Robinson, director of CMC events.
Tanks were blowing out at Stone Age Designs in the Sharon Koshet Sales showroom, where stores could customize the style and images on these comfy shirts, made in L.A. "We can have two customers located next to each other, but the icon for each store is unique to that store," said Sooz Chenetz, Stone Age Designs sales manager. Tanks were priced at $20, T-shirts at $22 and fleece at $29.
The Blue Star line was back at the Fern Liberson & Company showroom after taking a pandemic break. The hottest items included handmade scarves from India made with silk and modal and silver studded with dangling tulip designs along with fun cotton scarves with pompoms priced at $24–$32. Also in the showroom was Daniali, made in Los Angeles. "This is right up our alley," said Robert Rodriguez, a first-time L.A. Market buyer from Impressions by Design in Colorado Springs, Colo., who loved the brand's high-low fishnet jackets priced at $42.
Spring previews at the Cooper
The Michael Stars Showroom featured made-in-L.A packable one-and-done looks and matching sets, including new transitional linen, crinkle knit textures and waffle stitching. New additions also included an embroidered cardigan with heart-shaped buttons priced at $198 and a ruched tank at $88. "Our ideology is to make quality clothing so you are moving through life with that piece and also passing it along to the next generation," said Savannah Bigley, brand and PR marketing manager.
Fresh for Spring was Cali Dreaming from the New West Showroom in shades of honeydew and apricot. "The line is representative of the beach lifestyle, with layering to wear to the beach and also to enjoy the California lifestyle," said Alexandra Faay, wholesale representative. Silk dresses were priced at $98.
At the ICA Showroom, Los Angeles–based People of Leisure was pairing a soft and chunky hoody priced at $59 with a cargo vest at $63.
"Overall, August market was successful in that we had plenty of energy at the Cooper Design Space. We're looking forward to Spring showing in October," said Margot Garcia, general manager of the Cooper.