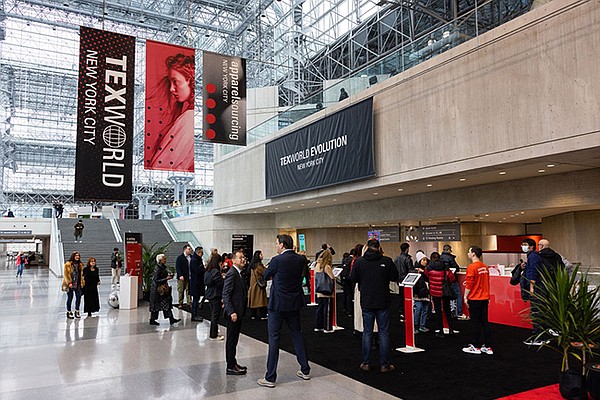 TRADE SHOWS
Texworld NYC Returns to the Javits Along With New and Old Partnerships
Texworld Evolution New York City, the largest sourcing event on the East Coast, made its return to the Javits Center Jan. 31–Feb. 2 with a lively Winter 2023 edition featuring 3,500 attendees and thousands of textiles and garments from 330 global manufacturers and suppliers representing 17 countries.
Printsource, America's leading textile and surface design expo, made its debut on the show floor. This new partnership brought buyers expanded product offerings and resources for fashion and home-textile executives, editors, retailers, merchandisers, product developers, designers, creative directors and other industry professionals. "We were thrilled to welcome Printsource to the show floor. The co-located event is a true one-stop shop for global textile and apparel sourcing," said Jennifer Bacon, vice president of fashion and apparel shows for Messe Frankfurt.
After a successful debut last summer, Global Footwear Sourcing, a partner show with Texworld NYC, Material Exchange and the Footwear Distributors & Retailers of America, returned to the co-located event. Visitors were able to source and explore a range of footwear components including leathers, synthetics, laces, insoles, outsoles, webbing and ribbon, thread and yarn, and hardware, as well as take in seminars led by footwear-industry professionals.
Attendee favorites Textile Talks and the Lenzing Seminar Series returned with an impressive lineup of expert industry speakers from brands including Everlane, Urban Outfitters, J.Crew, Lenzing Fibers, the Material Innovation Initiative and more. The highly anticipated program offered informative sessions for every role and level of experience across all segments of the industry.
In addition, the Texworld Trend Showcase returned with the latest material innovations and color palettes for 2024, curated by the New York–based agency Doneger|TOBE. Along with spearheading the design for the showcase, Creative Director Kai Chow offered visitors insight into four themes surrounding his vision of "sobriety" during a seminar and Explore the Floor tour of the trend showcase. Aligning with the growth of Texworld Evolution, footwear components and print designs from co-located partnership shows Global Footwear Sourcing and Printsource were also highlighted within the Trend Showcase.
The summer 2023 edition of Texworld Evolution New York City will return to the Javits Center July 18–20.