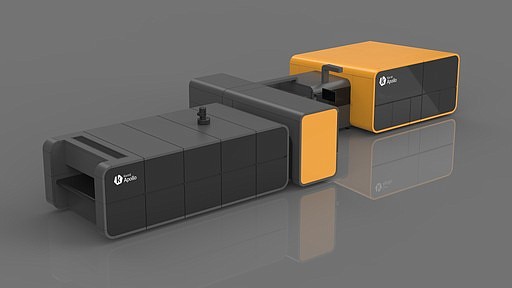 TECHNOLOGY
Kornit Introduces New Innovations for Decorated Apparel
Kornit Digital has recently made major enhancements to its solutions portfolio.
Leading the charge is Apollo, which takes its name from the ancient god of the sun, the bringer of light. The game-changing Kornit Apollo platform, unveiled at the recent ITMA 2023 show, offers what the company calls the ultimate in high-throughput digital production at scale. Apollo will allow customers to become more agile, drive revenue opportunities, shift to localized production and ease complex workflow processes. It offers large-capacity- and high-quality-driven players the opportunity to adopt digital versatility and a quick time to market.
The Apollo platform is built on field-proven and industry-leading Kornit MAX technology and is the most comprehensive, streamlined, single-step solution for nearshore short- and medium-run apparel decoration. Empowering customers to sidestep the hazards of complex supply chains, Apollo also offers unmatched speed and agility in digital decoration with the ability to decorate 400 unique garments per hour. Automated loading and unloading, integrated smart curing, and inline garment-type adjustment yield higher output and reduced labor for optimized profitability.
Kornit is also introducing the Atlas MAX PLUS system for decorated apparel, which now incorporates smart curing, flexible pallet sizing and autonomous calibration for the highest quality, consistency and productivity.
Kornit's expanded offerings come at the right time for the market, according to Johnny Shell, principal analyst at Keypoint Intelligence. "These technologies offer a unique way forward for businesses to potentially expand into new markets and realistically adopt short-run, made-to-order apparel," Shell said. "More-recent advancements such as Kornit Apollo are true engines of this transformation, empowering decorators to rethink how they'll do business. These advancements will only continue to propel digital technology to the forefront of preferred apparel-decoration methods."
Kornit Digital CEO Ronen Samuel, said, "Trends such as nearshore and sustainable production that were once just buzzwords are now becoming entrenched as industry success metrics, yet producers and brands still struggle to transform vision into action. Kornit Digital directly answers surging industry demand for the highest-quality, sustainable, on-demand manufacturing at scale. The world's biggest brands can now thrive in a market where anything is possible and consumers expect the world."