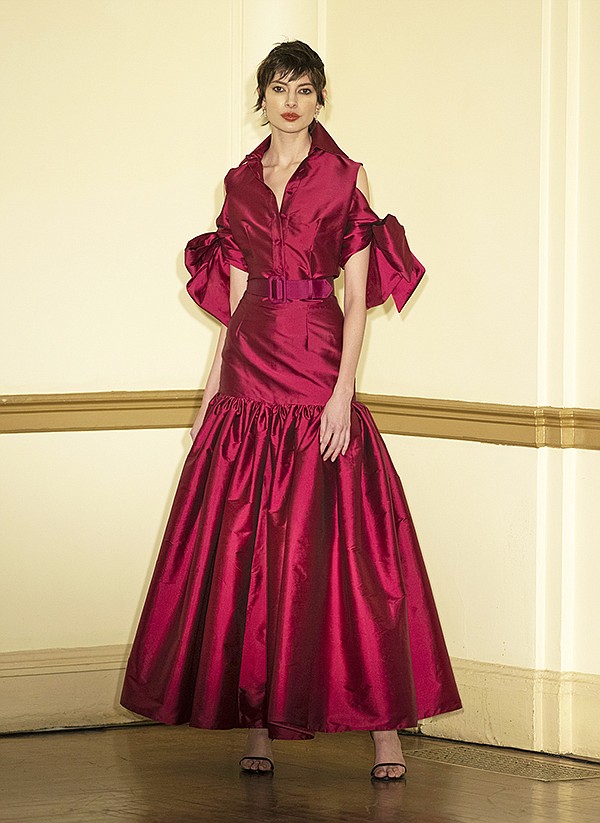 FOREVER CLASSIC
Kevan Hall Draws Upon the 'Forever' of Shimmering Classic Glamour for FW2023
Photo Gallery
Kevan Hall Draws Upon the 'Forever' of Shimmering Classic Glamour for FW2023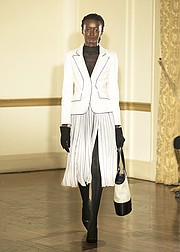 Photos by Arun Nevader
As the style set looked toward Fall 2023, Kevan Hall unveiled his Faceted collection during New York Fashion Week on Feb. 15 with the designer drawing inspiration from Dame Shirley Bassey. A reflection of Bassey's glamourous dressing was apparent on Hall's runway, but her "Diamonds Are Forever," the title song from the 1971 James Bond film, also inspired Hall.
"To speak to the luxe and lifestyle of Dame Shirley Bassey, I used real fur through a collaboration with Saga Furs," said Hall, who also partnered with Jeffrey Daniels Unique Designs for Gem Platinum to complement the collection with diamonds. "It is a return to luxury from times past. People want something to cherish and wear for many years, which is the best way to look at sustainability."
The Faceted collection is a testament to Hall's decades-long career, during which he has refined his approach to alluring American style. Known for his updated interpretations of classic glamour, Hall designed his Fall 2023 collection with nods to Bassey's 1950s style in a gem-inspired palette of emerald, sapphire, ruby and amethyst hues.
"I love his clothes," noted Bassey. "I'm honored to hear him say I inspired him."
"My [FW2023] collection is special to me because it highlights the legacy of Dame Shirley Bassey and reminds us of the importance of transcending cultural barriers and promoting excellent design and craftsmanship," said Hall on Instagram.
For his approach to formal gowns, Hall designed silhouettes meant to inspire confidence through vibrant colors such as a sapphire cowl-back liquid lamé gown with side ruching. A sultry onyx velvet sheath minidress with rose matelassé sleeves offered sophistication to a silhouette that is traditionally flirty. The prism high-low bustier style blended the sexy characteristics of a minidress with a regal train detail in the back. Hall introduced a ruby floral guipure lace in a long-sleeve minidress in addition to an off-the-shoulder ballerina-length dress with kick godet detail. The Faceted collection also translated traditionally masculine details into formal feminine silhouettes with an off-the-shoulder double-breast tuxedo pantsuit and diamante mock-vest tuxedo with diamante tap short in onyx.
When designing his suiting, Hall applied a similar approach to recreating classic silhouettes through a modern lens, evident in pieces such as the piped lapel jacket and striped pleated skirt in alabaster over a sheer mesh turtleneck. The designer applied tweeds in an onyx metallic to pieces such as a wrap zip dress, zip-front jacket and A-line skirt as well as a racer top paired with a sheer clip-dot tiered floor-length skirt. Using the same fabrication that he applied to a stippled amethyst off-the-shoulder ballerina dress, Hall also created a pantsuit whose shimmery colors seemed to change with movement but were grounded with solid collar and pocket details in black.