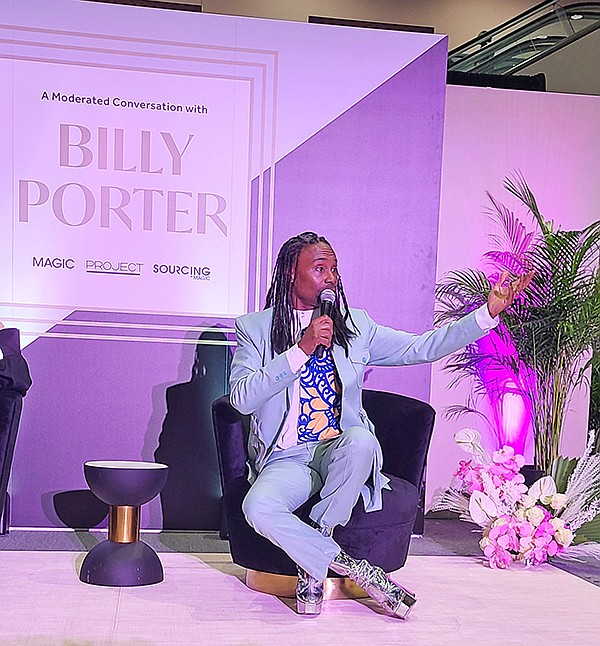 LAS VEGAS FASHION WEEK
Viva Las Vegas
Two superstars of the fashion world—industry icons Billy Porter and Karl Kani—took to the MAGIC Las Vegas stage for a citywide celebration of Black History Month and the 50th anniversary of hip-hop. The energy was explosive and the fashion bold and beautiful. Held Feb. 11–16, Las Vegas Fashion Week was really back, packed with thousands of attendees, influencers and exhibitors for six days of a not-to-be-missed fashion experience. In the words of Lizzo: It's About Damn Time!
It was a true celebration of self-expression, with unexpected mixes of vibrant color, clashing prints and throwback styles reinvented for 2023. Trade shows highlighted inclusivity in gender and size with a "no rules" approach, just great clothes. From MAGIC, Project and Sourcing at MAGIC in the halls of the Las Vegas Convention Center to Las Vegas Apparel at the Expo at World Market Center, WWIN at the Caesars Forum and IFJAG at the Embassy Suites by Hilton to the OFFPRICE Show at the Venetian Expo and Convention Center, the whole town was plugged in to Fashion 2.0.
Bringing the pink at Las Vegas Apparel
.
Las Vegas Apparel opened Feb. 12, a day earlier than several shows, at the Expo at World Market Center so that buyers could get a jumpstart on sourcing followed by a Super Bowl Sunday watch party. "Hospitality has always been key for our show, and we continue to raise the bar," said Caron Stover, senior vice president of apparel for LVA.
Los Angeles was definitely "in the house" as MVP of young contemporary fashion brands. One of the big stories for Summer was "Barbie Pink." With the much-anticipated July release of the movie, buyers foresaw the color as being key for the season. At Easel, orders reflected the strength of the range of pinks followed by greens in a close second. Isis Kim, trade-show manager, said, "Buyers have also been loving our colorful exclusive prints, which feature fashion's new color story."
J.NNA had been busy working its newest basics collection, which it refers to as "vanilla girl athletic." Bralettes, crops, tees, hoodies and sweatpants in garment-dyed knits ranged from $10 to $15. Aside from the core colors, orders pointed to "green as the new black," said rep Michaela Carroll. At Entro, buyers again showed a passion for pink and a huge demand for matched sets.
Exhibiting for the first time was Nicole Ljutic, designer of Selflove & Confidence, based in Las Vegas. Ljutic worked for years as a waitress, saving money to start her passion project. "I'm just a normal girl with a dream to make beautiful dresses for girls like me," she said. Her collection of chic summer crochets and chiffon dresses ranged from $7 to $42.
At Pink Armadillos there was more pink, as the name would suggest. Its whimsical fantasy tees exemplified the company mantra: "Shine, Celebrate, Laugh, Praise and Serve."
After a successful week, Melissa Sanders, owner of Filthy Gorgeous on Main, summed up her experience. "I enjoyed being at Las Vegas Apparel," she said. "I spent more today than I probably would have because I didn't have to fight for attention from vendors."
Mixing it up at MAGIC
"It's just clothes, y'all!"
Fashion trailblazer Billy Porter owned the stage as keynote speaker for the grand opening of MAGIC at the Las Vegas Convention Center, held Feb. 13–15. His unapologetic style changed fashion forever, normalizing nonbinary dressing and pushing the boundaries of dress to open up new expressions. "Walk into a room like you own it," he told the enraptured audience. This fashion disruptor, queen of gender fluidity, has blurred the lines between menswear and womenswear, bringing inclusivity to the conversation.
"His incredible, bold sense of style, his story and his vision offered a unique perspective," said Kelly Helfman, commercial president for Informa Markets Fashion. "These are the types of messages we want to share with our audience." Taking us on his inspirational journey from the Pentecostal Church to his groundbreaking appearance on the red carpet at the Met Gala, Billy Porter simply brought it.
From center stage to show floor, "no rules" was the message. The explosion of color, madness of pattern clashing and style-mixing-not-matching were embraced by design teams across brands.
Jordan Rudow, vice president of events for Informa Markets Fashion, spoke to the change from conformity to confidence. "Feathers, sparkle, metallic space girls and dopamine dressing brought home the theme of the show, called 'Cosmic Shifts.' " Other show events included discussions on "Women of Color in Fashion" and "Fashion for All," as TikTok influencers made selections, matchmaking sessions took place between brands and buyers, and Busta Rhymes got the crowd going.
At Signature B, based in Los Angeles, there was a mix of everything trending: rhinestone-fringed jeans jackets, super-distressed denim maxi skirts and baggy satin low-rise cargoes at $25. Marcelo Pak, owner of Skies Are Blue in Los Angeles, has grown his business to include curvy sizes, and his recycled-blazer sets were strong in all size ranges, priced from $15 to $30.
In the Emerging Designer space, Zierra Leona from Colombia and new to the show brought amazing prints to her dramatic silhouettes priced from $45 to $100. Rose Hawkins, owner of Rose Couture, was busy writing orders. "I have been doing this show since it started," she said, "and this brand is absolutely amazing; it's just so special."
Los Angeles brand idem ditto strives to be unique. Situated in the trend area, standout items included chain-mail and pearl crop tops and a group of minidresses with attached shorts priced at $20 to $27. Hidden, a Los Angeles denim brand, had a carnival theme in its booth, where denim bras, corsets and maxi skirts were all hot sellers, as was the number-one style, dad jeans priced at $34. Jovani stole the show with a group of influencers modeling its glam gowns priced from $189 to $650. Very Billy Porter, and red carpet ready!
Pushing the envelope at Project
Whether it be embracing gender neutrality, size inclusiveness or creating unexpected fresh design, brands stepped out and brought it all at Project, which also celebrated Karl Kani, the godfather of urban streetwear, with a Lifetime Achievement Award for his work. As Edwina Kulego, vice president of men's for Informa Markets Fashion, put it, "Fashion, music and culture have always been on parallel paths. We couldn't imagine a more quintessential pillar of the fashion community to complement this moment than Karl Kani."
Held Feb. 13–15 at the LVCC, streetwear continued to dominate the casual market at the show. Baggy silhouettes, which came to define urbanwear in the '90s, are once again a strong story, along with denim. There was a throwback to denim on denim, raw hems, and rip and repair at Mavi. The utilitarian look now known as "gorpcore" has brought back functional fashion. The cargo is definitely the pant of the moment, along with painters jumpsuits.
Red Tag Brand, a streetwear line with roots in New York, embraced Y2K logo-mania in its super-cool collection. Twill painters jumpsuits, graffiti-art tees and retro satin varsity jackets were amped up with lots of appliqués and patches. Prices ranged from $65 to $88.
Retro vibes at Driftwood leaned more to Woodstock and the flower-power subculture. Denim and twills were covered in funky embroidered florals and jeweled stones. Key styles were bell-bottoms, denim maxi skirts, jumpsuits and overalls priced at $69–$86.
Talisman was also feeling the sounds of the '70s in its Global Gypsy collection. Created on a trip to India, the ditsy florals and paisleys, priced at $29–$59, were designed to take us on a spiritual journey.
Brodie Cashmere sparked memories of the '60s Pop Art movement with its neon cashmere, checkerboard patterns and smiley faces on pieces priced from $100 to $190.
Bromelia, a swim and resort line, prides itself on being size inclusive, another hot topic long overdue to be addressed. Its collection ranged from size A–G. Keisha Holmes, buyer for plus and petites for Burlington, said, "I am so happy to see more brands expanding into plus sizes. For so long, contemporary and better markets didn't include this customer, who has money to spend and definitely wants fashionable options."
Uniquely intimate buying at IFJAG
An oasis amongst the hustle and bustle of the big Las Vegas shows, the International Fashion Jewelry and Accessory Group presented a select gathering of exhibitors Feb. 11–14 at the Embassy Suites by Hilton. At this uniquely personal event, private suites allowed for an intimate buying experience unlike any other. Executive Director Don Valcourt explained the show's success: "This show allows for privacy where buyers can work on pricing, design and selection apart from their competitors. This is why we get a repeat audience."
The range of better manufacturers and direct importers offered a wide selection of what's trending now. At Millenx Accessories, key items included stackable bangle bracelets ranging from $4 to $20.
Influenced by the European runways, AJ Fashion offered acrylic statement pieces at incredible prices of only $5–$8. Owner James Fang noted that "these abstract works of wearable art are sold to both wholesalers and chain stores."
At Laon Fashion Corp., straw crossbody bags priced at $8 received plenty of orders. Jamie Rocks & Co. took its best-selling status scarves and elevated them by adding faux fur. These neckerchiefs, priced at $7, look to be Fall's must-have piece.
Buyer Ana Maria Cedeno, who was shopping the show for the department-store chain Stevens, said, "This show is A-plus for me. I see suppliers from so many places I never get to. Here I can see everything."
Embracing social issues at Sourcing
A global community of manufacturers, suppliers and production professionals approached Sourcing at MAGIC, held Feb. 13–15 at the LVCC, with a new forward-thinking approach and a renewed commitment to advancements in technology, sustainable resources and a focus on visibility of industry issues. China had the largest footprint at this season's show as a sourcing destination, following the last several years of restrictions due to the pandemic.
"The industry is changing and needs are shifting. We are making sure that we are providing the resources for our attendees to address these changes and create a space for important conversations to be had," said Informa Markets Fashion's Helfman. Nearly 1,000 exhibitors from over 35 countries were represented in apparel, accessories, manufacturing, fabric/trim supply, packaging and fashion technology.
In a new concept space called Social Good Row, nonprofits shared their mission. One such business, Hey Social Good, is a vetting company that serves to assess the social-good impact of businesses. In the sustainability section Direct to Source, a Guatemalan manufacturer was working with brands interested in not compromising the planet for the sake of their production needs. Owner-partner Holly Gibson explained, "The hard part with manufacturing is due to subcontracting; it's difficult to trace. We have started a program partnering with key brands where we recycle factories' cutting scraps, shred them and reuse them as new fabric, thereby eliminating waste."
Hong Kong–based JC Fashion makes knits and wovens out of Guangzhou, China, where its total production is socially compliant. Its cut-to-order process minimizes waste. CEO Charles Choi said, "The world is oversupplied. There is more stock than demand, and this is why we are cutting to order, to eliminate the erosion of piece goods creating more waste."
Matchmaking at OFFPRICE
The gap between fashion forward and off-price continued to narrow as buyers learned to expect more while paying less at the OFFPRICE Show, held Feb. 11–14 at the Venetian Expo and Convention Center. The show offered on-trend products, quick deliveries and great value at 20–70 percent below wholesale. Laurel Hanson, senior marketing manager, explained the show's new matchmaking capabilities: "In order to streamline the discovery process, our new technologies are able to match buyer categories and interests to specific vendors and products, creating a seamless shopping experience."
India Boutique showcased its easy Miami Bohemian Beach to Bar collection of silky dresses and separates in hot colors and paisley prints. Minidresses were priced at $5–$10 and maxis at $8–$15. Fashion items such as tie-front blouses, ruffled shorts and tiered maxi skirts were priced from $5 to $9.
At Denim Zone, based in Los Angeles, leading styles included wide legs, distressed looks and colored denim. The season's hot colors of pink, lilac and green were top sellers at $16.
Original USA did strong business with its kimonos. The summer version of nearly sheer fabric sprinkled with tiny sequins came in an array of colors and was priced at $8. Helen Zheng, buyer for Helen's Heart, said, "Our customers are in love with these kimonos!"
Catering to an African-American clientele, Neelam Fashions brought authentic prints to its one-size dresses, which fit up to size 3XL and were priced at $20.
Upscale and accessible luxury at WWIN
Unique and chic met Feb. 13–16 at the Caesars Forum for the Womenswear In Nevada show. Unlike many of the other shows, WWIN does not exhibit fast-fashion brands. Its buyers are looking for better goods, and this season the producers presented a new concept that further enhanced the show experience. We've elevated the WWIN brand and curated the show floor with the addition of Enclave, a section devoted to upscale and accessible luxury merchandise," said Melissa K. Montes, vice president of WWIN.
Nance Yang designs high style and pure luxury for the confident woman. Known as "the queen of prints," her collection is sized from small to 3XL in order to cater to her loyal following. Pamela Pierce, buyer for the online boutique Color Me Beautiful, said, "I absolutely love this brand because it lifts your spirits. It's not the same old thing. I always do this show, and I'm guaranteed to find great things."
Samuel Dong brought his creativity to his couture-like collection with his best-selling bubble coat and dress. Launched in 2006, the bubble silhouette continues to be its number-one style at $89.
Showcasing its luxe superstar leathers, Kippys custom leathers are all handmade. The leather jackets are encrusted with Swarovski crystals and can be produced in any color. Handbags and belts are designed to coordinate back to outerwear, priced from $650 to $3,400. Owner Erik Kipperman said, "We love being a part of Enclave—it's a classy environment. We stand out and love that."
Partners Kay Kamran and Nadia Mansour developed their high-end knitwear by collaborating on an idea. Inspired by great works of art, Essitam (Matisse spelled backward) was born. "We are very different from the sweater market, especially at these price points," the duo explained. Items in short to long lengths ranged from $80 to $140.