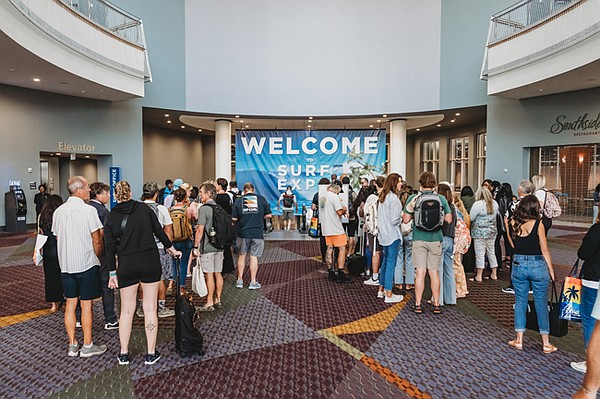 TRADE SHOWS
Surf Expo Hangs Ten With Exhibitors and Attendees
The surf was up in Orange County—as in Orlando, Fla.—for Surf Expo, the world's largest and longest-running watersports, beach and resort lifestyle trade show. Over 730 brands exhibited at the event, held Sept. 7–9, allowing retailers to discover new and innovative product lines breaking for Summer 2024 and beyond.
"Our Summer show was a resounding success with solid attendance from both buyers and exhibitors," said Roy Turner, Emerald senior vice president and Surf Expo show director. "Our pre-registration numbers were up from last year with on-site attendance in line with 2022. The show floor was steady with activity from qualified buyers."
In addition to watersports equipment, exhibitors showed surf apparel, swimwear, footwear, coastal gifts, beachwear, gifts and accessories as well as technical apparel, gear and accessories extending into fishing, camping and hiking, making it a growing multi-activity outdoor-focused show.


"Surf Expo reminds us why we love what we do and that the outdoor/surf industry is one of the best in the world," said Reese O'Toole, founder of Joycoast. "I authentically enjoy networking and showcasing our sustainable-product designs to our retail partners here, and it is always a blast."
"When I tell you the show could not have been any better, I'm not kidding," said Laci Hewett, CEO of Saltwater Boys Company. "We connected with some industry giants that we look forward to collaborating with on future projects, and we also wrote orders with luxury resorts and boutiques that we only dreamed we could grace their doors."
The show also saw the debut of its inaugural Surf Expo Awards, a new program to honor product excellence in the watersports and coastal-lifestyle industries. "There are so many brands creating great products in our industry that we wanted to celebrate and recognize their achievements," said Turner.
Brands will have until Nov. 17 to submit nominations, and winners will be selected by a judging panel consisting of experienced industry executives and the Surf Expo staff. Finalists will be announced Dec. 15, and the winners will be revealed during the January 2024 event, when Surf Expo returns to the Orange County Convention Center's West Concourse.