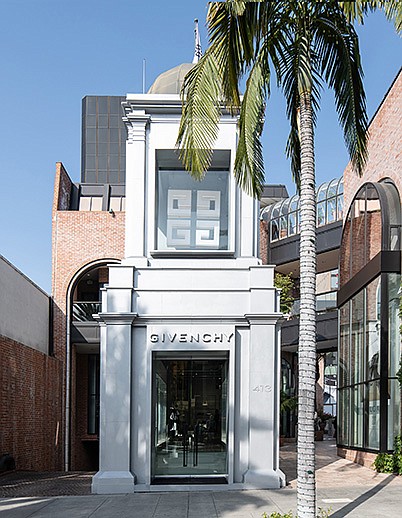 RETAIL
Givenchy Makes Its Debut on Rodeo Drive
Hubert de Givenchy launched his eponymous brand in 1952, five years after rival Christian Dior debuted his "new look." But Givenchy had some innovative ideas of his own and two years later introduced what is considered the first shirt-dress, which soon evolved into a sack dress.
But his "disruption," to use the current buzzword, really came when he became the first to offer a luxury ready-to-wear clothing line, manufactured on machines imported from America.
Now the company that bears his name is coming back to the U.S., this time in the guise of the first-ever L.A. retail store. There was only one suitable location, of course: Rodeo Drive. Located at 413 N. Rodeo Drive, the 6,500-square-foot ephemeral space is Givenchy's ninth freestanding store in the Americas.
"Opening on Rodeo Drive marks an important milestone for Givenchy as we continue to scale our business both in the U.S. and internationally," said Givenchy CEO Renaud de Lesquen. "At this temporary boutique the spirit of Parisian chic meets California style in collections by Creative Director Matthew M. Williams—a story that will continue to unfold in the years ahead, notably with the opening in 2024 of a permanent store on this legendary shopping artery."
With a 4G sculpture hanging from its cupola and luminous mirrored interiors, the store is meant to stand out in the city's famed luxury-shopping hub. "A unique store design blurs boundaries through an elevated minimalist approach that leverages contrasting tones and materials that mix sharp and soft with industrial and natural," according to the company. "Sculptures conceived in collaboration with the British artist Ewan MacFarlane appear in surprising positions and poses, punctuating the space with a dynamic installation that merges art and fashion. Givenchy's permanent Los Angeles location will be announced in 2024."
The store offers a full array of ready-to-wear and accessories for women and men as well as exclusive capsule collections. It opens with the Givenchy Fall 2023 collection, highlighting Williams's sharp tailoring, signature worked denim and modern eveningwear.