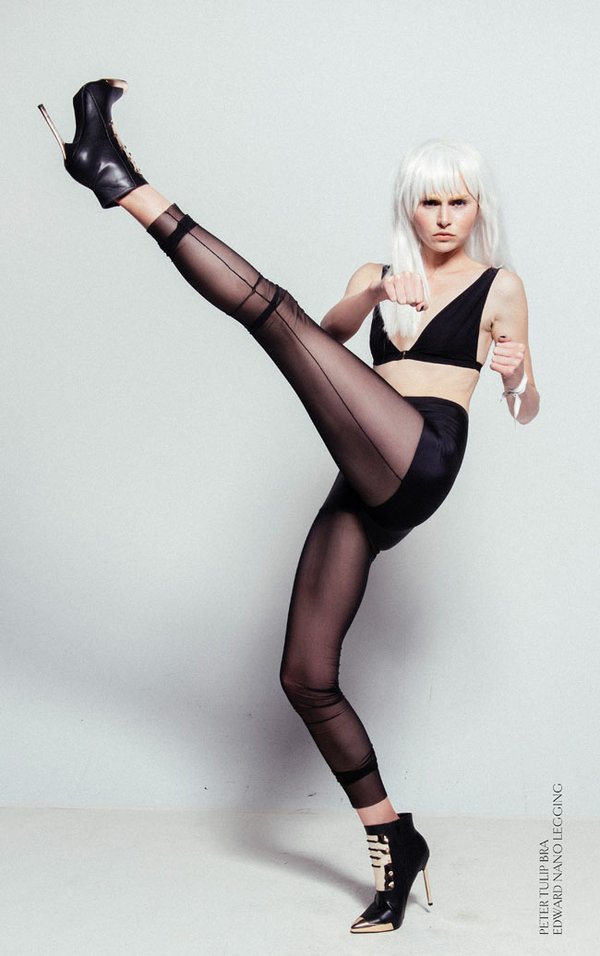 NOE UNDERGARMENTS
Made in LA Lingerie Is Just the Foundation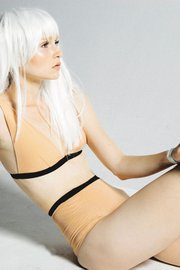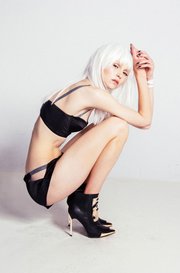 When twin sisters Bonnie Rae Boyes and Shelah Jean founded Noe Undergarments last year, they wanted to create a line that would fit in both lingerie stores and contemporary boutiques.
"The line came about from a desire to create a hybrid collection of innerwear meets ready-to-wear. Both of us have always dressed utilizing lingerie as more wearable exterior pieces, so we wanted to create a brand that had the philosophy of 'innerwear exposed' at its core design aesthetic," said Boyes, who serves as creative director for the line.
Boyes has a background in fashion marketing and served as a marketing director for nine years at a sports/swim apparel brand before launching Noe. The sisters grew up near the beaches of Kauai, Hawaii, but Noe is based in Laguna Beach, Calif., and produced in Los Angeles.
The Spring/Summer 2015 collection includes a mix of bras, panties, bodysuits, leggings, slips and lounge-style pieces. Stand-out items include the bustier, knee-length boxer short, sheer tops with matching bottoms, sweeping slip dresses, garter belts and jumpers.
"We really looked at everything from menswear to architecture as we designed the collection and found bits of influences from across a multitude of environments. Each piece was designed to have an ironic or unexpected element—denim in bras, silk mixed with rubber neoprene straps, mesh in [ready-to-wear] silhouette pieces," Boyes said.
Each season, the line is developed so that Noe consumers can interchange their pieces from innerwear to outerwear and mix pieces from season to season. The bras can be layered, tights used as leggings and slips worn over jeans, suggested Boyes. For example, the silk long-line bra can be worn with a chic blazer and vintage Levi's.
Actress Jaime King was spotted wearing the "Ryan" silk bustier bra as a top combined with an open-jacket look. Noe's leather bras are perfect with a high-waisted pencil skirt, and the slips dresses can be used as coverups over a swimsuit or bodysuit.
The current collection includes four new capsule groups, each with its own fabrication and aesthetic but that fits alongside the entire Spring/Summer 2015 collection.
"The Mick capsule is primarily our leather and mesh capsule, crafted of Italian lambskin and a soft power mesh from Belgium. We played with these two fabrications to create a very progressive and unique look," Boyes said. They also feature a cropped leather tee, leather mini skirt with mesh slip under-layer, leather flutter shorts and a mesh racer chemise.
There are fine trims and unique cutouts and fits that contribute to a modern sensibility. "We don't use prints in our fabrications, so it really allows a great open palette to work with brilliant trims to make a statement without making the garment too complicated or distracting," Boyes said. There's a Japanese herringbone elastic trim that is used for straps, as well as sporty rubber and neoprene trim for strapping and waistbands. Noe uses custom-developed square gold hardware for straps and hook closures, as well as a custom-designed wide black and white mesh eye hook and soft-seam closure, which is used on some of the bras and bodysuits. Plus, all of Noe's interior panty lining is a citrine yellow color, as well, Boyes said.
Everything is manufactured in Los Angeles. As for fabrics, the meshes and patented nano Lycra are sourced from Belgium, silks are from Asia, lambskin leather is from Italy, and the rayon/Lycra is made in the States. Most of the elastics are from Japan.
Wholesale price points range from $50 to $220. Noe undergarments are currently sold at a number of retailers, including Ron Herman, American Rag, Journelle, Maison Simons, Revolve, Anthropologie, The Celect, Guild, The Montauk Beach House, Largo Drive and For Artists Only.
For more information, visit www.noeundergarments.com. For sales information, contact Jenna Woodhull at jenna@bandofmartians.com.