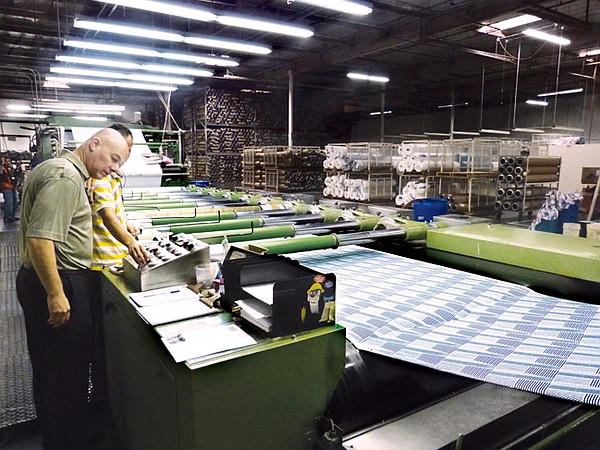 TEXOLLINI
Domestic Knitter Focuses on Efficiency and Technology
Rolls of knit fabric are neatly stacked by order, content and color. A mill employee supervises a print run as the first color of the design rolls off the machine. Circular knitting machines knit fabric from behind thick sheets of plastic to keep foreign fly—or bits of lint—from contaminating the finished fabric. In the dyehouse, teams of workers are pulling fabric from the dye bath. The scene is efficient, obsessively clean and surprisingly quiet.
Founded in 1989, Texollini is a vertical operation producing circular knits for the activewear, contemporary, ready-to-wear, swimwear, intimates and technical markets.
Most—99 percent—of what Texollini produces is for U.S. customers, said Amit Bracha, president and chief operating officer with the Long Beach, Calif.–based company. Some of the Texollini fabric remains in the U.S. for production, but a considerable amount goes to Mexico and Central America for cut-and-sew, Bracha said.
Texollini was first founded in Vernon, Calif., as strictly a circular knitter. When the company moved to its current location in 1993, the company expanded its operations from just knitting to dyeing, printing and finishing all under one roof in a 250,000-square-foot facility.
Daniel Kadisha, Texollini's chief executive officer and director of research and development, oversees a staff of about 200 employees working in the company's research and development, purchasing, production, planning, knitting, dyeing, printing, quality control, customer service, receiving and shipping, maintenance, accounting, and information-technology departments. Texollini employs 11 sales reps, who work out of the Los Angeles showroom at the Long Beach facility, as well as showrooms in New York, Atlanta and Florida.
Activewear is Texollini's largest segment, followed by the ready-to-wear and contemporary markets.
"We have more than 4,500 different fabrics, and we produce about 1,000 different fabrics annually," Bracha said. "We are working 24/7. Everything is knit to order."
The mill can produce a wide range of fabric in different stitches including jersey, ribs, interlock, mini jacquards, French terry and pointelles in fibers such as nylon, cotton, polyester, wool, silk, linen, Modal and Tencel, as well as activewear fibers such as Coolmax and Supplex. The company also produces fabrics from eco-friendly fibers such as organic cotton, Sorona and Repreve, as well as fire-retardant performance fabrics made with wool-blend fibers.
The mill's strength is in fashion-forward, high-quality technical fabrics, Bracha said, adding, "Together with consistent quality and on-time delivery, we strive to be the best vertical circular mill in North America."

The company can produce larger quantities and, at the same time, small- to mid-sized orders.
With the shift of much of the large production work to Asia, most of Texollini's customers these days place many smaller orders. There are a lot of setup requirements, and the company needs to track many small knit, print and dye runs, but the diverse orders mean the company is well diversified, Bracha said.

"We're seeing more startup companies," Bracha said. "We give them the same opportunity we give everyone. One in 10 could become a big company in five years."
Investing in tech
One way Texollini stays competitive is through an aggressive investment in new technology. The company has a substantial annual budget to invest in new machinery and technology in order to have the latest as far as efficiency, environmental requirements and fashion trends, Bracha said.
"We've invested between $1.5 million to $2 million yearly in machinery for many years," he said. "This year, we have purchased already several new dyeing, knitting and finishing machines."
Bracha attends ITMA (the Integrated Textile & Garment Manufacturing Technologies Showcase) in Milan, Italy, as well as ATME (the American Textile Machinery Association) trade show in Atlanta to scout for new machinery.
"When we buy new equipment, we send greige goods to Europe to test the machinery with different fabrics," Bracha said. "We want to make sure the machines are efficient and capable to produce our fabrics."
Growing interest in American-made
Interest in U.S.-made textiles has been growing since the beginning of the recession. "People are looking here to be closer to customers," Bracha said. "The turnaround is much faster. The culture is much easier."
When Walmart announced two years ago that it planned to spend $50 billion on made-in-America merchandise over the next 10 years, Texollini started "a push" to source domestically, Bracha said.
"People started thinking, 'We can do business here,'" he said.
While Walmart's made-in-America initiative provided a big boost in interest in domestic production, Bracha said even non-apparel initiatives, such as automaker Chrysler's "Imported From Detroit" campaign, help drive interest in building the U.S. manufacturing base. Texollini has so far recovered about 20 percent of the business lost to overseas textile production, Bracha said, adding that he sees even greater opportunities in the coming years .
"In 2000 in Los Angeles, textile [production] was the second-biggest industry after entertainment," he said. "There were 9,000 knitting machines. Fourteen years later, we have around 900 knitting machines.
"There's still a price to make textiles in the U.S.," he said. "It's challenging. You have to improve. You have to cut costs. You have to translate development into production."