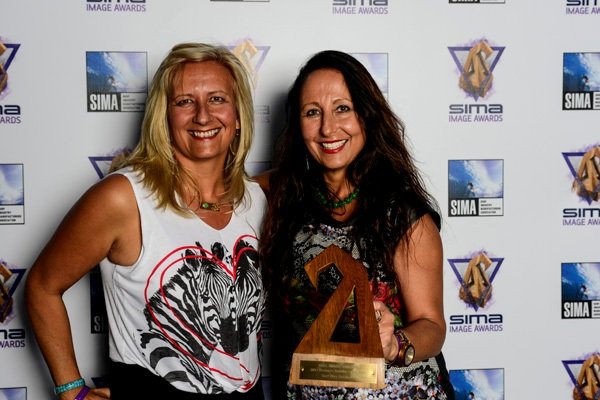 SURF INDUSTRY
SIMA Image Awards
At any awards show, there are the surefire favorites to win and the long shots. In an industry dominated by a handful of behemoths, the latest Surf Industry Manufacturers Association (SIMA) Image Awards,held on Feb. 13 at The City National Grove of Anaheim in Anaheim, Calif., proved there was some hope for the underdogs.
Awards were given for outstanding apparel, accessories, footwear marketing campaigns and hardgoods for 2013. Between awards, co-hosts and action-sports personalities Nicole Dabeau and Chris Cote bantered inside jokes about the surf industry for an audience of more than 700 insiders.
The last award and always a highlight of the night, "Breakout Brand of the Year," was awarded to Captain Fin, a grassroots brand from Oceanside, Calif. Captain Fin has evolved from surfboard fins designed in collaboration with against-the-grain surfers and artists to now producing a growing clothing collection.
The young brand Roark Revival was a surprise winner for "Men's Marketing Campaign of the Year" and beat out deeper-pocketed companies Vans, Billabong, Hurley and RVCA. The founder of Roark Revival, Ryan Hitzel, joked on stage alongside his team of three: "I don't know how we just won this. This is, like, our whole company right here."
Environmental leader Patagonia scored the "Environmental Product of the Year" award for its "R2" Yulex wetsuit, which offered a plant based–material alternative to traditional petroleum-based neoprene. Accessories were all about the feet. Socks by Stance won for "Accessory Product of the Year," and Surf Siders by Vans won "Footwear Product of the Year."
Roxy was back on top for the "Women's Apparel Brand of the Year" on the heels of a growing Roxy Fitness division and buzzed-about special collaborations such as its "DVF Loves Roxy" collaboration with Diane von Furstenberg. In the case of Rip Curl, it had team rider Alana Blanchard's famous bum and her thousands of social-media fans to thank for their win of "Women's Marketing Campaign of the Year."
Some awards were business as usual. RVCA once again won the "Men's Apparel Brand of the Year" award, a title it has held since 2010. Hurley's "Phantom" series has won the "Men's Boardshort of the Year" since 2008, and its newest "Phantom Fuse 2" held onto the throne. Monica Wise of L*Space by Monica Wise continues to be undefeated for "Women's Swim Brand of the Year" since 2007.
In retail awards, Curl in Florida won "Breakout Retailer of the Year." The family-owned Huntington Surf & Sport, with a prime beachfront location in Huntington Beach, Calif., took home the "Men's Retailer of the Year" award.
Twin sisters Coco and Izzy Tihanyi have been running a surf school for almost two decades, and their Surf Diva boutique, outfitting those surf Betties in stylish threads and gear, won for "Women's Retailer of the Year."