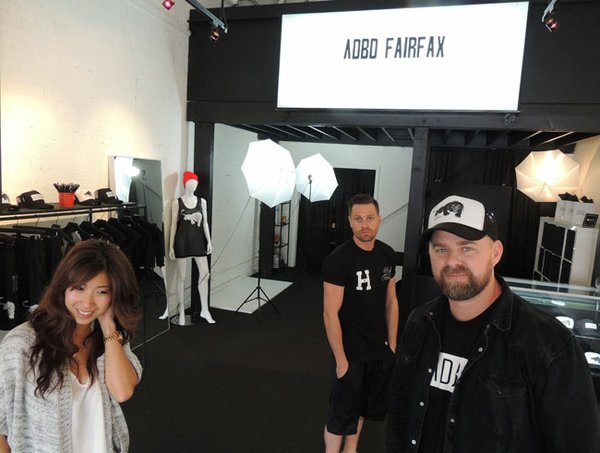 BRANDING, RETAILING, DESIGN & RAPPING
ADBD's Hustle
It's Tuesday afternoon, time for Alberto Mendez and more than 20 other aspiring rappers to try out impromptu rhymes at ADBD, a Fairfax Avenue storefront adjacent to flagship boutiques for popular streetwear brands such as Diamond Supply Co. and Crooks & Castles. Adam Derry, the master of ceremonies and founder of ADBD, invites more rappers into the space, but he is not trying to hustle music-industry contracts for these guys.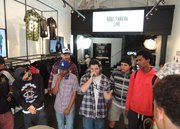 Rather, ADBD is a small business with a sprawling fashion-industry mission. It is a brand-development agency, a multi-line boutique, an incubator for clothing lines, a creative space that is sometimes used as a community center. Like a growing number of entrepreneurial ventures in fashion, ADBD believes that it can give clients better consulting service as a renaissance agency, offering expertise in a lot of different fields.
While many entrepreneurs have been juggling their expertise in many fields for years, Miguel Garcia Larios, the co-founder and co-creative director of another multi-purpose company, U.S. Alteration, believes that small companies that do a little bit of everything will increasingly be the norm.
U.S. Alteration is scheduled to open in June in Beverly Hills. It will be a multi-line retailer, design clothes, and offer styling services and an art gallery as well as trend forecasting for corporate clients, among other things. Garcia Larios, who formerly concentrated solely on retail when he ran a boutique on Melrose Avenue, contends that he has been making more money by being a jack of all trades. "People need to know everything about everything to keep in business and focus on whatever works. This is what the future is," he said.
For ADBD's main focus, it crafts campaigns intended to hook the public on his clients' projects. ADBD currently works with Ekocycle, a line of aspirational products such as suits, caps and T-shirts made out of recycled products such as old Coca-Cola bottles. The line is owned by Coca-Cola and music star William Adams, who performs as Will.i.am. Other clients include apparel lines Junk Food as well as retailers Urban Outfitters and Pacific Sunwear and the MAGIC Market Week trade shows.
Derry spends the majority of his time in brand development while his other avocations—design and retail—are expected to be profit centers for his company. In fact, all of his ventures are expected to make money except for the rap open-mic sessions. He gives rappers access to his space typically once a week in sessions that are called ADBD Live. Derry considers the storefront a performance space and a community service for Fairfax and its culture of skateboarders, hip-hop heads and sneaker fanatics.
ADBD has been in business since 2007, but it moved to Fairfax in September. The Fairfax address is important to brands that sell in the ADBD boutique. Vision Street Wear is a streetwear brand that will be sold at ADBD and is scheduled to be stocked in late May. Vision Brand Manager Mark Encinias wanted the brand to gain some exposure on Fairfax. He believed that Derry could capture the essence of his brand when ADBD curates and sells Vision's footwear, caps and clothes. He also was taken with the shop.
"It's a raw space; we could literally do anything there," Encinias said. "There are no constraints about it."
ADBD has been designing its own streetwear lines, such as CRCL R and High Fairfax,which was released earlier this month. High Fairfax's moniker is inspired by his neighborhood and the English retailing tradition of a High Street, the real estate in English cities where high-profile boutiques maintain addresses.
The centerpiece of the seven-piece collection is a T-shirt with embroidery on the front, a heavy Japanese screen-printed design in the back and a graphic of a lion. The collection's other pieces include mesh shorts; reversible, sleeveless mesh jerseys; and foam mesh trucker caps as well as crew-neck shirts for kids. Retail price points range from $28 for caps to $44 for T-shirts and $58 for long-sleeve shirts. The lines are mostly manufactured in Los Angeles.
Despite wearing all of these different hats, Derry says there is no danger in spreading himself or his company too thin. "I've never come close to running thin," he said. "People run out of fuel because they don't fuel up. I'm constantly being fueled by culture."