TRADE SHOWS
Texworld USA Offers a Showcase of International Textile, Fiber and Trim Resources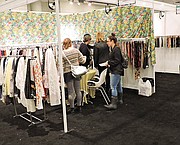 NEW YORK—Before winter storm Jonas slammed into New York on Jan. 22, organizers of international textile show Texworld USA said preregistration was up 25 percent for the show's Jan. 24–26 run at the Javits Center.
The storm, which dumped two feet of snow on Central Park and prompted the cancellation of many flights into the city Jan. 22–23, took a toll on the turnout at Texworld as both exhibitors and attendees struggled to make it to the show.
That was the case for Los Angeles knitting mill Laguna Fabrics. Sales Manager Matin Roshan arrived in New York a few days before the show. His colleagues were supposed to fly in on Sunday, but their flight was cancelled.
It was the same story for the team from Tuscarora Yarns. David Roberts, chief executive officer of the Mt. Pleasant, N.C.–based spinning mill, flew to New York a few days early to visit his daughter, but the rest of his team were stuck in North Carolina. Longtime Texworld exhibitor Buhler Quality Yarns was scheduled to exhibit again, but flight cancellations kept company executives at home in Jefferson, Ga.
For Laguna Fabrics' Roshan, opening day was quiet, but traffic picked up on Monday and continued steady through Tuesday.
Roshan said a few larger companies dropped by the show looking for made-in-America resources as well as a few Latin American manufacturers, but most of the traffic was from local companies.
"It's great to find local," he said. "That's what we want, to find more business in New York. This show is big for us."
Without Buhler, Laguna and Tuscarora were the only U.S. companies showing at Texworld this season. Tuscarora's Roberts said some appointments were able to make it to the show, but most of the people he met were walk-ins.
Roberts said manufacturers remain interested in blended yarns with a specific look or hand feel.
"We continue to see blends growing," he said. "They are not tied to 100 percent cotton necessarily. And the blend level doesn't matter. It's 'give me this look' or 'give me this feel.'"
Roberts said customers are also looking for products that offer more flexibility such as "multipurpose yarns that can be knit in different structures and give unique characteristic to the garment."
Most of the exhibitors at Texworld were international suppliers such as Huzhou Dragon Wise Textile Co. Ltd., a vertical mill and manufacturer in Zhejiang, China, that supplies fabrics to overseas factories that produce for big brands such as Levi Strauss and Lee.
About half of the attendees at the recent Texworld were local manufacturers, said Dragon Wise Director William No.
Raymond Lee and Deborah Kagan of Shanghai-based mill Basekloth saw many designers and fabric buyers from New York, but they also met with attendees from Mexico, California, San Francisco, Toronto and Montreal. But Kagan said even with the storm, starting the show on a Sunday cut down on traffic.
"It should never start on a Sunday. It's a weekday show," she said.
This was the second time at Texworld for Turkish mill Erteks Tekstil Grubu, a 40-year-old business that produces prints, laces and embroidered fabrics for the bridal and eveningwear market.
Last season, the company met with some promising leads and picked up a few clients, including one in Los Angeles, said representative Barkin Nukan.
Nukan said the company returned to the show hoping to meet with South American customers, but as of the second day of the show, he said traffic remained slow.
This season, Apparel Sourcing, Texworld's sister show, was located several halls away from Texworld at the Javits Center. Although the trade show had staffers with large signs helping direct traffic between the two shows, the Apparel Sourcing hall was a challenge to find.
Las Vegas–based Prima Fashion House had the prime spot in the front at Apparel Sourcing, but the husband-and-wife team of Karan Garg and Cheryl Ting said traffic was better when Apparel Sourcing and Texworld are located in the same hall.
Prima Fashion House produced fashion accessories in India at the company's own factory.
"We can give local customer service here in the U.S., but you get the manufacturers' price because it's a family business," Garg said.
Karg said the company's primary expertise is scarves in a wide range of prints and patterns. The company also recently started offering loungewear pieces such as kimonos, kaftans and coverups for the resort market as well as a 100 percent organic cotton knits for home décor and infants apparel.
The GOTS-certified cotton is sourced from a co-op in India that assists small farmers and dyed with low-reactive dyes.
Next season, Apparel Sourcing will be located next to Texworld USA, organizers said.
Texworld also offered daily seminars on topics ranging from color trends to new fiber development and social-media marketing. Texworld art directors Louis Gerin and Gregory Lamaud presented their Spring/Summer 2015 forecast several times during the show.
Tuscarora's Roberts filled in for Buhler's David Sasso in a new fiber panel discussion with Lenzing's Tricia Carey and Eastman's Terry Lawler. The three discussed the importance of innovation and the benefits of made-in-America production. Tuscarora has three plants in the Carolinas, Eastman produces acetate yarn in Tennessee, and Lenzing has a Tencel facility in Alabama (in addition to its Tencel production in Austria and China).