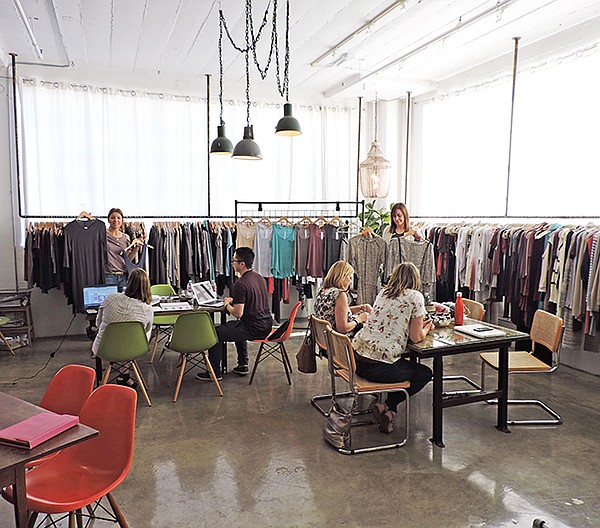 FALL '16 MARKET
Fall '16 Market Draws Mixed Reviews
For some, it was an opportunity to place Fall 2016 orders. For others, it was a chance to replenish depleted inventory. The recent Los Angeles Fashion Market officially opened on March 14 with a lineup that included permanent showrooms at the California Market Center, The New Mart, the Cooper Design Space, the Gerry Building and the Lady Liberty building as well as several trade shows, including Designers and Agents, Coeur, Brand Assembly and Alt.
Traffic reports varied, according to showroom owners and sales representatives. Some said a crowded calendar diluted the turnout while others said diligent preparation drew committed retailers ready to place solid orders.
Traffic stalls at CMC
Buyer traffic was down and sales were slow, according to many of the exhibitors at the California Market Center. Showroom owners blamed their sluggish business on the proximity of the humongous apparel trade shows in Las Vegas held last month to the market held this month. Stores weren't ready to grab another look at Fall clothing yet.
"It has been kind of quiet this time around," said Ida Hsiang, an account executive at the third-floor Shu Shu showroom, which carries such labels as LuLu and YuLi. "We've written some orders, but it hasn't been one of our stellar shows. It's so close to Las Vegas."
Julie Vandevert, who carries eight lines in her JV Associates showroom on the third floor, said her business was down at least 30 percent from last year. "It's been a little quiet," she noted. "I saw many of my regulars and a few out-of-territory people from Texas and Colorado."
At the temporary showroom for Color Me Cotton and Click, sales rep Wayne Mourry felt the show was just okay. "This show hasn't been that busy because of Las Vegas."
Several showroom owners felt that the Los Angeles Fashion Market in March should be combined with the Majors Market for department-store buyers in April, creating more buzz and vibrancy and giving specialty-store buyers a little breathing room between Las Vegas and the next big show.
At the Select show—a separate show for premium apparel, accessories and footwear held in the CMC's Fashion Theater—vendors were having mixed results.
For G-Lish—which has done the event at least 10 times to display the company's glittery cocktail handbags, headbands, bracelets, necklaces, purses, embellished blue jeans and T-shirts—the show was just okay. "We've seen some old customers and met some new customers," said Gabrielle Hoffman, co-owner of the brand, based in New York. "In general, the market all over has been difficult."
Hoffman had seen stores from as far away as Colorado, Oregon and northern California. Many were attracted to the booth by the shiny objects made in India.
Crystal Parra—working at the Z&L Europe booth, which showed bohemian-style sandals, beachwear, scarves and accessories made in India—thought the show was slower than the previous show in January. "It has been steady," she said.
This was the first Select show for Maison Mére, a new line of high-end cashmere and fine wool sweaters made in Italy that wholesale for $120 to $400. The Spring/Summer line of cotton sweaters wholesales for $65 to $200.
Gabriela Rochin, the company's operations manager, said the show had not been good for Maison Mére and she felt it wasn't the right show for the label. The company showed recently at Coterie in New York and got a lot of attention from Japanese retailers.
"I think we should probably go to Brand Assembly [a high-end show at the Cooper Design Space]," Rochin said.
Festival season at The New Mart
Some New Mart showrooms were getting ready for the "festival" season and providing looks that will be worn at big events such as the Coachella Valley Music and Arts Festival in mid-April in Indio, Calif.
"Knowing Coachella is coming, [retailers] are loading up for anything that is festival," said Eme Mizioch of the Joken Style Showroom. Sales for the showroom were divided evenly between Fall/Winter '16 and Immediates, Mizioch said. "If it was Immediates, it was inspired by Coachella."
One of the lines at the Jackie B Showroom focused on festival and rock 'n' roll imagery. It was the Gypsy Heart line, which made its debut at the WWDMAGIC trade show in February. Tina Rani and Freddie Rojas, the cofounders of the line, showed vendors through the label's 40 categories such as outerwear and sweat bottoms as well as knits and henleys. Rojas is a veteran of Los Angeles' independent design scene. For Jackie Bartolo of the Jackie B showroom, business at the March 2016 business was good.
"We had a good market. We've been consistently busy," she said.
There was an ebb and flow of retail traffic, said Stacey Gossman of The GIG Showroom. "Tuesday was like the old days; it was fabulous," she said. "Monday was like the new days; it was medium." The showroom focused on PVH Corp. lines such as Tommy Hilfiger and Calvin Klein. Sales were reportedly good for lingerie brand Maison Close, Gossman said. "People want item-y lingerie. They want something a little more special, not just basics."
Matt Boelk of the Groceries Apparel brand wandered if the upcoming CALA trade show in San Francisco, scheduled for April 11–12, encouraged Northern California brands to not come to Los Angeles Fashion Market. "Attendance was down," he said of the March LA Fashion Market.
He also believed that lower retail traffic might be a result of assertive sales reps going on the road and visiting stores. Many stores owners have come to expect store visits, he said.
Retailers said to be visiting The New Mart included Nasty Gal, Revolve, Shop Bop, Dillard's and B. Poy & Jo in Los Angeles.
Brisk business at Cooper
Traffic was steady at the Cooper Design Space, where showroom owners and staff reported a good turnout from buyers looking to place Fall orders.
"It's been really great," said Hatch owner Kay Sides on the third day of market. "It's been a nonstopper."
Sides said she saw retailers from "all around," many of whom gave themselves plenty of time to shop the market.
"Everybody is really excited and happy to be here," she said.
Hatch carries contemporary fashion, activewear and accessories collections including Twelfth Street by Cynthia Vincent, James Perse, Wilt, Baldwin, Woolrich and Stance.
Sides said she and her team did quite a bit of preparation before market, adding that they'll do the same when they show their collections at the CALA show in San Francisco and in Dallas later this month.
On the third day of market, there were multiple meetings going on at the Lefties Showroom, where showroom co-owner Ellen Cope said the first two days of market were also busy with buyers looking for Fall merchandise.
Cope said most of the appointments were West Coast retailers, but there were some majors, including Saks; e-tailers, including Shopbop; and some of the showroom's Japanese customers.
Lefties carries contemporary, athleisure and lifestyle collections including Tori Praver, Stone Cold Fox, Spiritual Gangster, Electric & Rose, Cleobella and Saint Grace.
"Some stores buy a lot of our lines, so they are here for a good part of the day," Cope said, adding, "A lot of our brands are West Coast [–based]. That has worked well considering how the climate has been. Even our East Coast stores are buying blouses and layering pieces."
The staff at the Castillo Showroom was juggling multiple buyer meetings on the third day of market.
Representative Jessica Fong said traffic on the first two days of market was also brisk with buyers coming from across the Western U.S.
The showroom represents several collections—including LAmade, Parks Project, Track & Bliss andFeed—as well as guest collections, including PLDM and Vuori.
Challenging market at Gerry
Showroom owners at the Gerry Building were discovering that last year's warm weather across the country was having a hangover effect on buyers' shopping patterns for this year's Fall fashions.
Sarah Kirakossian at the Arlene Henry Showroom said buyers were wary about ordering too many goods and prefer to place orders closer to season to gauge their inventories.
Showrooms that made appointments with store buyers said they were having a halfway decent market, but walk-in business was down.
"It was busy because we made appointments," said Meg­an Tushar of the Julie Walls showroom, whose lines include Nic + Zoe, Bobeau and NYDJ.
Lara Iemmi, who represents Komarov, a Los Angeles label designed by former costume designer Shelley Komarov, said this show was not as busy as she had hoped.
Launchpad at D&A
After a seven-year-hiatus, Christopher Enuke, designer of denim lines Oligo Tissew and Kasil, introduced a denim line that is intended to challenge the five-pocket jean.
He introduced the Kristopher Enuke line at the Fall '16 run of the Designers and Agents trade show at The New Mart showroom building. "It is five-pocket," Enuke said of jeans in his new line. "But it is unconventional. It was intended to put fashion back in the jeans business."
D&A was created to be a forum for designers such as Enuke, said Ed Mandelbaum, cofounder of D&A. At the March 14–16 show, 106 booths exhibited. The number of booths dipped 5 percent compared to the D&A show in March 2015. "We could have filled up this show with three times the booths," he said. "But size doesn't matter for us. It's finding new designers and keeping it special."
Retailers walking the show included Los Angeles–area boutiques Ron Robinson and Stacey Todd. Also seen were Canadian retailer TNT and Brooklyn, N.Y., boutique Bird. Brands taking a bow at the show included Pas de Calais, a Japanese brand, and "Project Runway" alum Melissa Fleis. Other vendors included show veterans JP & Mattie and JET/John Eshaya.
Retail traffic was reportedly heavy Monday and Tuesday and kept a good level on the last day of the show. JP & Mattie cofounder Mattie Ilel showed her line's batiks from Rajasthan, India, and vintage-style embroideries from Thailand.
"It was a good show," Ilel said. "We see the people we always see, mostly people from California."
Matta, another brand that features Indian styles, sold Fall '16 looks and Immediates, said Mary Ayscue, the wholesale manager. "This is the last market in the season," she said. "People are apt to leave paper."
New location for Coeur
After one season away from the Los Angeles Fashion District, the Coeur accessories and lifestyle trade show returned to set up in a new space on the top floor of the California Market Center.
With a view that took in downtown Los Angeles' skyscrapers against a mountain backdrop, the show featured a tightly curated mix of 50 brands.
"We brought it back down to a highly selected group of lines that make sense," said Coeur organizer Henri Myers. "There's a little something for everyone."
The show got off to a brisk start with buyers from boutiques including Wendy Foster, New Stone Age, Merci Paris, Bow & Arrow, Mes Amis, Shipwreck and Lane Crawford among the opening-day attendees.
Handbag designer Allison Burns has attended Couer in the past, but this was the first time she had exhibited at the show. Burns recently relaunched her eponymous collection of made–in–Los Angeles bags.
"I always pride myself on made-in-LA, she said, adding that Japanese retailers always ask her to make sure the bags are marked "Made in LA."
Burns said opening day was busy. "I placed a bunch of orders," she said. "It's going great."
For the relaunch, Burns reintroduced her signature "Faithful" bag, a slouchy leather hobo style. She also added many new pieces, such as a two-tone, fold-over clutch.
Delia Kosowicz has shown New York–based Jo handbags at Coeur since the show launched in 2011. She praised Coeur's curated mix and format that "stands out from the rest."
Opening day was also quite busy, she said, adding that she saw a mix of new and existing customers.
"We tend to do really well on the West Coast. This aesthetic is appreciated," Kosowicz said, adding that she saw retailers from California, Colorado, Utah and Oregon at the show.
The made-in-Mexico handbags feature classic shapes with subtle, special details. Several bags can be worn several ways. A handbag can convert to a tote, and another style has an adjustable strap.
Christina Oh, owner and designer of Boulevard, a Fullerton, Calif.–based leather-goods collection, estimated that this was probably her fourth time at Coeur. The collection of cheery wallets, zippered pouches, folders and card cases are printed with monograms, cheeky phrases ("Holy Chic") and small images.
Wholesale priced from $13 to about $50, all the pieces can be monogrammed and personalized, Oh said.
Boulevard sells well at preppy East Coast stores in places such as Martha's Vineyard in Massachusetts as well as in the South. On the West Coast, it sells well in stores in beach towns, but Oh said she was looking to expand her West Coast accounts.
Oh said she saw a "good flow of local stores" at Coeur as well as some out-of-town retailers, including stores in Colorado and Florida.
Coeur's exhibitors also include apparel collections such as Anita Arze's line of sweater knits made in Bolivia and Peru.
Ojai, Calif.–based Love Tanjane introduced new hand-washed pieces in 100 percent linen as well as a sweatshirt fabrication knit and dyed in Los Angeles.
"I like super-light fabrics," said designer Sonia Erneux, who met with a few potential new accounts on opening day but had booked appointments for the second day of the show.
New exhibitor Cody Montgomery was at Coeur on the suggestion of Erneux. Montgomery is the founder of Totally Blow a collection of made-in-America unisex and women's clothing based in Joshua Tree, Calif.
Totally Blown specializes in casual pieces "distressed with shotgun." The hand-dyed tees and sweatshirts feature a constellation pattern of holes made from shotgun pellets. The collection also includes hand-dyed kimonos and dresses.
"Our friends at Love Tanjane said we should do this show," Montgomery said. "It's turned out to be really good. We got about a dozen new customers."
Brand Assembly's high-end mix
There were nearly 120 brands showing at the March 14–16 run of the Brand Assembly show on the top floor of the Cooper Design Space, including a mix of new and returning exhibitors.
This was the first time at Brand Assembly for Maison de Papillon, a New York–based collection that blends the luxe lounge and lingerie looks with contemporary styling.
The line sells well in California, said Shriya Bisht, designer and cofounder, but this was the company's first trade show on the West Coast.
"We want to reach out to potential buyers," Bisht said, adding that she met with several new stores on the opening day of the show.
The company recently expanded its collection to include two- and four-ply Mongolian cashmere pieces as well as washable leather items. The average wholesale price point for the cashmere items is $130, and for a leather jacket the average wholesale price is $389.
Another new exhibitor was Namche Bazaar, a Los Angeles–based collection now in its third season. Designer Ainsley Cohen was showing the collection's hand-loomed cotton and silk pieces, all made in India. Namche Bazaar sells in higher-end contemporary stores such as 10 Over Six.
Namche Bazaar was showing in Brand Assembly's emerging-brand section, which was located in the center of the trade-show space.
Cohen said she was looking to show her line in a relaxed environment and was pleased with the turnout at Brand Assembly.
"I've seen a lot of people—it's a good mix of buyers," she said, adding that she'd seen existing accounts as well as potential new ones.
This was the first time at Brand Assembly for Los Angeles–based Gold Hawk, which was fielding back-to-back appointments on opening day.
"We made appointments and all of them were here," said representative Susan Chase, who added that buyers were visiting from all over the country, including "a few good surprises."
Some buyers were looking for Fall merchandise, but most were looking for Immediate goods, Chase said. "We're lucky to have the capability to provide Immediates," she said. "It's a win-win for our company and the stores as well."
Lynn Rosetti, owner of the #8 New York showroom, was among the returning exhibitors at Brand Assembly. Rosetti represents several accessories collections, including Poupette, Vanessa Lianne, Hare + Hart, Marie Turnor and Rosetti's own handbag line, Oliveve.
"We like LA," Rosetti said. "We do really well here. The people that write us come back, and they're writing bigger orders."
ALT Show bows at CMC
For the last two seasons, a show called Shape was organized by the California Market Center for the increasing number of activewear and yogawear collections popping up to serve the exercise crowd.
This season, the show's name was changed to ALT—Activewear & Lifestyle Tradeshow—and expanded to include activewear, yogawear, beach/resort, swimwear and intimate apparel.
The show debuted during Los Angeles Fashion Market, taking place in the building's 13th-floor penthouse and sharing space with the Transit shoe show. In the past, the Shape show was off on its own in the penthouse and separated from the shoe show, which was on the other side of the elevators.
The merger of the two in the same penthouse exhibition area was a bonus for ALT exhibitors because there were only 13 companies showing. On its own, the ALT show would have seemed lost in the cavernous open space, but there was more of a buzz of activity.
This was the third time Nux Activewear participated in the activewear show, having attended the first two Shape shows. Nux Activewear, which launched in 2008, is based in Vernon, Calif., and manufactures its collection in the Los Angeles area. The label is known for its tie-dyed leggings and body-engineered jacquard designs knitted into the garment. Average wholesale prices range from $28 to $36.
Theresa Matthew King, the company's sales manager, said the show had had its lulls but, overall, traffic had been steady. By the second day, King, and her sales colleague, Christina Jones, had seen a handful of new stores from as far away as Texas and Washington state as well as local stores from Manhattan Beach and other surrounding neighborhoods in the Los Angeles area.
Jones felt the show was attracting about the same amount of traffic as previous Shape shows, but buyers seemed to be lingering longer.
This was the first show for the Mine label of eco-friendly canvas and leather bags. Twin sisters Martha Tipper and Meredith Britt launched the bag line, made in New Jersey, two years ago. The bags, which have little sayings in them that change with the seasons, wholesale for $60 to $100.
They started doing sales on the West Coast because Britt and her family recently moved to Manhattan Beach. "We've definitely seen a fair share of buyers, especially from Palm Springs and San Francisco," Britt said. "It has been a good experience, especially for being our first market here."
This also was the first time at the show for the Uintah Collection, a relatively new label that is manufactured and designed in the Los Angeles area.
The activewear collection, designed by owners Heather Carlos and Janie Franks, wholesales for $24 to $70 and is strong on tribal and Indian prints. Franks said she saw a handful of accounts who stopped by and was encouraged to hear that some of them were actually opening up new bricks-and-mortar stores.
At Lady Liberty, warm weather helps attract buyers
As temperatures warmed up during LA Fashion Market, One Showroom introduced MarleyClub, a Brazilian swimwear line.
Kristen Aguilera, the showroom's owner, said the March fashion market remains popular with buyers from around the nation and the world. "A lot of buyers like to come to Los Angeles. They like the weather. It's a place where they can relax," she said.
Aguilera called the March market one of the busiest markets of the year. For her, Monday and Tuesday were busy. "[Buyers] know that they have to get their orders in before deadlines," she said. Fall deadlines are often scheduled in April.
Buyers dropping by One Showroom included Neiman Marcus, Planet Blue and Saks Fifth Avenue, she said. Lines represented at the showroom include Blank NYC and Blank Men's, which debuted at the showroom for the March market.
Other lines were Jachs Girlfriend, a women's contemporary line, and Pop Active, a Los Angeles–based athleisure line that features bold prints and anti-bacterial fabrics. Most of the lines retail for under $100.