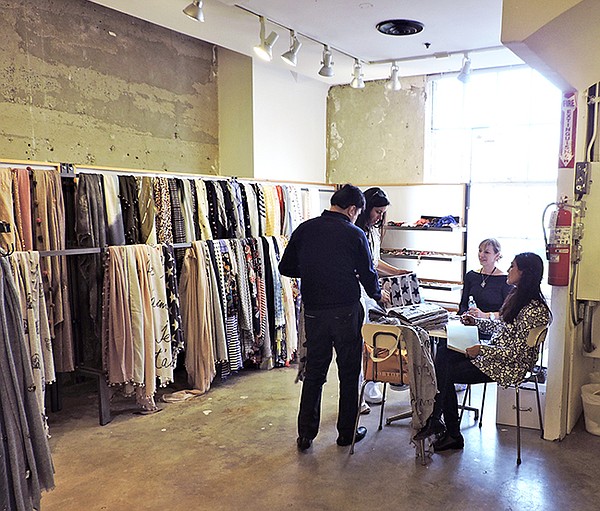 LA MARKET
Sprawling LA Market Draws Wide Range of Buyers
For many buyers and exhibitors, the March 13–16 run of Los Angeles Fashion Market was the last stop in a long trade-show season that included shows three weeks ago in Las Vegas and New York. March market in LA is typically one of the two largest of the year, but this season many exhibitors said traffic seemed lighter than usual. Nonetheless, they reported seeing key buyers from across Southern California as well as stores from the Midwest and southeastern U.S. and a few from overseas.
The retailers who did shop the show had plenty to see. In addition to the permanent showrooms at the California Market Center, The New Mart, the Cooper Design Space and the Gerry Building, there were temporary exhibitors showing at Designers and Agents, Brand Assembly, Coeur, Capsule and Axis as well as at the CMC's Select, Emerge, ALT and Contemporary Curves shows. This season included a new show, Source British, which bowed at the CMC as well. California Market Center
Many showroom owners were bemoaning the fact there weren't as many buyers attending the latest Los Angeles Fashion Market as in previous years.
"This is supposed to be one of the busiest markets, and it has been a slow week," said Shivi Sindhu, a sales representative for Papillon, a womenswear line launched in Los Angeles more than 40 years ago. The company also has offices in Vancouver, Canada, where in recent years the label has shown at Vancouver Fashion Week.
Sindhu had seen about 22 buyers in almost three days at his third-floor showroom, with most of those on Monday. California stores were not buying as much as out-of-state retailers, he observed.
On the fifth floor, Joe Song, the owner of Glam, said he had seen 20 to 30 buyers during the first three days of market. In years past, he would see a minimum of 100 buyers for his young contemporary line, launched in 2000. It is all made in Los Angeles. Song said he believes all the showroom buildings in the Los Angeles Fashion District have been experiencing a shift in fashion-market business as buying patterns have changed. Before, buyers had to come to the showroom to see the most recent collections. Now they can get a line sheet sent to them online and view it. In addition, clothing stores are shrinking their footprint as more consumers shop online.
At the Romeo + Juliet showroom, the salespeople agreed that this fashion market had been slower than normal, but there were still some good orders placed. "We had our own personal meetings set up," said Esther Talasazan. They saw department stores and specialty-store buyers.
The Los Angeles label is geared toward the young contemporary woman with lots of dresses as well as leather and shearling jackets that were very popular for Fall. Everyone was saying that velvet was an extremely popular fabric for Fall/Winter.
At the Select x emerge show in the Fashion Theater on the ground floor of the California Market Center, some 52 companies were showing their clothing, accessories and shoes. Again, exhibitors said it was slow, but sometimes that meant quality buying.
This was the fourth time that Shab Sadeghi was showing her collection of knit dresses, T-shirts, leggings and loungewear launched last year under the label Shabella, with wholesale prices ranging from $22 to $65. She first attended the show last July with only five SKUs and a small table. Now she was in a much bigger booth. "This is a quiet show, but that means you have more time with buyers, and all my new accounts from this show have turned out to be solid, good relationships."
She thought the show's location was perfect because buyers parking in the building's underground structure have to pass by the theater on their way upstairs or to showrooms in other buildings.
This was the second time at the show for Tina Lo, who launched her Klarety label of womenswear two years ago. Her dresses, skirts and tops are geared toward the working woman who wants to go from her office to dinner or drinks afterwards and look like she is dressed for the occasion. "I had a successful show the first time around and wanted to do the show again," she said.
At her first show, she gained two accounts—an online store and a specialty store—who have been consistent buyers. At this show, she had seen stores from the San Diego area, Los Angeles, Mexico City and Arizona.
In the penthouse, at the ALT show for athleisure and lifestyle clothing, there were only 12 companies registered to exhibit at the three-day event. Traffic was subdued because the show was tucked away behind the huge Transit shoe show.
Sweet Romeo—a New York company that makes sweaters, knit tops and activewear—was at the show for the fourth time with a double-wide booth. "For me, this show has been okay, but it seems smaller than previous shows," said Lucy Knaus, vice president of sales. She had seen only five buyers on the show's first day.
She has been exhibiting at the show because it is affordable. A 10-by-10-foot booth was only $1,000, she said, while a similar booth at Coterie in New York would cost $10,000. This is the only West Coast show in which Sweet Romeo participates.
Last October, the CMC launched a new show for the plus-size market. Contemporary Curves debuted on the 13th-floor penthouse at the CMC. This season, the show got its own dedicated showroom space on the CMC's fifth floor.
Among the returning exhibitors was Anaheim Hills, Calif.–based Kiyonna. Vannessa Vasquez, wholesale manager, and Airica Hartsfield, wholesale associate, said they loved the new location. Vasquez said traffic was greater when the show was on the 13th floor, but it was located next to the CMC's shoe show, Transit. Vasquez said she asked that the show be located next to other apparel exhibitors.
"It is a big deal that this is strictly plus," she said. "Our mission is that women should be able to wear something amazing no matter the size. We met a lot of new stores and two people we met last time."
Other exhibitors at Contemporary Curves included Karen Kane Woman, Libian and Heart of Haute.
Alisa Martineau, with Heart of Haute, said she primarily met with local retailers at Contemporary Curves but saw out-of-state stores from Pennsylvania and Illinois.
Strong start at The New Mart
Traffic got off to a strong—and early—start at The New Mart, where some showrooms opted to open on Sunday, the day before the official first day of market.
Business was strong at the Rande Cohen Showroom, according to showroom owner Rande Cohen.
"Sunday was great. The three of us never sat down," she said. "I haven't had a Sunday like that in—maybe ever."
Cohen introduced a new line for her showroom at market, New York–based Lola & Sophie. Cohen described the collection as sophisticated and elegant, with a fit that works for a range of customers and a "sweet spot" wholesale price range of $50 to upper $80s.
"I've been wearing the line for years," Cohen said. "You feel dressed and feminine."
This was the first market for the FashionLink showroom since Peter Jacobson relocated and renovated his 10th-floor showroom. Jacobson described the market as "consistently busy." Retailers from across the country, as well as a few international stores, including Japanese buyers, attended.
"It's all about the product," Jacobson said. "We're retailing in stores and our customers are happy."
Although some stores reported weak business at the end of 2016, Jacobson said it appears "most of the stores were getting back on track and recommitting."
The first two days of market were the strongest, Jacobson said, but buyers continued to drop by for the rest of the week, including a few who planned to drop by on Friday.
"It looks like we're be substantially up for the year—touch wood—if everything keeps going in the same direction," he said.
Buyers continued to drop by the Niche showroom's new location on the ninth floor through the last day of market.
"We had a good market; our numbers are up," said Suzie Hart, co-owner of the showroom.
Hart said prior to market, her team called and emailed retailers to encourage them to drop by. They even went "old school" and faxed reminders to stores, she said. The advance outreach seemed to be effective. Major retailers that dropped by the Niche showroom included Bloomingdale's, Boston Proper and Dillard's contemporary. Hart said she saw out-of-state buyers in addition to local boutiques.
"A lot of people from Chicago and the East Coast like to come this time of year," she said.
Buyers were looking for "novelty, novelty, novelty," Hart said, pointing to Billy T and its sister collection Third Layer. The showroom also represents more commodity collections such as B Collection by Bobeau and Lysse, which provide "good-looking value" for retailers.
Mixed reactions at Cooper
Opinions on the Fall '17 market were mixed at the Cooper Design Space.
The market was better than expected for Israel Ramirez of the Cooper's Siblings Showroom. "It was steady. It was as much as we could ask for in a March market," he said. Many retailers had wrapped up their Fall buying a few weeks earlier at shows such as MAGIC and its satellite events in Las Vegas and in New York, he said.
Sylvana Lankshear of the Focus Showroom said that she saw retailers from around the United States at the March show. "National accounts come looking for new resources—for a broader brand assortment that they wouldn't see in their home markets," she said. "We had a very busy Monday and Tuesday. We have seen a steady stream of retailers."
Joey Orsi of the One Girl Showroom said that traffic from independent boutiques has been declining show after show and many retailers are playing it safe. "They only do business with people they love working with and with those brands that have a stellar shipping rate, like 98 percent."
Gillian Julius, owner of the self-named Gillian Julius brand, showed at Dixon Collective's temporary showroom in the Cooper. She opened new accounts, but many of her regular retailers are not coming to trade shows. "I'm doing more trunk shows," she said. "Stores are not coming to as many trade shows as before."
Retailers such as Convert, Ron Robinson, the Sundance Catalog, Foundry and Wild Fang were spotted shopping Cooper during the market. Scott Kuhlman of the Kuhlman boutique in Seattle said he noticed trends were changing. "We're moving away from workwear to items with more exotic prints. Knitwear is more important than ever," Kuhlman said.
During the market, the Band of Gypsies brand opened a showroom at the Cooper. The Locale showroom also took a bow during the market. It represents Australian brands.
Gerry Building
Buyers were walking the halls of the Gerry Building, where many of the showrooms have European lines and earlier ordering deadlines.
For Los Angeles Fashion Market, a spacious ground-floor annex organized by the Miriana Ojeda showroom was exhibiting several clothing, jewelry and shoe lines in the temporary space.
One exhibitor was Jared Jamin, who was showing his self-named jewelry line, which is handmade in West Hollywood, Calif. This was his second time at The Annex, and he was having a good show because he does a lot of cash and carry for his high-end collection.
"The show has been great," he said. "People will order clothes at the neighboring booths and then come over here to buy jewelry to match what they just bought."
He saw three regular customers and opened four to six new accounts.
Miriana Ojeda, who has her showroom on the seventh floor of the Gerry Building, said she was having a decent market. "Good stores came and they bought, but they bought a little less than normal," she observed. "It was not as busy as we anticipated."
Stores, she said, seemed a little unsure of themselves. "They were asking us what is happening out there," she said.
Consistent at D&A
There was a rush of traffic on opening day, said Mattiel Iiel, designer of J.P. & Mattie.
"Day one was good," she said. "We had the first-day morning rush."
The turnout included many of J.P. & Mattie's regular accounts, who came to shop the collection of apparel and accessories made in Southeast Asia.
LAMade is a longtime D&A exhibitor. The LA–based company typically exhibits at Designers and Agents as well as at its showroom in the Cooper Design Space.
Company representative Diane Davis said retailers shopping the line at D&A and in the showroom included stores from Hawaii, Minnesota, Oregon and Canada.
"It's been consistent here," she said. "If people are coming to LA, they definitely shop this show."
Another returning exhibitor was Luz Solarez, director of sales for New York–based Love Binetti.
"It's a really good market," she said. "With LA you know your clients are coming to see you."
Solarez said in addition to stores from the West and East Coasts, she saw some of her Japanese buyers as well as retailers from Chile and Australia.
"I do all the shows—London, Las Vegas, New York, Paris and here. Then I want to collapse!" she joked. "Everyone here is so laid-back. It's so relaxing."
This was the second time at D&A in Los Angeles for Eight + Sand, an Austin, Texas–designed, Oakland, Calif.–produced collection of classic heritage fashion. The collection features European and Japanese fabrics as well as knits made from U.S.-grown cotton. Founders Ronda Raymond and Noushie Mirabedi said they spent a year perfecting the fit of the line and designed the collection "to get better with age."
"If something is really working for a customer, wouldn't it be nice to come back and find something with the same fit?" Mirabedi said.
Eight + Sand doesn't follow the typical fashion calendar and carries styles over from season to season, which allows stores to reorder popular styles and fill in gaps in inventory.
"That is something that really makes them loyal," Raymond said.
At D&A, the two met with retailers from across the country including Florida and Montana, as well as "some people in LA we've we working on building a relationship with," Mirabedi said.
D&A cofounder Ed Mandelbaum said traffic at market overall appeared lighter than usual but D&A's attendance was up over last year.
The first two days we were 10 percent ahead in traffic and the last day we were above by 1 percent," he said. "I like to see things going that way. I came away feeling good."
Key buyers at Brand Assembly
Exhibitors at the March 13–15 run of the Brand Assembly show on the Cooper Design Space's top floor noted the light traffic at market but said they were pleased with the quality of the stores shopping the show.
This was the first time at Brand Assembly for The Avalon Group, which runs the Jeans Shop boutique in New York's SoHo district as well as its 3-year-old Jeans Shop wholesale division. Jon D. Kalupa, Avalon Group president, praised the look of the show—as well as the turnout.
"We've seen buyers from across the county—as well as some of the best stores in Los Angeles," Kalupa said, adding that he picked up a new store in Nashville.
"All in all it was a terrific experience. We will definitely be back in October," he said.
Jeans Shop sells in Ron Robinson in Los Angeles. Tiffany Kalupa, Avalon Group's director of sales, said showing at Brand Assembly helped the company expand its presence on the West Coast.
"There were key retailers we want to be in here," she said.
Among the returning exhibitors was Lynn Rosetti, owner of the #8 New York showroom, which represents jewelry and handbag lines, including her own Oliveve Handbags collection.
"We get quality orders here," Rosetti said.
Another returning exhibitor was Katharine Marinaro, whose company, 2899 Ltd., represents Verdad, the collection designed by LA designer Louis Verdad.
Marinaro said opening day was strong.
"Monday was awesome. I'm happy; I got new stores," she said. "We had a few appointments and a lot of drop-ins."
Another returning exhibitor was Los Angeles designer Lotta Stensson, who was showing her Lotta Stensson collection of printed dresses and caftans.
Stensson said she primarily met with West Coast stores but saw a few buyers from around the country, including Hawaii, Canada and the Caribbean.
Brand Assembly cofounder Hilary France said she was pleased with the turnout this season. She acknowledged that foot traffic was slightly down from previous Fall markets, most likely due to a back-to-back trade-show schedule.
"But those quality buyers are still here," she said.
Focused buying at Coeur
Coeur, the upscale accessories and lifestyle trade show, returned to the top floor of the California Market Center for its March 13–15 run.
"Monday we had a buzz," said show producer Henri Myers.
That was the case for Adeline designer and founder Lindsay Olson.
"The first day tends to be a little busier," she said.
Olson founded her jewelry line last year. The collection, which is made in Oakland, Calif., features geometric shapes with a rough aesthetic inspired by Oakland's urban landscape. This was Olson's second time showing her line at Coeur, but she had exhibited at the show in the past as a sales representative for another collection.
"There are good buyers who come to this show," Olson said. "LA stores get excited about riskier pieces."
There were several new exhibitors at Coeur looking to meet West Coast stores, including Alva Horton, owner of Gingham Creative, who was showing two collections—European accessories collection Ono and Los Angeles–based jewelry collection Boudov.
Ono features handbags, totes, backpacks and small accessories made of cork, organic cotton and Tencel.
The cork fabric is made in Portugal using a process that affixes a fine layer of cork to a Tencel backing, which makes the resulting fabric flexible and durable, said Bernadette Bodenmueller, Ono founder and managing director. The collection features brass and gold-plated hardware as well as eco-certified zippers.
Jewelry designer Cindy Boudov uses conflict-free diamonds paired with 14-karat and 18-karat rose, white and yellow gold. The designer uses fine slices of diamonds to create one-of-a-kind pieces.
After showing at Coeur New York, photographer Manny Sanchez was showing his Manuelle Scarves collection for the first time at Coeur in Los Angeles. The Modal scarves are digitally printed with Sanchez's original photography. Images include scenes from a recent trip to Cuba as well as shots of Central Park in New York. For Coeur, Sanchez brought some scarves featuring Los Angeles scenes of Malibu and the Hollywood Hills. The 5-year-old brand sells at the Metropolitan Museum of Art and the Natural History Museum in New York as well as locally at the Natural History Museum of Los Angeles.
"We did New York and did very well," Sanchez said on the second day of the show. "Yesterday, I got a few stores in Los Angeles."
Mohr joins Capsule
For Joanne Mohr, day one of her new job found her directing the different sections of Capsule Los Angeles Women's trade show, which ran March 13–14 in the penthouse of the "C" wing of the California Market Center.
Mohr, a veteran trade-show director, was named women's shows director for the New York–headquartered Capsule shortly before the Los Angeles show. She will run the Capsule's biannual women's shows in Los Angeles, Las Vegas, New York and Paris.
"It's Capsule's mission to bring new brands to retailers' attention," she said. "We're going to build upon that and also bring in established brands."
The second run of the Capsule Women's show in Los Angeles (it debuted in October) offered a wide range of styles to the show's attendees, which included Los Angeles–area shops such as Mohawk General Store, Ron Herman, Principessa, Dash and Guild as well as Santa Barbara, Calif., and Northern California stores such as Wendy Foster, Azalea and Legion San Francisco. Buyers from department stores such as Saks Fifth Avenue and Nordstrom also were spotted at the show, Mohr said. Japanese retailers Beams and Ships were reportedly at the show.
Vendors included made–in–Los Angeles brands such as Corinne as well as Field Day, which produces dresses out of dead-stock fabrics in Oakland, Calif. Also making a second run at Capsule was French headwear brand Van Palma, which makes a range of wool hats bearing embroideries of parrots and mystic eyes. The New York­–headquartered Alyson Eastman label introduced two new styles for the brand's motorcycle and bomber jacket line. Downtown Los Angeles store and brand The Well ran a hairstyling station at Capsule. It also showed its Majme Collection.
Along with the main section of contemporary styles, Capsule shared space with Axis, a sister show devoted to women's swim and athletic wear. The show's Elements section was devoted to beauty, jewelry and skin products. Also taking a bow at the recent show was the Capsule Market Square cash-and-carry section. Rob Jungmann of the Jungmaven brand exhibited at Capsule Market Square, where he exhibited his brand's T-shirts and tops made out of hemp and organic cotton. "You can come to the show, exhibit new styles and also sell some goods. Potentially it's the future," Jungmann said of the cash-and-carry model.
Source British takes a bow
Crafts, clothes, footwear and food from the United Kingdom presented a forum March 13–14 at the inaugural Source British trade show at the 13-A section of the CMC's Penthouse,
For the great majority of the brands, Source British gave an opportunity for a West Coast trade show debut.
While the show's focus was on British brands, many of the vendors had a global reach. The show's vendor Karen Gold is designed and manufactured in London, but it sources its fabrics in Nigeria. The Ruskin London label runs offices in Glasgow, Scotland, and San Diego. The Wolfram Lohr accessories label is designed by a German living in England.
During the show, Trend Council, a style forecaster, gave presentations on upcoming trends. A Tea Room section offered British snack foods such as Burt's Chips and Sipsmith Gin.
Martin Lowe gave the show some English flair by wearing a sequined Union Jack suit during the show. He represented SockMine, a Nottingham, UK, company and one of a handful of hosiery manufacturers in Britain. He gave kudos to the show for organizing a wide array of British products, although he said he was hoping for more traffic.
Alli Abdelal, founder and chief executive officer of Ruskin, said Source British was a great opportunity for networking. "It was interesting to talk to other people breaking into the market," she said.
A program for the event noted that Source British would return for a sophomore run on Oct. 9–10.