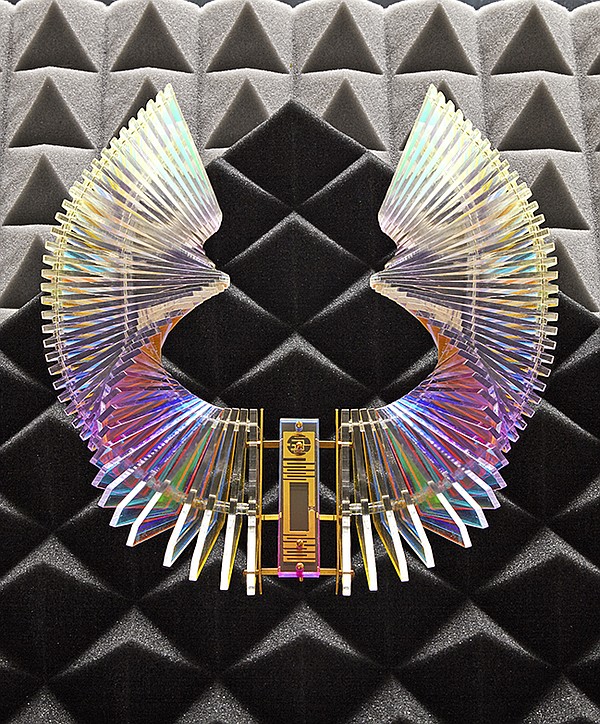 AVERY DENNISON
Avery Dennison Collaborations Take RFID to the Design Room
Radio frequency identification (RFID) technology has found a home along the apparel-industry supply chain from factory to distribution center to retail sales floor. Some designers are looking to introduce the technology at the very beginning of the chain by incorporating RFID into the design of garments and accessories.
London-based Sarah Angold recently collaborated with Avery Dennison to create custom jewelry embedded with Avery Dennison RFID technology.
"The physical and digital worlds are converging, and consumers expect to be connected seamlessly across all aspects of their lives," said Francisco Melo, Avery Dennison's vice president and general manager, global RFID. "RFID technology provides endless opportunities for interactive experiences in the retail environment, and our collaboration with Sarah Angold takes this to the next level by embedding the technology into the product itself."
Angold said she and Avery Dennison worked closely together to create four RFID-enabled pieces: a handbag, two necklaces and a crown.
"We worked together on laser cutting, 3-D printing and experimented with conductivity, testing at every single stage," she said.
Angold's leather handbag interacts with the wearer through body-heat conductivity. The necklaces and crown work with interactive mirrors created by San Francisco–based Oak Labs. When linked, the mirrors provide item-level product information to the wearer, including design and production information about where and how the pieces were made as well as styling recommendations.
Avery Dennison and Angold recently showcased the RFID-enabled jewelry at the DECODED Fashion Summit, held on Nov. 1 in New York, where Avery Dennison hosted a panel titled "The Customer Experience Revolution: Leveraging Technology to Build Loyalty and Drive Engagement."
The panel, which was moderated by Josh Rubin, the founder and editor of Cool Hunting, included Kim Schneider, Avery Dennison RBIS (Retail Branding and Information Solutions) senior director of technology solutions; Andy Hobsbawm, the cofounder and chief marketing officer of EVRYTHNG, an Internet of Things (IoT) platform; and Laurence Chandler, cofounder of New York–based menswear brand Rochambeau.
"The demand for products that integrate digitally into the everyday lives of consumers continues to accelerate," said Kim Schneider, senior director, technology solutions, at Avery Dennison RBIS. "As contemporary fashion and retail stores become increasingly connected by digital means, brands must become cognizant of ways to incorporate technology into their products—and Avery Dennison offers retailers this opportunity."
At the event, Rochambeau also demonstrated its interactive jacket, the "BRIGHT BMBR," a "smart digital" jacket that uses technology from Avery Dennison and EVRYTHNG. The connected jackets are powered by Avery Dennison's Janela platform and EVRYTHNG's intelligent IoT cloud. The Janela Smart Products Platform is a label for apparel and footwear products that connects to EVRYTHNG's cloud-based IoT software. Janela products can "capture real-time data, enhance consumer experiences and make the manufacturing and selling of products more efficient and intelligent," according to Avery Dennison, which anticipates digitizing "a minimum of 10 billion apparel products" in the coming years.
"We started Rochambeau as an outlet for creative expression and artistic collaboration," said Laurence Chandler, founder of Rochambeau. "We can't think of a more amazing way to do this than to create beautiful garments with culture and connectivity stitched into the very fabric of the item. We're excited about designing more Rochambeau products that are born digital."
The BRIGHT BMBR jacket features a hidden zipper pocket on the sleeve that contains a limited-edition label containing NFC (near-field communication) technology and a unique QR code. The tags allow the wearer to use a smartphone to access personalized content, exclusive rewards and experiences such as access to fashion and art events, clubs and restaurants. Rochambeau is releasing 15 versions of the BRIGHT BMBER jacket beginning in December for sale at The New Stand locations in New York.