FASHION
Upbra: Building a Better Push-Up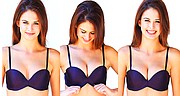 Equipped with elastic and a tack stitch, Ron Redenius figures that he can manufacture the world's best push-up bra.
Called the Upbra, the lingerie was introduced in August on its website (www.upbra.com). Redenius used what he called an adjustable pressure system to maximize cleavage and allow women to control how much cleavage they are showing. The Upbra currently comes in one silhouette—a balconette—and in several colorways: white, nude and black. Currently available in sizes 32A through 40B, the Upbra is retail priced from $99.95 to $109.95.
Redenius comes to lingerie after spending three decades running the Cooltan swimwear label in the Sacramento, Calif., area. When Redenius's cousin asked him to make a push-up bra for her, he initially dismissed her request as futile. "How are you going to compete against Victoria's Secret?" he said.
But his cousin was relentless and continued to request Redenius design a new bra. When he polled Cooltan swim customers whether they would like the push-up silhouette for swimwear, Redenius said, he heard a resounding yes—along with a myriad of complaints about the push-up styles available on the market.
Intrigued, he started a long process of research and development. A bra was produced that used movable components inside the cups along with a unique hooking system at the bottom of the bra that allows women to adjust the control components in the bra. The hooking system allowed five different lift settings. Production went at a snail's pace until Redenius met a technician who rejiggered an elastic weaving machine to make the manufacturing process of the adjustment system go quicker. After the research-and-development stage, Redenius said, he obtained patents for his product.
Up next, Redenius hopes to add more silhouettes to the Upbra collection as well as additional colorways and begin wholesaling it to retailers.
For more information, contact Ashley Robert at service@upbra.net.