RETAIL
2017 Retrospective: Retailers Starting to Emerge From Their Shells and Look for New Outposts in Los Angeles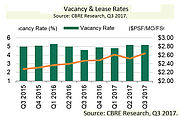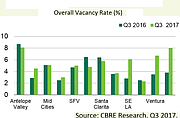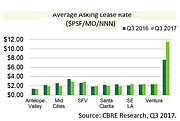 During the first half of the year, retailers were still in a cautious mood and on the fence about setting up new shops on some of Los Angeles' prime shopping streets.
"A lot of the bigger companies were taking a wait-and-see attitude at the beginning of the year, but now people are getting more calls from higher-caliber tenants looking for spaces," said Philip Klaparda, senior associate at Dembo Realty, a commercial real estate agency in Beverly Hills.
One of Los Angeles' favorite shopping streets is still Melrose Avenue west of La Cienega Boulevard. "This area is still very strong from a retail perspective," Klaparda noted.
Currently, the vacancy rate is at about 10 percent to 15 percent while monthly rents are averaging about $15 to $20 a square foot.
Warby Parker, the eyeglass company that launched its concept online and then started expanding to bricks-and-mortar locations, opened at 8618 Melrose Ave. with a different concept. The new outpost has a Green Room where shoppers can create 15-second videos to be shared on social media. For the videos, there are 12 different backdrops to choose from, ranging from an outer-space scene to a pizza parlor.
AllSaints, the London-based luxury retailer, still has a location on Robertson Boulevard, but the purveyor of all things hip and cool opened up a spot on Melrose Avenue too.
The edgy British label opened its fifth Los Angeles location at 8585 Melrose Ave. in a spot encompassing 3,000 square feet.
Road to Awe, or RtA, launched a flagship store on Melrose Avenue in a very sleek building that is painted gray and has an off-kilter entrance. It is located at 8609 Melrose Ave.
More-reasonable rents are found on Melrose Avenue just east of La Cienega Boulevard. The average store lease commands $5 to $6 a square foot in an area where the vacancy rate is 10 percent. A Golden Age vintage store at 8012 Melrose Ave. opened up this year to sell vintage selections from Hollywood's golden era paired with brand-new footwear. It is located next door to Chuck's Vintage.
The Paper Bag Princess, another vintage shop, moved its location from Beverly Hills to 8050 Melrose Ave. this year. Its first shop was a 300-square-foot outpost in West Hollywood that was a favorite for die-hard vintage-designer customers. This is its latest expansion.
Robertson Boulevard used to be a popular shopping destination for Hollywood celebrities and stylists looking for trendy togs and more. But in recent years it has been on a bit of a roller-coaster ride and now has a 15 percent vacancy rate. Many of the big-name shops closed after the recession in 2008, but some new retailers have landed on the street.
"I think Robertson is starting to come back. The rents are now very attractive at $8 to $10 a square foot," Klaparda said. At its peak, Robertson Boulevard's rental space was going for $20 a square foot.
Late last year, after a three-month build-out, Nicole Sassaman debuted her fashion accessories, home décor, furniture and original artwork at 116 S. Robertson Blvd.
Not far away on Rodeo Drive, space is tight on a thoroughfare that only has a 5 percent vacancy rate. It is filled with high-end designer labels paying $60 to $70 a square foot for prime real estate.
Vera Wang moved from Melrose Avenue to Rodeo Drive this year and Alexander McQueen is transferring its shop on Melrose Avenue to 457 Rodeo in February after a façade renovation is completed and other details are wrapped up. It replaces a Bottega Veneta outpost.
"Retail seems to be starting to gain some momentum, and it feels like 2018 will be a better year than 2017," Klaparda said. "At the end of the day, online retailers will want to have that in-person experience for customers and have a bricks-and-mortar element to complement their online presence."