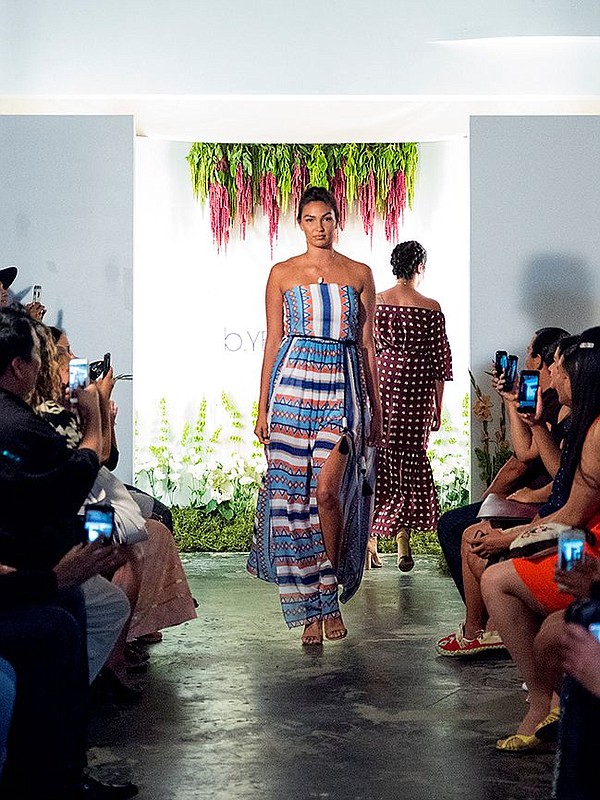 After Standing Rock Protest, B. Yellowtail Brings Style With Indigenous Angle to L.A.
The protest against the Dakota Access Pipeline at the Standing Rock Indian Reservation captured the attention of the world in 2016, and designer Bethany Yellowtail registered a protest in a stylish way. At the protest camp, she put together a sewing circle to make clothes for the women demonstrators.
Actress Shailene Woodley was one of those who returned from the protest, not only with a sense of activism, but an appreciation of Yellowtail's designs. Woodley was interviewed in dresses in B.Yellowtail label dress on the Today show on NBC.
On June 16, the Los Angeles-based Yellowtail gave the world a bigger look at her B.Yellowtail collection at The World of Wonder gallery on neon-light drenched Hollywood Boulevard. The Summer 2017 collection intended to show beautiful clothes, and also tell stories about indigenous people in United States.
The 10 looks of the Summer '17 B. Yellowtail collection included wrap dresses, maxi skirts and flare pants which evoked the 1970s revolutionary chic of the American Indian Movement. The prints bore art from indigenous designs, especially, from Yellowtail's heritage from the Northern Cheyenne and Crow tribes. One print depicts Elk teeth, another shows traditional mountain and river designs, others take inspiration from traditional Native American floral patterns. Fabrics included silks and recycled polyesters. Models walking the show came from indigenous tribes from Canada and United States. Eventually, Yellowtail hopes to bring fashion jobs to her reservation in Montana.
The runway show started with a prayer from the Tongva people, the original inhabitants of what is now Los Angeles. Tazbah Rose Chavez performed spoken word poetry. Los Angeles City Councilman Mitch O'Farrell spoke on a bill making its way through city council to replace Columbus Day with Indigenous Peoples Day. There was a brief panel discussion on arts and Native American issues with members of the Indigenous Women Rise group. Also at the event, non-profit Honor the Earth sponsored traveling gallery show named The Art of Indigenous Resistance.
After the fashion show, Yellowtail produced a pop-up shop at the World of Wonder gallery, the pop up closed June 18. She soon returned to making her label's clothes in Los Angeles. It's something that she graced with her own commentary. A note on her label's website said that the styles are made not in Los Angeles, but in Occupied Tongva Territory.