Meet Dapper Boi
With the 2015 publication of Ariel Levy's article "Where the Bois Are" in New York Magazine, the lives of a new lesbian subculture called "Bois" was revealed to the wider world.
The article made a splash showing this tribe's challenge to the sexual status quo. "Boihood has nothing to do with earth mothers or sisterhood or herbal tea, and everything to do with being young, hip, "sex positive," a little masculine, and ready to rock," Levy wrote.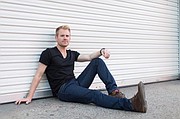 While boi culture may have history that goes back long before the Obama administration, a fashion label recently formed to serve this group. Dapper Boi started in San Diego in 2015 and recently took its trade show bow at Pooltradeshow in Las Vegas.
Co-Founder Vicki Pasche said that Dapper Boi was meant to outfit "androgynous women and men of all body types."
Jeans for example give a masculine look but fit a women's curves. Workshirts have added fabric so they won't open around the chest area and inadvertantly show some bra. Coming up for this brand; butch bathing suits!